In Meghalaya, political dynasties rule the roost as spouses, scions of heavyweights battle it out
Elections in Meghalaya are to a large extent family affairs. Political heavyweights, along with their spouses and scions, are fighting it out to retain power.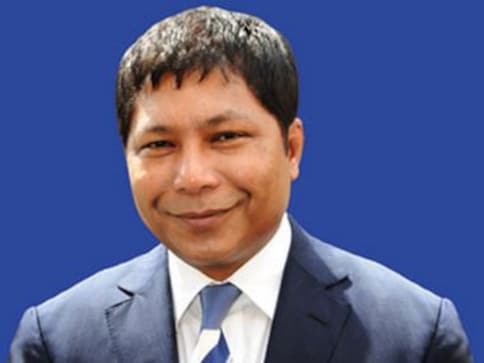 Shillong: Elections in Meghalaya are to a large extent family affairs. Political heavyweights, along with their spouses and scions, are fighting it out to retain power in Tuesday's Assembly elections in the hill state.
Meghalaya Chief Minister Mukul Sangma, who is contesting from Ampati and Songsak seats, has three family members in the fray from the Garo Hills region. NPP candidates and relatives of former Lok Sabha speaker Purno A Sangma are also fighting the polls from four seats in the region.
"For a very long time, former Lok Sabha Speaker (L) Purno A Sangma dominated the election scene in the state. He was once a mentor for many tribal political leaders, including chief minister Mukul Sangma," political analyst Sumar Sing Sawian said.
PA Sangma's exit from the Congress in 1999 and the subsequent political moves on the national and regional fronts led to the emergence of Mukul Sangma as his successor in the grand old party, he said. In 2013, along with Mukul Sangma, his wife DD Shira and his brother Zenith Sangma won the election, bagging Mahendraganj and Rangsakona seats. Both Shira and Zenith Sangma are seeking a re-election from their respective seats.
This year, Zenith's wife Sadhiarani M Sangma is also making her electoral debut from the Gambegre seat.
A source close to Mukul Sangma, however, said the chief minister does not consider election to be a family affair.
As for Mukul's rivals, the National People's Party (NPP) president Conrad K Sangma, his brother James and their sister Agatha K Sangma, a former Union Minister in the UPA-II government, are also forces to reckon with.
Conrad K Sangma, son of PA Sangma, had won the 2016 by-elections from Tura parliamentary seat with a thumping majority after his father's demise. He is currently a sitting MP in Lok Sabha.
His sister is contesting from South Tura constituency while his brother is seeking re-election from Dadenggre seat.
Boston Marak, a cousin of Conrad K Sangma, is also contesting the election on a Garo National Council ticket from Salmanpara seat.
Sanjay A Sangma, Conrad's brother-in-law, is taking on the chief minister's wife from Mahendraganj.
Dynastic politics has also made its way to Khasi Jaintia Hills region as several families have entered the fray for the 27 February elections. The Dhar brothers — whose combined wealth is over Rs 350 crore — are contesting on NPP tickets in the region. While Ngaitlang Dhar is seeking a re-election from Umroi, his brother, Sniawbhalang, is trying his best to retain the Nartiang seat.
Ngaitlang Dhar's 25-year-old son, Dasakhiatbha Lamare, is in the fray from Mawhati seat and Sniawbhalang's brother-in-law, Wailadmiki Shylla, from Jowai constituency in Jaintia Hills region.
The Assembly election will also witness a father and his daughter vying for two seats. Former MLA PM Syiem and his daughter Teilinia Thangkhiew are contesting on Hills State Peoples Democratic Party (HSPDP) tickets from Mawphlang and Mylliem constituencies respectively.
Veteran legislator Rowell Lyngdoh and his son-in-law Sounder Cajee are contesting the fray on NPP tickets from Mawkyrwat and South Shillong constituencies.
Adding to the legacy of family politics, former MLA Donkupar Massar and his wife Grace Mary Kharpuri are also fighting the polls on Peoples Democratic Front(PDF) tickets from Ranikor and Pynursla constituencies respectively.
The counting of votes for the Assembly elections has been scheduled for 3 March.
Meghalaya Assembly Election results LIVE updates
Follow the results from all the three North East states LIVE
Explainers
Rahul Gandhi has joined a small 'infamous' club of politicians who have been disqualified as MPs or MLAs after being convicted in a crime. Here's a look at the other prominent names
Politics
Rahul Gandhi is 52 years old. If the conviction—therefore the disqualification—stands, he surely will not be able to contest the 2024 and 2029 Lok Sabha elections
India
A day after being convicted in a 2019 criminal defamation case, Rahul Gandhi has now lost his Wayanad seat after being disqualified as an MP. The Congress leader needs a stay on his conviction if he wants to return as a lawmaker