In Gujarat, Rahul Gandhi slams Narendra Modi over Jay Shah case; BJP questions Congress VP's faith
Starting the sixth leg of his campaign in the poll-bound Gujarat with a visit to the famous Somnath temple, Rahul Gandhi reached out to the Patidar community on Wednesday and strongly criticised Prime Minister Narendra Modi over his silence on the Rafale fighter jet deal and Jay Shah case.
Starting the sixth leg of his campaign in poll-bound Gujarat with a visit to the famous Somnath temple, Rahul Gandhi reached out to the Patidar community on Wednesday and strongly criticised Prime Minister Narendra Modi over his silence on the Rafale fighter jet deal and Jay Shah case.
Rahul, who is in the state for two days, addressed public meetings in Gir Somnath, Junagadh and Amreli on Wednesday.
Addressing an election rally in the Patidar-dominated constituency of Visavadar in Junagadh district, Rahul referred to the 2015 quota stir in which 14 members of the Patidar community were killed in police firing. "All the communities are raising their voice against the government. But what do you get if you raise your voice in Gujarat? You are beaten up, you have to face bullets," Rahul said.
"I asked Modiji three questions (on the Rafale deal). First, is there a difference in the cost of the planes in the first and the second contract (signed with a French firm), please give the reply in yes or no.
"Why was the contract given to a private industrialist friend instead of Hindustan Aeronautics Limited (HAL)? And did you seek the approval of the Cabinet Committee on Security for the deal?" Rahul asked. The Congress vice-president also sought to know if due procedure was followed before formalising the deal with France in 2016 for procuring the fighter jets.
Rahul alleged that the prime minister was "avoiding" answering his questions "out to fear" that the "truth" would come out before the crucial polls in his home state. "Narendra Modiji is not replying to these questions because he wants that the truth of Rafale and Jay Shah (BJP chief Amit Shah's son) should not come out before the people ahead of the Gujarat elections," he said.
Jay Shah's firm came under the scanner after a report suggested that his firm's turnover had seen exponential growth after the BJP came to power at the Centre in 2014.
Describing Gujarat chief minister Vijay Rupani as a "rubber stamp" chief minsiter, Rahul said the Gujarat government is run by Shah.
He claimed that the NDA government delayed the Winter Session of Parliament as Modi was not ready to discuss the Rafale deal and Jay Shah issue before the Gujarat polls. "Generally, Parliament's Winter Session is held every year in November and discussions take place in Lok Sabha and Rajya Sabha. But, due to two reasons, Parliament is opening after the Gujarat polls this time," Rahul said.
He also criticised the Modi government on the issues of farmers and unemployment in the BJP-ruled Gujarat.
Later at Savarkundla, the Congress vice-president took a dig at Modi over demonetisation. He said that the prime minister apparently thought at 8 pm on 8 November, 2016 that, "I will move my wand and the Rs 500 and Rs 1000 notes will become raddi(scrap)."
He alleged that Modi avoided addressing important issues in his speeches. "Narendra Modi talks about progress, but not about farmers, He will not talk about 'Gabbar Singh Tax', or how many people have been left unemployed (due to demonetisation). You tell us, from the audience, how many youth have received job opportunity because of Modi," Rahul asked at the public meeting.
He further asked: "Why doesn't Modi admit he failed in providing employment?"
At another election rally in Amreli, Rahul vouched for Modi's 'acting' skills.
He is a terrific actor. You will see he will shed tears a few days before election. He will cry for everything but not for farmers. He will also not cry when students have to shell out money for taking admission in college or people have to go to hospital: Rahul Gandhi on PM Modi pic.twitter.com/dJddts5Zle

— ANI (@ANI) November 29, 2017
"Both demonetisation and GST were introduced at 12am. But one company (Jay Shah's) emerged through the storm and converted Rs 50,000 into Rs 80 crore through magic. Do you think a honest businessman could do this in three months," the Congress vice-president said.
Taking a dig at Narendra Modi, Rahul said: "First he (Modi) would say, 'na khaunga, na khane dunga'. Now he says, 'na bolunga, na bolne dunga'. Rahul exuded confidence in Congress and assured that it would win the Gujarat polls in December. "We will waive loans of farmers within ten days. If government will function, it will be for farmers, small and medium businesses and you. We will ask what you want and will run the govt accordingly," he said.
Rahul Gandhi a 'non-Hindu'?
Following Rahul's visit to Somnath temple on Wednesday, the social media grew abuzz with pictures of the temple's register with names of Rahul and senior Congress leader Ahmed Patel. The BJP grabbed the opportunity to claim that Rahul had declared himself to be a non-Hindu as the temple maintains an entry book for those following other religions.
"The Congress has always tried to project Rahul as a Hindu. But the fact is that he is not. Rahul has visited over 20 temples of multiple Hindu deities since October. The Congress has been lying. The entry shows that he is not an Hindu," said Raju Dhruv, BJP spokesperson in Saurashtra region.
Subramanian Swamy went a step further to claim that the entire Gandhi family followed Christianity.
#RaGaSomnathSelfGoal BJP MP @Swamy39 says Rahul Gandhi cannot announce he is a Hindu due to the fear of the Vatican #Dec18WithTimesNow pic.twitter.com/x7nvDK8poQ

— TIMES NOW (@TimesNow) November 29, 2017
IANS reported that Congress media coordinator Manoj Tyagi issued a statement saying that he signed the register to take media personnel inside the temple and Rahul or Patel's names were not added to the register. "These would have been added later," he said in the statement.
Somnath temple, located on the shores of the Arabian sea on the southern most part of Gujarat, is revered by Hindus and enshrines the first of 12 'jyotirlings' of Lord Shiva. Through a notice in June 2015 the Shree Somnath Trust (SST) — the institution managing the temple — had made it mandatory for non-Hindus to seek permission of the Trust before entering the main temple.
Former Gujarat chief minister Keshubhai Patel is incumbent chairman of the temple's trust, while Modi, Shah and retired Chief Secretary of Gujarat PK Laheri, are its trustees.
Calling a press conference, Congress chief spokesperson Randeep Singh Surjewala said the BJP was scared of the outcome of the Gujarat Assembly elections and was thus resorting to cheap politics.
"There is only one visitor's book at Somnath Temple that was signed by Congress VP Rahul. Any other image being circulated is fabricated," said Surjewala, adding "Desperate times call for desperate measures" - referring to the BJP.
"When the visitor's book was given to him by the temple committee, Rahul wrote a message on it with his name (Rahul) and address. "A very inspiring place" was the message he wrote in the book," he added.
Surjewala alleged that a fabricated entry was made after Rahul left the place. "Has the BJP become so cowardly that they are scared of coming out and speaking up," he asked.
He alleged that the names of Rahul and Ahmed Patel were entered surreptitiously on the left side of the register meant for non-Hindus by someone, suggesting manipulation. "This was a fabricated register. Those names were added later," he said.
Showing the pictures of Rahul wearing sacred thread, Surjewala said that Rahul is a 'janayudhari' (devotional thread-wearing) Hindu. "Whether it was during the time of his naming or at the time of his sister's wedding..or at the time of his father's cremation, he was seen with the sacred thread."
He urged Modi and Shah not to stoop so low for political gains that "130 crore Indians start hating you". "Truth will not change because of your conspiratorial tactics," he added.
The Congress reaction came after BJP raked up the issue and questioned Rahul's religion.
Meanwhile, BJP spokesperson GVL Narasimha Rao said that the matter of Rahul's faith wasn't personal anymore.
This 1998 New York Times article said by certainty that Rahul Gandhi and Priyanka were raised as Roman Catholics. This was never denied. Did Rahul Gandhi convert to Hinduism there after? @OfficeOfRG please clarify. It's not a personal issue any longer.https://t.co/4oxjBxPqS1

— GVL Narasimha Rao (@GVLNRAO) November 29, 2017
RahulG, Why is there so much secrecy and deceit about your and family's religion, foreign travels, educational qualifications, passports/citizenship? Questions are never answered. Even British monarchy is more transparent. Is RTI only for govts & not for politicians? @OfficeOfRG

— GVL Narasimha Rao (@GVLNRAO) November 29, 2017
With inputs from agencies
Click here for detailed coverage of Gujarat Assembly Election 2017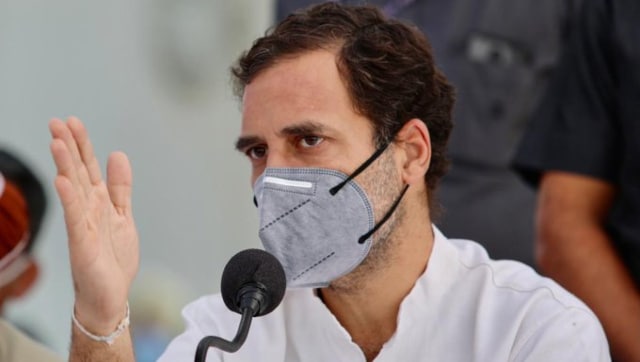 India
The Congress leader had asserted that any phone that he uses are tapped, adding that a Supreme Court-monitored probe should be ordered in the matter
India
The reaction tweet of Modi has been liked over 62,000 times, with thousands of people commenting on it
India
To make the movement of visitors easy, the three existing platforms have been connected to subways. The platforms will have a seating facility that can accommodate at least 480 people