In democracy, bureaucracy and political intervention go hand in hand: PM Modi
Asserting that 'political intervention' is necessary in a democracy, Prime Minister Narendra Modi on Tuesday made it clear to bureaucrats not to view this as a hindrance for good governance.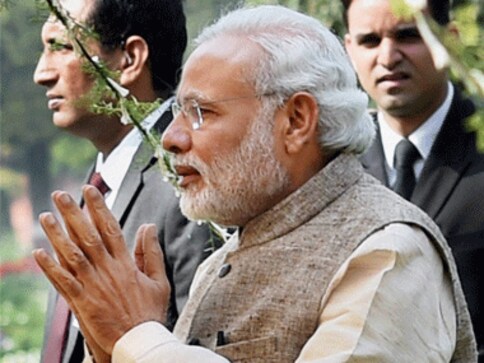 New Delhi: Asserting that "political intervention" is necessary in a democracy, Prime Minister Narendra Modi on Tuesday made it clear to bureaucrats not to view this as a hindrance for good governance.
Drawing a distinction between political interference and intervention, he said while the former will "destroy" the system the latter is "necessary" and "inevitable".
Addressing civil servants, the Prime Minister said bureaucratic temperament and political interference are often talked about as obstacles in moving the democratic process forward.
"In a democracy, bureaucracy and political intervention go hand in hand. This is the speciality of democracy. If we have to run this country, we do not require political interference. But political intervention is necessary and inevitable otherwise democracy will not work.
"Political intervention is required in democracy as legislators are elected by people. Political interference destroys (the system)," Modi said.
He said there is a need to remove words like obstacle and difficulty from within the bureaucratic system.
"One department is working but it is stopped somewhere. You will ask what has happened? It will say that is the bureaucratic way of functioning. Similarly if some work is stuck somewhere we say it is political interference," Modi said at the Civil Services Day function.
Emphasising on accountability and responsibility, Modi told the bureaucrats that every problem has a solution which has to be found out.
"Accountability, Responsibility and Transparency; this ART is essential for good governance," he said.
Advocating reforms in bureaucracy, Modi said there is a need to give impetus to reforms and technology as the day is not far when the world will look at m-governance or mobile governance.
Remembering Sardar Vallabhbhai Patel, the Prime Minister said it was natural to recall the contribution of country's first Home Minister, who had worked for integration of India.
"Today, the need is socio-economic integration. We think of a model that gives importance to integration, that brings the people closer to each other," he said.
Asking the civil servants to value the importance of life, Modi said otherwise it would become uninteresting just like a page of any file.
"A life full of tension cannot achieve anything, especially when you have to run the nation. ...You are very good at time management but do you spend quality time with your family? Please think about this," he said.
Congratulating officers who were honoured for their distinguish service in different fields, the Prime Minister said there was a lot to learn or replicate the good works done by the awardees.
"Our work is not only to run departments. We have to be innovative, modernise within the department as well," he said adding, "We need to give priority to perfection and capacity building".
Modi asked civil servants to maintain a positive outlook, convert adversity into opportunity, and strive towards perfection.
He said socio-economic integration should also be an objective of the civil services and national unity today implied an end to the digital divide, urban-rural divide, and all forms of socio-economic inequity.
According to him, as the Indian economy moves from "scarcity" to "plenty," the civil services required capacity building to be able to better serve people.
He said bureaucrats are used to work in scarcity like fund crunch and all.
"India is going to have a big problem as to how to work in plenty. Resources are going to increase. Economic situation is going to improve but if our capacity building does not improve within the governance then we will not be able to use this money in right way at right time."
Modi said urban bodies suffer due to lack of manpower because of which consultancies and NGOs have to be given major works.
He urged senior civil servants to spend time in motivating youth to aspire for, and join the civil services, to ensure that the best talent was available to the government.
He also referred to a Goldman-Sachs report which said it will take India a decade to reach the Asian average on government effectiveness and urged civil servants to end the "silo-approach" and work as a team.
Modi said that teams of officers from various states should take up as case studies, the award winning projects, and ensure that these are adopted as best practices, wherever possible. He called upon all civil services to develop an institutional memory.
He also asked civil services officer to interact with the college students at least once in a year.
Modi conferred the 'Awards for Excellence in Public Administration' for 2012–13 and 2013-14 to outstanding initiatives in public administration. A book on 'Best Practices – Tomorrow is Here' was also released by him.
Minister of State for Prime Minister's Office Jitendra Singh cited good governance initiatives like use of self-attested documents and relaxing pension norms to held the retired government employees, among others.
Cabinet Secretary Ajit Seth said that civil servants need to be confident and equipped with better training. "They also need protection against frivolous complaints," he said.
PTI
also read
India
Congress leaders paid their respects to Nehru on his 59th death anniversary at an event held at Shanti Van in New Delhi
India
Shortly after he arrived at the location, PM Modi attended a havan and performed a puja at the premises ahead of the inauguration
India
Rajya Sabha Deputy Chairman Harivansh added that the 'day is an important milestone as it will prove to be a source of inspiration in the Amritkaal'