In Chhattisgarh, Narendra Modi tears into Congress for backing 'Urban Naxals' in maiden campaign rally for BJP ahead of polls
Prime Minister Narendra Modi used Congress attempts to defend 'Urban Naxals' to launch a blistering attack on the BJP's electoral rival.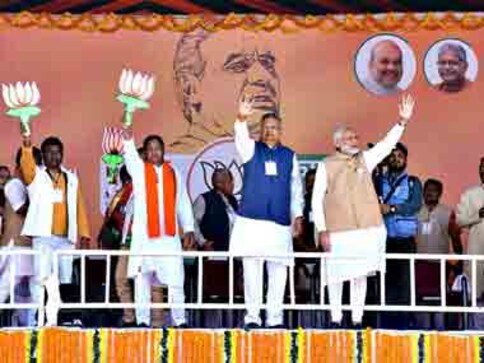 Coming down heavily on 'Urban Naxals' in his first election rally in Chhatisgarh ahead of the upcoming Assembly polls, Prime Minister Narendra Modi gave a vent to his anger by saying they have rakshahis manovriti (psyche of a demon) who put guns in the hands of young boys and girls who should otherwise have been holding pens in their hands.
"They burn schools, not allow doctors to visit schools. They are 'Urban Naxals'. They live in the comforts of air-conditioners in the cities. They look neat and clean and live in well-built houses. Their children study abroad. They move around in big cars, mingle in upper echelons of society and carry a certain aura about them. They live in urban centres but use a remote system to destroy lives of tribals living here," Modi said.
This was thus far the strongest condemnation of 'Urban Naxals' from a public platform and from no less than the prime minister.
The issue was widely debated at various public platforms since the Maharashtra government launched an inter-state multi-city crackdown in August against 'Urban Naxals' and arrested Varvara Rao, Sudha Bharadwaj, Arun Ferreira, Vernon Gonsalves, Gautam Navlakha and Stan Swamy. Five other Naxal sympathisers including Rona Wilson, Sudhir Dhawale, Shoma Sen, Mahesh Raut and Surendra Gadling were earlier arrested in Maharashtra and Delhi in connection with the Bhima-Koregaon case.
Soon after at the behest of the Congress, various opposition parties challenged their arrest, terming it an assault on freedom of expression and right to dissent.
Congress president Rahul Gandhi came out strongly in their support and in a tweet lampooned Modi government. "There is only place for one NGO in India and it's called the RSS. Shut down all other NGOs. Jail all activists and shoot those that complain. Welcome to the new India," he said in a tweet.
Historian Romila Thapar petitioned the Supreme Court seeking relief for the alleged 'Urban Naxals'. The political colouring around the debate made it a BJP versus the rest kind of debate, almost completely ignoring the national security angle. The Congress party leaders including Rahul conveniently forgot that Manmohan Singh as prime minister had once declared that Maoists are the biggest threat to India's internal security.
Modi used Congress attempts to defend 'Urban Naxals' to launch a blistering attack on the BJP's electoral rival.
"The Congress must respond when the government takes action against 'Urban Naxals' why do they come out to defend them, make statements in their favour? Congress leaders come to this state and make inconsequential remarks against Naxals. Will you forgive such people? These people will not win Chhattisgarh. I appeal to you to ensure that BJP wins all seats in the Bastar region. If anyone else wins, it will be a blot on Bastar's dreams," the prime minister said.
Eighteen seats in the Naxal-affected areas of the state are going to the polls on Monday. Since the winning margin has always been thin in the state, the polling pattern and results of these seats can decide whether or not BJP's serving chief minister will get a chance to serve for a record fourth term.
Modi and the BJP would hope with some tangible development initiatives and making it slightly emotive three days before polls, the BJP would retain its edge.
It was also interesting to see that Modi recalled Atal Bihari Vajpayee, his role in creating the separate state of Chhattisgarh and his dream for the state to strike yet another emotive chord with the people. Vajpayee originally belonged to Madhya Pradesh, a state which Chhatisgarh was a part of till the Vajpayee-led NDA government created it 18 years ago. The former prime minister's name thus still resonates among the people.
Another reason why Modi repeatedly took Vajpayee's name was perhaps because his niece Karuna Shukla has joined Congress and is fighting against Raman Singh in Rajnandgaon.
The BJP would hope that people would come out in large numbers on Monday to express their preferences.
also read
Politics
The primary argument of Opposition for boycotting inauguration is that the Parliament, the embodiment of India's Constitution, be unveiled by the President, and not the PM
India
Bommai also urged the government to investigate alleged scams or irregularities that took place during the previous BJP and Congress governments, and let the truth come out
World
Khalistani supporters interrupted the speech of Congress leader Rahul Gandhi at an event in California and raised Khalistan flag and 'Khalistan Zindabad' slogans