IGNCA rejig: Why its restructuring by Modi government pinches Congress's first family
The IGNCA is a cash rich organisation, and its trustees and chairpersons have drawn authority, for most parts, directly from the Prime Minister
About 10 days ago, Ram Bahadur Rai received a call from a senior South Bloc official, asking for his approval if he were to be appointed as Chairman of Indira Gandhi National Centre for Arts (IGNCA). That call was obviously made to him after his name was given due approval by the political leadership and the final paper work was to be set in the motion.
Rai, a veteran jounalist surely has ideological moorings in the Sangh Parivar, someone who grew up as ABVP activist, but he is equally at ease with the Lohiate thought process. Almost all senior leaders of the socialist tradition have been his friends -- V P Singh, Chandrashekhar, Nitish Kumar, Lalu Prasad Yadav, Mulayam Singh Yadav, etc to name a few. So much so that it was he who named Lalu's eldest daughter as Misa. Lalu and Rai were jailed together in jail during Emergency under Maintenance of Internal Security Act (MISA) and so when Lalu got the news of his daughter birth, he asked Rai what should be her name. Rai responded, `Misa'.
He is considered to be among those who don't hanker for positions of authority and influence. Thereby Ram Bahadur Rai could perhaps be the least controversial person to be heading the IGNCA. He has been picked up by the Modi government for the post, long considered to be Nehru-Gandhi family personal fiefdom.
But this is one change which Congress couldn't take kindly to. Senior Congress leader Anand Sharma called restructuring of IGNCA to be a "cruel joke". In politics, people's memory is short, or at least people pretend it to be so. What else would explain the fact that within few months of its return to power in 2004, the Congress had thrown out the NDA's appointee to the IGNCA trust, bringing back its own favourites including Kapila Vatsyayan? In year 2000, the Vajpayee government had gone through a long drawn battle against the Congress to make changes in the Board of Trustees, Executive Committee and other structures of this influential cultural body. LM Singhvi was then appointed as its chairman.
Spread across 23 acres of prime land in New Delhi on the intersection of Janpath, Rajpath and Rajendra Prasad Road, IGNCA was established by Rajiv Gandhi in 1985 as an autonomous institution under the Ministry of Culture. Its official website says: "The Indira Gandhi National Centre for the Arts, established in memory of Indira Gandhi, is visualised as a centre encompassing the study and experience of all the arts -- each form with its own integrity, yet within a dimension of mutual interdependence, interrelated with nature, social structure and cosmology. This view of the arts, integrated with, and essential to the larger matrix of human culture, is predicated upon Smt. Gandhi's recognition of the role of the arts as essential to the integral quality of person, at home with himself and society...." It was one of the rare institutions to whom the Union Government had provided an initial corpus of Rs 50 crore to begin its work, so that it would not be dependent on fund allocation by the ministry for programmes.
IGNCA now has a swanky new building. A "boutique hotel" Indravan, has also been allowed to it. The Hindu had done a detailed news report on that. It also noted that "a quarter of a century after opening, the Centre's academic and cultural activities remain at a low level".
The IGNCA is a cash rich organisation with prime properties in Delhi, Bangalore and Guwahati. Its trustees and chairpersons have drawn authority, for most parts since its existence, directly from the Prime Minister and his office. Rajiv Gandhi had handed it over to Kapila Vatsyayan on a platter, giving her a free hand in its operations and was said to always open to her suggestions for related requirements. On its inception in 1987, Rajiv Gandhi became its president and Kapila Vatsyayan its member secretary. she also became its academic director. Given her close and continued proximity with the Nehru-Gandhi family for three generations, from the time of Jawaharlal Nehru to Indira Gandhi and Rajiv Gandhi, her word was the law for those concerned.
The kind of weight this organisation carried in the official structure at the centre was apparent list of its founder trustees -- Rajiv Gandhi, R Venkataraman (President of India), P V Narasimha Rao (HRD Minister), Pupul Jayakar, H Y Sharada Prasad and Kapila Vatsyayan.
The Congress first family's control over the organisation was further strengthened in 1995 by issuing an executive order to make Sonia Gandhi as its "life President" and the likes of Vatsyayan as "life trustee". The address 1 Janpath which houses IGNCA was virtually seen to be an extension of 10 Janpath.
A change in regime at the Centre, the Vajpayee government taking over in 1998 and in 1999, meant that IGNCA couldn't remain a personal pocket borough of the Nehru-Gandhi family and its loyalists. In 2000, the Vajpayee government dismantled the then existing structure of life president (Sonia Gandhi) and life trustees. Removing Kapila Vatsyayan from the top post and making Sonia Gandhi an ordinary trustee for a specified period. Some took it as an outbreak of an uncultured cultural war between the BJP and the Congress to control an organisation which was dedicated to memory of Indira Gandhi, even as it was run on ordinary tax payers expenses.
That change, however, did not last long. Four year later when the BJP lost power and Congress led UPA came to power, the old regime led by Kapila Vatsyayan was brought back at positions of command and influence. This time around Sonia Gandhi, however, didn't choose to be officially part of it.
Kaveri Bamzai of India Today wrote a piece titled `Comeback queen'. Bamzai wrote "Kapila Vatsyayan, the Congress' favourite cultural czarina, is back in her preserve, the Indira Gandhi National Centre for the Arts, and the tit-for-tat with the NDA is now almost complete."
Some of those sacked as trustees by the UPA government included likes of famed classical dancer Sonal Mansingh and V Kamath. It is ironical that when Modi government has gone for restructuring of IGNCA now, it has brought them back as trustees. The new board of trustee include Sonal Mansingh, Chandraprakash Dwivedi, Nitin Desai, K Arvinda Rao, Vasudeo Kamath, Dr Mahesh Chandra Sharma, Dr Bharat Gupta, Dr M Seshan, Rati Vinay Jha, Professor Nirmala Sharma, Harsh Neotia, Dr Padma Subrahmaniam, Dr Saryu Doshi, Prasoon Joshi, DP Sinha and Viraj Yagnik.
Clearly Ram Bahadur Rai has his task cut out for him.
India
The 20-day mega campaign titled 'Seva aur Samarpan Abhiyan' will begin tomorrow (17 September) and will conclude on 7 October
India
Modi has been deemed to be one of the biggest supporters and proponents of Yoga.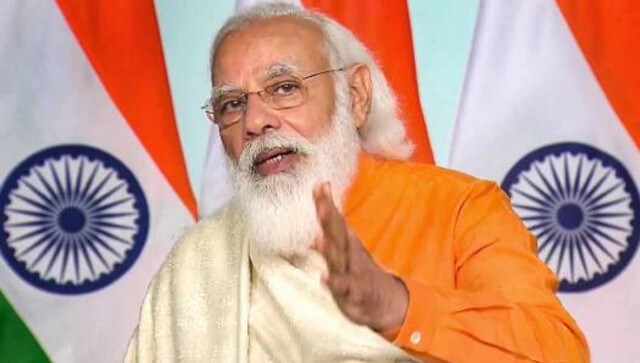 India
Huge celebrations have been planned for the occasion, with over 71,000 diyas to be lit at Varanasi's Bharat Mata temple