If they dare to glare at us we can gouge their eyes out, threatens Mamata's nephew Abhishek Banerjee
West Bengal Chief Minister Mamata Banerjee's nephew Abhishek has once again left the Trinamool Congress red-faced over a violent threat.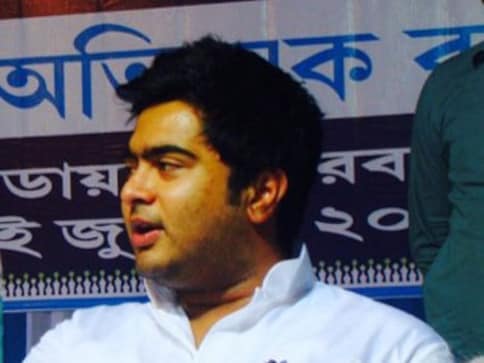 West Bengal Chief Minister Mamata Banerjee's nephew Abhishek has once again left the Trinamool Congress red-faced over a violent threat.
In a controversial statement, Abhishek warned that those who dared to hurt Bengal's interests will have their eyes gouged out and their hands chopped off, reports CNN-IBN.
"Those who dare to glare at us, we can gouge their eyes out and throw them on the road. Show us your hands and we can cut them off, but remember, it is the common man who will have the last word," said Abhishek while addressing party workers.
The 27-year-old heads the party's youth wing.
Responding to the comments, BJP's national spokesperson GVL Narasimha Rao said, "If they (TMC) think they will scare people by using such language there will be a revolution in Bengal. Thats the only way TMC can win elections, by unleashing terror," reports news agency ANI.
"The comments are the reflection of the DNA of Trinamool Congress. This is what is expected of TMC and its leaders," said BJP national secretary Siddharth Nath Singh.
CPI(M) leader Sujan Chakraborty said the proactive statements of Abhishek shows the mindset of Trinamool.
"I am not surprised by the statement. This is their ideology and mindset. Several TMC leaders had earlier spelt it out. Now Abhishek has said it," Chakraborty said.
In January this year, Abhishek was slapped by a young man at Chandipur in East Midnapore district, who got on the stage after a rally.
The youth, who was taking pictures of the leader suddenly rushed towards him and slapped him. The youth was immediately pulled away and attacked by TMC members present at the spot.
But courting controversy and making outrageous comments is nothing new for Trinamool Congress.
On 1 January, after a clash between CPI(M) and TMC activists in Kalna, women activists had then alleged that TMC men had molested them during the clash. Responding to the claim, West Bengal minister and senior Trinamool Congress leader Swapan Debnath alleged that some CPI(M) women activists were in a habit of tearing their own clothes and then blaming TMC men for molestation, reports the Economic Times.
In June this year, Soumitra Banerjee, Trinamool's Raniganj block unit and a member of the party's students' wing was arrested after he allegedly threatened to blow up a police station when cops tried to intervene during a students' protest in Burdwan district in West Bengal, reports NDTV.
But perhaps the most controversial statement came from actor and TMC MP Tapas Pal in 2014 who was caught on tape threatening to let party cadre rape the wives and sisters of opposition party members during a speech in a Choumaha village in West Bengal.
"If anyone from opposition or their wives and sisters are here, then listen up, if any one of your people touch anyone from TMC I will destroy you, I will not spare them. I will send my boys and they will rape people," said the MP from Krishnanagar said in the video.
He was also heard saying, "My name is Tapas Pal. If any one touches any TMC person I will make sure they are dead. I walk around with 'maal'. 'Maal' means revolver. If any CPM person touches anyone in the Choumaha village I will make sure they are destroyed. I will burn their houses down."
(With inputs from PTI)
Entertainment
In an exclusive conversation with Firstpost on his birthday actor Abhishek Banerjee says that nothing much has changed in Bollywood, producers still want stars who are probably giving them the box office ticket numbers.
Politics
The trekkers were killed on Wednesday when the SUV they were travelling in fell into a gorge in Tehri district and caught fire
Politics
The West Bengal chief minister asked police to beef up security in border regions of the state, referring to reports of arms were being smuggled into Paschim Medinipur district from neighbouring states like Bihar and Jharkhand via trains