'I liked the film Lagaan': Five other movies Rahul Gandhi should watch for inspiration
Rahul Gandhi said he liked Lagaan and even used the film's plot to describe a political situation. Here are five movies Rahul should watch for inspiration.
Sharpening his attack on Prime Minister Narendra Modi over the land bill, Congress leader Rahul Gandhi on Friday said farmers will reduce his "56-inch chest" to "5.6 inches" in six months and not an inch of land will be ceded.
"This 56-inch chest will turn into 5.6 inches in six months. And who will turn this into 5.6 inches? It is the Congress party, people of the country, the farmers and the labourers. You will see," Rahul said, taking a jibe at the Prime Minister's remark of "56-inch chest" made at the time of the Lok Sabha poll campaign.
Rahul Gandhi also said that in earlier times, those who ruled over India had given their powers to London. In the same way, the Rajasthan Chief Minister has said she wants to help an absconder but Indian people should not know, added Rahul. He also said that in her earlier term as Chief Minister, Vasundhara Raje and Lalit Modi did business together and Lalit Modi invested money in her son's hotel.
Citing the film Lagaan, he said, "The characters in the film got united against the British officers who had their remote control in London. Similarly, Raje government's remote control was in the hands of Lalit Modi in London."
If Lagaan inspired Rahul to make such comparisons, here are some movies he should definitely watch:
1. Whiplash
What the movie is about: A young drummer (Andrew) attending a prestigious music academy finds himself under the wing of the most respected professor (Terence Fletcher) at the school, one who does not hold back on abuse towards his students. The two form an odd relationship as the student wants to achieve greatness, and the professor pushes him to his absolute limits.
Why Rahul should watch it: Rahul is like the drummer and media, the professor. For his every single mistake, no matter how small and insignificant it might be, he has been thrashed by the media. Over the years he has been ridiculed, humiliated and pushed to his limits. Now, he has a choice, he can either succumb to that pressure or use it to be the best.
2. Interstellar
What the movie is about: Earth has been devastated by drought and famine, causing a scarcity in food and extreme changes in climate. When humanity is facing extinction, a mysterious rip in the space-time continuum is discovered, giving mankind the opportunity to widen its lifespan. A group of explorers, led by Coop, the pilot of the Endurance, must travel beyond our solar system in search of a planet that can sustain life. The crew of the Endurance are required to think bigger and go further than any human in history as they embark on an interstellar voyage into the unknown.
Why Rahul should watch it: This movie is a perfect metaphor for the current political situation involving him and Congress. Congress is like planet Earth, facing extinction, and Rahul is Coop, sent out in a last ditch challenge to save it. But the job is not easy at all. He needs to learn, adopt and face challenges like never before, all the while knowing the entire party's future is dependent on him. And yes, he definitely needs to 'think bigger and go further than any human in history as they embark on an interstellar voyage into the unknown.'
3. Nightcrawler
What the movie is about: When Louis Bloom, a driven man desperate for work, muscles into the world of LA crime journalism, he blurs the line between observer and participant to become the star of his own story. Aiding him in his effort is Nina, a TV news veteran.
Why Rahul should watch it: Another must watch for Rahul. Now that he is here to stay (or we hope so), he needs to learn all the tricks of the trade, and who better to learn it from than Louis? One of the gems handed out by Louis goes something like this: "I've made up my mind to find a career that I can learn and grow into. Who am I? I'm a hard-worker, I set high goals and I've been told that I am persistent. Now, I'm not fooling myself, sir. But I know that today's work culture no longer caters to the job loyalty that could be promised to earlier generations. What I believe, sir, is that good things come to those who work their asses off." Well, plenty to learn here, and like Nina, Rahul too has someone aiding him. You know who we're talking about.
4. Man of Steel
What the movie is about: A young boy learns that he has extraordinary powers and is not of this Earth. As a young man, he journeys to discover where he came from and what he was sent here to do. But the hero in him must emerge if he is to save the world from annihilation and become the symbol of hope for all mankind.
Why Rahul should watch it: Although Rahul is from Earth (or we are made to believe), the rest of the story resonates with his standing now. Born in Gandhi family, he was bestowed upon with high political powers. Now, as a young man, his party needs him more than ever. He must emerge as the savior of the party and indeed save it from annihilation.
5. The Wolf of Wall Street
What the movie is about: Based on the true story of Jordan Belfort, from his rise to a wealthy stock-broker living the high life to his fall involving crime, corruption and the federal government.
Why Rahul should watch it: This should perhaps go as one of the movies not to get inspired by, (who would like a politician zonked out of his mind on drugs and sex, or maybe we will) but Belford's words, although guided by the worst kind of vices, are truly inspiring and would pump Rahul up in a matter of seconds. Maybe he should watch it every time before making a public appearance.
(With inputs from PTI)
Find latest and upcoming tech gadgets online on Tech2 Gadgets. Get technology news, gadgets reviews & ratings. Popular gadgets including laptop, tablet and mobile specifications, features, prices, comparison.
Entertainment
Ravan Leela, helmed by Hardik Gajjar, is scheduled to release sometime later this year.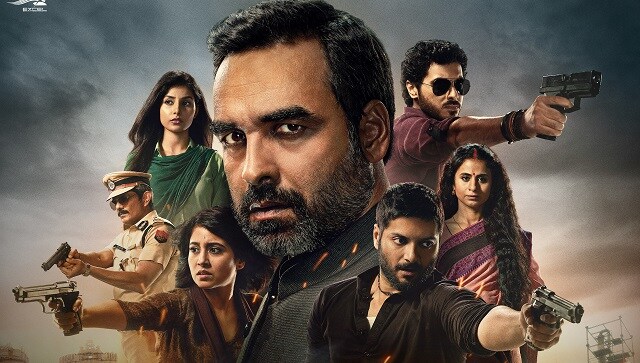 Entertainment
Mirzapur season 2, which debuted on Amazon Prime Video on 23 October, became the most-watched show on the platform in India within seven days of its release.
Entertainment
The show confines its three protagonists to a single setting for its entirety, and it should make for a suitable bedfellow in these COVID-19 times. But it doesn't.