How CCTV can help in tracking down terrorists
Despite the patchy record of surveillance cameras in preventing crime, some recent advances in technology - in China - could prove a game-changer. Here's how it might have helped investigators probing the Mumbai blasts.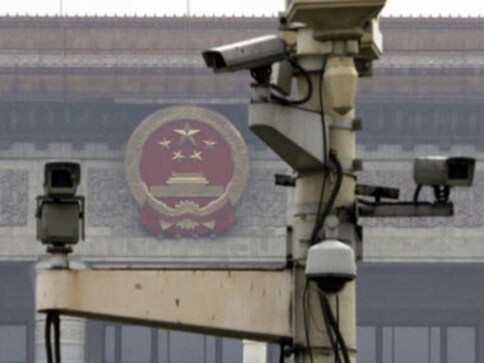 Anti-terrorism investigators looking for clues to the identity of the persons who set off  Wednesday's  bombs in Mumbai are counting on a set of "all-seeing eyes" in the hope that they didn't miss a trick.
Their hope is that a battery of closed-circuit television (CCTV) cameras around some of the blast sites could provide them the clues they're desperately looking for. In particular, cameras in and around Opera House – one of the three places where the bombs were set off  - could, they believe, provide them a critical lead.
Of those, one camera – positioned above the rear exit of the Panchratna building in Opera House, diagonally opposite the site of the blast  - could offer game-changing evidence, the investigators hope.
Given the challenges of policing in India, surveillance technology – of the sorts that Mumbai's forensic investigators are working with now – can be useful tools in the overall anti-terrorism effort. The experience of other cities around the world – including, London, which has one of the world's highest concentrations of CCTV cameras – is that the invocation of such technology hasn't gone far enough to deter crime in its entirety.
Even so, there are limitless possibilities that technology offers in defence of internal security – and the experience of other countries is educative.  China, in particular, has expanded the frontiers of surveillance technology –although it's used rather more to "keep an eye" on dissidents and malcontents and to prevent a mass uprising against the state. Nevertheless, to the extent that a secular application of surveillance technology can at least marginally enhance security levels in our terror-targeted cities, there may be a case for considering them.
China's surveillance and people-tracking programme, known as the 'Golden Shield', is perhaps the most ambitious and the most elaborate in the world. A pilot programme was tested in Shenzhen, the Special Economic Zone in southern China, in preparation for nationwide use. The programme will effectively put together a searchable database of every man, woman and child in China, complete with names, photographs, biometric information, and residence and work details.
The database programme has already drawn invocations of the Big Brother state. It scale is of course unprecedented, but even more striking is the manner in which it will be compiled and updated: it will include surveillance cameras in cities, cutting-edge facial-recognition software, speech signal processing technology and even digital signal processing that virtually lets machines 'think' like humans!
In Shenzhen, an estimated 200,000 surveillance cameras have been installed, mostly in public spaces, with plans to put up two million, which would make Shenzhen the world's 'most monitored' city. Video-feed from TV cameras, which track anyone who comes within range, will be linked to a nationwide network that can identify every face in a crowd.
The 'Golden Shield' also incorporates other surveillance technologies: remote monitoring of computers and the Internet, 'phone-tapping' with the facility for speech recognition and searching for key words and phrases, and physical tracking of people's movements through national ID cards with embedded chips.
China's 'Golden Shield' was tested partially during the uprising in Tibet in 2008, when the police used surveillance footage to track down and arrest 21 "most wanted" Tibetans involved in the violence.
More recent advances in pattern-recognition technology in China have made it possible for security officials to identify a person from just his or her gait. A WikiLeaks cable sent from the US embassy in Beijing noted that the Chinese Academy of Science (CAS) and the Institute of Intelligent Machines (IIM) in China  had developed a biometrics device that uses a person's pace to identify them. "The device measure weight and two-dimensional sheer forces applied by a person's foot during walking to create a uniquely identifiable biometrics profile. The device can be covertly installed in a floor and is able to collect biometrics data on individuals covertly without their knowledge," the cable noted.
It is no one's case that we should rush headlong into building just such a surveillance society. In any case, even a project such as the 'Golden Shield' may not be enough to prevent terror attacks. What it could do is to vastly improve security services' response time and enhance their ability to track down terrorists. For the  anti-terrorism investigators banking on images from just one camera in or near Opera House  to establish the identity of the bombers, that may be an investment worth making.
World
Scammers in India looted over Rs 1 crore from just 81 Mumbai residents using UPI. The scammers first transferred a small amount of money to their victims, and then share a malware-infected link, asking them to pay them back.
Explainers
According to Nashville police, it took about eight minutes from the initial call to the arrival of officers on the scene. Audrey Hale, 28, was apprehended by police four minutes after they arrived on campus
World
On 27 January, a Palestinian shot dead seven people outside a synagogue before being killed by police in the Jewish settlement of Neve Yaakov, in annexed east Jerusalem. Israel's police commissioner responded to the attack by calling on those eligible to carry a firearm to do so