Hooch hoodlums and movie stars: Mamata's 'bad news' crisis
Tapas Pal, Trinamool MP might have never met the local hoodlum, with alleged Trinamool ties, accused of dismembering a college student who protested his hooch dens. But Mamata Banerjee should be worried about both.
Tapas Pal has probably never met Shyamal Karmakar. But the two have unwittingly become the two faces of Trinamool Congress.
Trinamool MP Pal, of course, is now more famous or infamous nationally, than he ever was in his heyday as an actor for his comments at a public meeting in his constituency. It's worth remembering though that he didn't just threaten to unleash his "boys" on a raping spree against political opponents. He also threatened to shoot opponents with his own revolver. As he told the crowd in colourful Tollywood villain slang "Aami Kolkatar maal noi, Chandannagarer maal. Rangbaaji Tapas Pal korechhey" (I am not some rowdy from Kolkata, I am a Chandannagar rowdy. Tapas Pal has also been a tough guy). Kolkata is clearly effete bhadralok compared to suburban and small-town machismo.
Pal is just an actor, going overboard, trying to act the part of the tough guy. Shyamal Karmakar is the real thing.
On Friday, Sourav Chowdhury, a young college student who protested hooch dens run by Karmakar near Kolkata was found beside the railway tracks, beheaded and dismembered, his body chopped into nine pieces. Karmakar is the prime suspect. The student's father tells The Times of India that when his son was dragged away from his home, he desperately called the local Trinamool panchayat leader, Karmakar's alleged patron. The leader refused to take his calls. "If he had instructed the goon to stop, my boy would have survived," says the father. Now Karmakar is absconding and locals tell TOI they are sure "some Trinamool leaders have helped him cross the border at Hasnabad or at Bongaon".
Karmakar represents the ugly goonish reality of Bengal politics. As actor Parambrata Chattopadhyay writes in an op-ed for The Telegraph:
For some of us privileged city dwellers who, under the spell of ignorance, would still like to think of Bengal as a haven of peace and brotherhood, here's some news! Bengal has been the biggest hotbed of rural political violence in the country over the past 15 years.
This violence is not a Trinamool invention. The CPM built the muscle. The Trinamool decided to co-opt it. Karmakar, a school dropout, started his career as the close aide of Samar Brahmachari, a CPM gram panchayat member and local leader says TOI. In 2008 seeing the winds shifting he switched loyalty to the Trinamool and became a close aide to his local leader. Now both parties officially deny Karmakar was ever associated with them.
Trinamool has never been secretive about its base. As social activist V Ramaswamy said in an earlier interview " (Mamata) is not a pretender. She is lumpen and she is subaltern." Ranabir Samaddar, head of the Calcutta Research Group says Mamata's social base is not "petit bourgeois but petit producer and this huge army of unorganised labour and also self-employed labour like auto-rickshaws and small shops."
But Mamata Banerjee, hyper-aware of Bengal's class disdain and snobbery, also needed to be more than the Didi of the lumpen. "Many perceive Mamata's weakness for celebrities as an attempt to create the impression of a broader leadership base of her essentially one-leader party," writes Jay Mazoomdar in the Economic Times. "As the Left was entrenched in every field of life in Bengal, she found it necessary to seek cultural resonance for her brand of street politics." So she decided to do a cultural conquest of the state. While Kolkata's traffic signals started singing Rabindrasangeet, Mamata marshaled the state's actors, directors, singers, sportsmen as "guest politicians" to become her party's face in parliament.
Ironically, just like the petty hoodlums, many of these intellectuals had once supported the Left before they switched to Mamata. She wooed both groups with great fervour and tenacity. The celebrities got positions on various commission and Bangabhushan awards. The hoodlums got their hooch dens and cuts in the real estate and construction business. The hoodlums nurtured Trinamool's local clout. The intellectuals and artists gave Trinamool's rough-and-tumble politics a sort of veneer of bhadralok sophistication. Harvard professor Sugata Bose gave an erudite speech in parliament. Cine star Moon Moon Sen gushed about Julius Caesar.
But as Tapas Pal demonstrated so clearly, the veneer is a thin one. Is a revolver-brandishing Pal really going to lead a pillaging raping mob through villages of Nadia as if he was some modern-day Attila the Hun? Unlikely. Pal was trying to talk to the Karmakars in that crowd in Choumaha in what he thought was their lingo, a Bengali B-grade ghettospeak. And the crowd cheered and hooted proving he was not entirely mistaken.
Mamata's problem is that both faces of her party now stand exposed and neither are pretty. Every party needs its muscle. People in Bengal are not naïve enough to think Didi can afford to dispense with them, but they expect her to keep them under control. But every other day there is a new story about one Trinamool faction fighting another Trinamool faction, setting a party office on fire, hurling bombs and bricks at each other on a busy street. That should worry Mamata. It's one thing when it's Trinamool fighting CPM. That can be seen as Didi flexing her muscle. But when it's a Trinamool vs Trinamool family feud, that can be interpreted as Didi losing control of her boys.
The celebrities, roped in for political duty, were part of her plan to keep these factions in line. "She has to put candidates from the top because there is so much in-fighting," says Samaddar. Mazoomdar writes that in Ghatal where action-hero Dev won for Trinamool, the party workers were divided between Mamata's right-hand man Mukul Roy and local strongman Subhendu Adhikary. But both could come together for Dev. Her nomination of Moon Moon Sen worked spectacularly well. Sen unseated a nine-time MP stunning political watchers.
Didi's gamble seemed to have paid off. Culture is the opium of the people of Bengal and the electorate seemed to like her doses of what she called "Tollywood and Tellywood". But the opium only works if the party's two faces are kept firmly apart from each other in public. Pal in his desperate attempt to fit in with what he thought was his party's base has breached that public-private divide and punctured the manufactured illusion. And the BJP is making the most of its lack of political baggage in the state while both CPM and Trinamool are going red in the face denying their ties with the likes of Karmakar. BJP state president Rahul Sinha and their losing candidate P C Sorcar were quick to visit the murdered college student's family.
Mamata is indisputably in charge in the state. She's won a big electoral victory. She's won the panchayat elections. She will not face the voters for a couple more years. But she needs to show she's not just in charge, but in control of both the Tapas Pals and the Shyamal Karmakars. That is why a slap on the wrist just won't do argues Parambrata Chattopadhyay writes:
Let expelling Mr. Paul be the first step. Let us set an example by bringing some penalty to the guilty.
Otherwise as Yajnaseni Chakraborty observes sardonically on Facebook the absconding Karmakar need not worry too much.
Has no one told him that all he needs to do is seek an 'unconditional apology' and all will be well?
Politics
Sharma, BJP's Alipurduar district president, alleged that the party ignored the sentiments of grassroots workers while choosing candidates for the Assembly polls
Politics
Mukul Roy, who joined the Trinamool Congress on Friday, did not comment on the reasons behind quitting BJP, but he made it clear that he will never rejoin the saffron party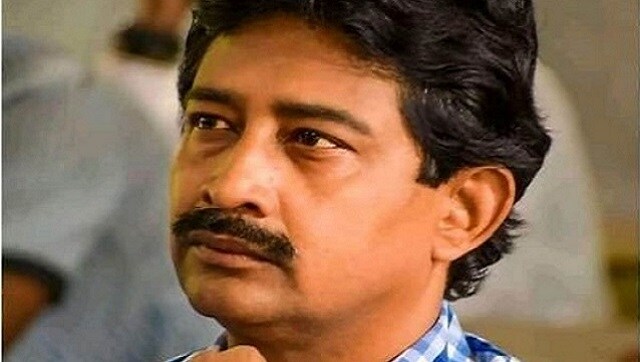 Politics
Banerjee, who unsuccessfully fought the Bengal Assembly polls on BJP ticket, described his meeting with the TMC general secretary as a 'courtesy visit'