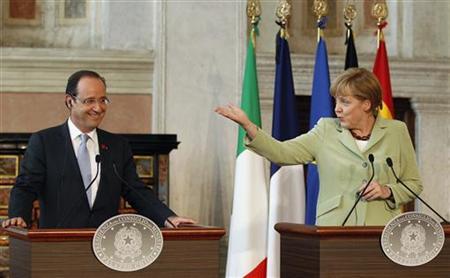 PARIS (Reuters) - French President Francois Hollande may have set himself up for a fall this week, as Germany's Angela Merkel shows no sign of yielding to his push to provide more financing guarantees to stabilise the euro zone.
The Socialist leader has raised the stakes for a June 28-29 European Union summit with his drive for a bank deposit guarantee scheme to protect euro zone savers and governments and for steps towards mutualising debt and reviving growth.
He is also backing a push by Italy to let the bloc's bailout fund buy troubled states' sovereign bonds on the secondary market without having to invoke emergency procedures, as a way to curb their borrowing costs and fight speculation.
Public sparring between Hollande and Merkel, who will not consider such steps before euro states sign up to much deeper fiscal integration, suggests he is in for a blunt reminder that as long as it holds the cheque book Berlin calls the shots.
In a pointed, if indirect, exchange at a news conference in Rome last Friday, Hollande said there must be more solidarity in Europe before countries hand over more sovereignty over their national budgets, while Merkel said she would not accept extra liabilities without control.
As well as potentially damaging Hollande's image at home, a failure to get Merkel to bend may also spook financial markets which are looking for firm action to stem spiraling bank woes in Spain and underpin the euro.
"There is a real conflict here and the future of Europe is at stake," said a French economist who asked not to be named because he informally advises the five-week-old government.
"Hollande has exerted the maximum pressure on Merkel but if she remains intransigent and only agrees to the growth pact, I believe he will cave in and give her what she wants. He is not the type to get into an arm wrestle or serious clash over this."
Hollande has invited Merkel to Paris for a working dinner on Wednesday, the eve of the two-day Brussels summit, for a last push to square their widely differing positions.
"We will be working with our German partners on a compromise up until the very last minute," a French source said on Sunday.
As things stand, the summit looks set to agree to Hollande's proposal for a growth package worth 130 billion euros in joint bonds to fund infrastructure projects, a redirection of EU regional development funds and a capital increase to give the European Investment Bank more firepower.
In return, Hollande is expected to go along with a 10-year road map Merkel wants towards deeper political and fiscal integration among the 17 euro zone states.
The growth pact should allow Hollande to save some face, and a strong signal of intent on deeper integration could win EU leaders some time from impatient financial markets.
But Hollande looks set to be defeated on his call for steps towards creating joint euro zone bonds which he made the centrepiece of his debut on the European stage in May.
Sources on both sides say Merkel has not softened her opposition to euro bonds and will not meet Hollande halfway by agreeing to test the waters with short-term "euro bills".
Loath to be seen signing blank cheques ahead of a 2013 federal election, Merkel is also opposed to a proposal backed by Hollande to set up a redemption fund to rope off and manage public debt above 60 percent of gross domestic product.
The deadlock is fanning impatience outside the euro area as the deepening crisis saps economic growth worldwide.
"This is really serious. We're at the end of the road," said a senior diplomat, reflecting the views of non-euro countries. "We need to see the euro zone taking action, standing behind its banks, putting in place a firewall and mutualising its debt. It's the only way to restore confidence."
TESTING THE GROUND
Hollande, riding a wave of confidence after his election, is determined to show he is standing up to Berlin after his predecessor Nicolas Sarkozy was seen as having let Merkel have her way at euro zone crisis talks.
Critics say he may be overplaying his hand.
Conservative former foreign minister Alain Juppe, a veteran diplomat, drew attention this week to a growing impatience in Washington and Beijing over the Franco-German deadlock.
"Europe is being shown the finger because it is divided and this cacophony is really weakening us," he said.
Tensions were tangible at four-way talks in Rome between Merkel, Hollande and the leaders of Italy and Spain.
The brief meeting, where Merkel sat opposite Hollande at a round table and the southern leaders he is batting for on either side, steered clear of discussing euro bonds or a debt redemption fund, sources said.
Afterwards, Hollande made a slightly scornful reference while addressing French expatriates in Rome to the fact Merkel had ordered the talks brought forward by a few hours so she could attend the Germany-Greece Euro 2012 football match.
"We must do this step by step. New instruments, additional solidarity, a reinforced union," he said, outlining his position at the talks and added: "This is what we discussed today - before Madame Merkel went off to see the football match."
Assuming Hollande returns from Brussels with a growth pact in his pocket and steps towards joint bank supervision, he will have to seek parliamentary support for an EU budget discipline treaty and for greater transfers of sovereignty over fiscal and economic policy, with Merkel having shown she is still the boss.
Hollande faces a challenge convincing Eurosceptics on an issue that has split his Socialist Party in the past. But he cannot risk being seen as an obstacle to the fiscal integration now regarded as crucial to the euro's future.
With credit rating agencies concerned about his commitment to budget discipline, Hollande must also avoid drifting away from Berlin and siding too strongly with debt-laden "Club Med" southern states.
He has ditched an initial idea of pushing for more flexibility on deficit targets for France, but is resisting European and market pressure to carry out German-style structural reform of French labour markets and welfare benefits.
"He is testing the ground because it's the start of his term. But pretty soon he's going to fall into line behind Merkel," said the French economist.
Merkel sent Hollande a stern reminder last week of Germany's hegemony in Europe by highlighting France's economic weakness.
A German diplomatic source said Hollande had nothing to gain from playing hardball after Friday. "We will find a compromise," he said.
(Additional reporting by Elizabeth Pineau and Yves Clarisse; Editing by Paul Taylor and Anna Willard)
Updated Date: Jun 24, 2012 19:30:07 IST