History and today's Bihar: From the Mahatma to Munna Shukla, Muzaffarpur's great leap into darkness
From the Mahatma to Munna Shukla, it's indeed a giant leap into darkness.
Muzaffarpur was a significant stop-over in Mahatma Gandhi's political journey in India. On 11 April 1917, Gandhi arrived at Muzaffarpur railway station to be received by Acharya JB Kripalani who was teaching in a college which is now known as Langat Singh College. Though Gandhi and Kripalani had met earlier, Mahatma's unassuming personality made it difficult for his host to locate him in the crowd of passengers. It took a while to spot him and take him to Kripalani's house for his onward journey, to Champaran – the spot of Gandhi's first Satyagraha campaign in India.
Contours of the Champaran movement, against exploitation of indigo farmers in the region, took shape in Muzaffarpur. Much before Gandhi acquired the unparalleled status in the rest of India, he became a leader of Bihari peasants, who looked at him as a saviour. Bihar had no dearth of leaders in those times. Rajendra Prasad, known as Rajendra Babu, was an influential lawyer. But none of them took up the farmers' case like Gandhi whose presence in Champaran caused nightmares for the British empire.
Gandhi and his host Kripalani were not Biharis. Yet they commanded immense respect among people here. Kripalani later left Muzaffarpur to head the Gujarat Vidyapeeth, the 'national university' founded by Gandhi in Ahmedabad. This exemplifies a unique historical bonding Gujarat shares with Bihar. People of Bihar never had a parochial outlook towards outsiders. Rather they were quickly adopted and assimilated in a Bihari identity.
In the post-Emergency phase, Nitish Kumar's political mentor and feisty socialist leader George Fernandes found in the place a home away from his own state – Karnataka. He was so much assimilated in the Bihari identity that in the 1996 Lok Sabha election he was given a new identity: George Fernandes Mahto. Probably his association with Kurmi-Koeri politics in the post-Mandal phase gave him this caste status.
This is the precisely the reason why Nitish Kumar's project of invoking Bihar pride during his term has not succeeded despite his best efforts. In the ongoing assembly elections too, Nitish Kumar tried to rake up the issue of outsider-versus-insider by referring to Narendra Modi-Amit Shah duo as outsiders but could hardly find traction among the electorate.
But politics, unlike history, is a discipline of shorter memories. In less than a decade's time, Fernandes slipped into a history, what to say of the memories of Gandhi, Kripalani and Rajenda Prasad. Once a thriving business and cultural centre of north Bihar, Muzaffarpur is a representative of the grotesque distortion that shaped the modern north Bihar.
The urban area of the city that has a population of over a million lacks even basic infrastructure. Highways have improved but streets connecting various parts of the city are potholed. There are hardly a few hundred houses belonging to the city's elite, particularly administrative officers, who get water supply through tap. Almost ninety percent of the population use hand-pumps to draw underground water for consumption.
Of late, a mysterious disease, tentatively diagnosed as Japanese Encephalitis, hits the city every year and kills thousands of children. Local residents say that every year top politicians would pay ritual visits but would do nothing to check the outbreak of the disease. Despite lack of planning and poor infrastructure, Muzaffarpur has evolved its own logic of urbanisation. For instance, the city is divided in clusters of doctors, jewellery shops and food items. Interestingly, the city still carries the legacy of the nautch girl tradition that has degenerated now into flesh trade.
Once again, there is a unique historical and cultural context to the legacy of nautch girls. Barely 45 km away from Muzaffarpur lies Vaishali which was the first model of a republic government. The story of beautiful courtesan, Amrapali, who declared herself as the bride of the city and later turned into a disciple of Gautam Buddha, was beautifully described in a Hindi fiction, Vaishali ki Nagar Vadhu by Acharya Chatursen. The culture of keeping 'courtesans' in the cities found a certain social legitimacy in a feudal Bihar.
In the changing context, that Vaishali model epitomises not only a cultural degeneration but also the perversion of politics. In 1994, Vaishali emerged as the political role model for Bihar when Anand Mohan Singh, a formidable gangster, won the seat against Lalu Prasad Yadav's candidate at the peak of mandalised politics in Bihar. In fact, Singh rallied around himself forces against Lalu and punctured his aura of invincibility. But the euphoria was short-lived as Lalu struck back with a massive mandate in 1995 and marginalised all his opponents, including Nitish Kumar who had floated the Samata Party after breaking up from Lalu.
In the 2014 Lok Sabha elections, the BJP-led coalition fielded dreaded warlord Rama Singh against amiable and popular Raghuvansh Prasad Singh of Lalu's party. In the Modi wave, Rama Singh won the seat defeating his rival who had earned unqualified adoration for his efficiency and integrity. If the NDA coalition has Rama Singh to flaunt muscle power, the JD(U) has fielded Munna Shukla, another dreaded warlord, in Vaishali to score even. Needless to say, a perverse political model of Vaishali today stands on its grandiose past.
The region which was once a shining example of the best in culture, education and politics, is now known for its criminality and backwardness. The region that guided Mahatma Gandhi to the course of his political struggle is infested with self-seeking leaders driving expensive SUVs and conspicuously bullying the masses through their money and muscle. This trend is pervasive across the political spectrum where brazenness and ostentation are valued.
From the Mahatma to Munna Shukla, it's indeed a giant leap into darkness.
Find latest and upcoming tech gadgets online on Tech2 Gadgets. Get technology news, gadgets reviews & ratings. Popular gadgets including laptop, tablet and mobile specifications, features, prices, comparison.
India
"The most badly affected sector because of the abrogation of Article 370 is the education sector."
India
Takign to Twitter, the Union home minister requested those who had come in contact with him in the last few days to get tested for coronavirus and isolate themselves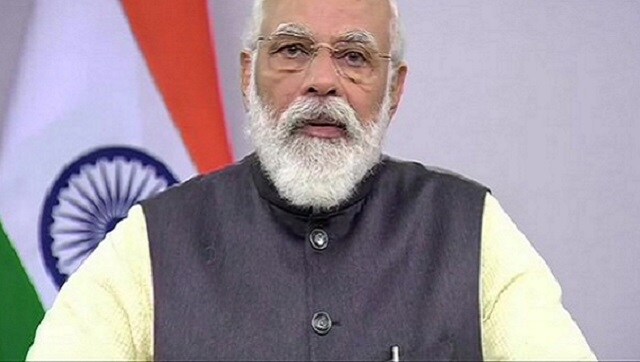 India
The prime minister appealed for better coordination between Central and state agencies as part of a permanent system to predict floods