Hiralal Alawa's Jai Adivasi Yuva Shakti poised to take on BJP, Congress in Madhya Pradesh polls
Adivasis make up one in every five voters in Madhya Pradesh, which distinguishes Hiralal Alawa's JAYS from other parites. It is now akin to a wild card in the Assembly election — either poised to flop miserably, or dictate terms after the polls are over.
With less than a month to go for the Assembly election, Jai Adivasi Yuva Shakti (JAYS) is all set to add a new corner to Madhya Pradesh's traditional bipolar politics. The new socio-political outfit, led by former AIIMS doctor Hiralal Alawa, joining the electoral contest symbolises the inclination among marginalised communities that national parties are failing them.
JAYS represents a stirring among tribals in pockets of Madhya Pradesh similar to what the Dalits of Uttar Pradesh experienced in the 1980s. Dalits rejected mainstream political outfits of their state to spawn the Bahujan Samaj Party (BSP) as they felt it would better represent their interests.
"We tribals lost political relevance despite our numerical strength because we could never combine," says Alawa. "Now, we are saying, 'Abki Baar, Adivasi Sarkar' because from Madhya Pradesh's 47 seats reserved for tribals, we can defeat any outfit. Along with the backward classes, Dalits and Muslims, we want to join the mainstream and seek leadership in political parties."
JAYS epitomises the dissatisfaction among the tribal population with the ruling Bharatiya Janata Party (BJP) as well as the Congress. Alawa and his followers believe that both parties have failed to nurture effective tribal leaders. Their grievance is that the existing ones toe their party line far more than work for the community. As a result, Alawa wants tribals to stop flip-flopping between the two big parties.
"We told the Congress and BJP that they cannot stroll into Adivasi areas during elections, play the drums and take our votes," says Alawa, whose party has been making waves in Madhya Pradesh ever since it secured 162 posts in the 2017 student body elections. "In their higher echelons, both parties lack noteworthy tribal leaders. The Congress does not have even a single big tribal leader."
Unlike the Dalits of Uttar Pradesh, who are spread across the state, the tribals in Madhya Pradesh live in scattered pockets. Nevertheless, they constitute 21 percent of the population, which is why Alawa feels empowered. His JAYS started as a social movement in 2012, but was soon fatigued by conventional means of redress.
"Dharnas and rallies didn't solve our problems. We spent money fighting court cases, but nothing changed. So we realised that unless we gain political strength, we will be like other activists who come to Bhopal, petition powerful people, but ultimately get nothing," says Alawa, who is now proposing a new idiom of economic and cultural rights in tribal regions, not limiting their assertion to politics.
"Tribals depend on forests for sustenance, but the Forest Rights Act was never implemented since 2007," he adds. "If Adivasis oppose their land being taken for projects, they are branded Maoists."
Unrest over land acquisition was the primary reason why Alawa's motivational work found appeal among the youth in Fifth Schedule areas. In these regions, tribal representatives are supposed to sign off on development projects, but it is the contention of JAYS that this has not been happening. It wants ruling parties to stop installing their members in tribal advisory councils.
In Madhya Pradesh's Alirajpur district, many workers returned home from mines in Gujarat with lung silicosis, while sickle cell disease and fluorosis are rampant. This has primed the tribal population to oppose development as often envisaged by the dominant parties.
"People here can see the flip side of development as well," Alawa says.
In Dhar, Khargone, Ratlam and Alirajpur, basic needs such as irrigation, a medical college and rail connectivity are still unavailable. A recent United Nations report found that development indices here are comparable with that of Sierra Leone, one of the least developed parts of Africa.
"Thousands of crores were spent under tribal sub-plans, but we still live in India's most backward zones, malnourished and hungry," Alawa says.
Culturally, too, Alawa marks a distinction between tribal and mainstream aspirations. Where the Congress is taking a leaf out of the BJP's Hindutva playbook and projecting leaders as caste Hindus who obsessively pray in temples, JAYS is more accommodating and keen to preserve traditional forms of tribal worship. With this comes a growing distaste for mixing religion with politics.
"Gonds don't have a religion as such, while Bhils worship their forefathers. They are not Hindu but have adopted some Hindu practices. They feel that both the BJP and Congress politicise religion, which they dislike," Alawa says.
A majority of tribals believe in independent forms of worship, excluding many rituals they consider superstitious or dogmatic.
At the same time, JAYS neither has no caste or religious base, nor has it been fomenting such rivalries, which the mainstream parties are struggling to deal with.
"At our Kisan Panchayat on 20 October, we assured Muslims in writing that tribal youth will not let themselves be used by the RSS (Rashtriya Swayamsevak Sangh) in riots," Alawa says.
His platform has also made space for savarnas — Anand Rai (a former RSS member behind the Vyapam test-rigging expose), for example, is contesting the Assembly elections on a JAYS ticket.
"We want to bridge the rich-poor divide. They talk of smart cities, we talk of smart villages," Alawa says.
Alawa's perfunctory meeting with Madhya Pradesh chief minister Shivraj Chouhan in October was a non-starter. Now, he is stitching up an alliance with the Congress. Many small players, including retired IAS officer Hiralal Trivedi's SAPAKS (Samanya Pichda Alpsankhyak Kalyan Samaj Sanstha) and the Gondwana Gantantra Party, are nipping at the BJP and Congress in Madhya Pradesh. Alawa, like these outfits, counts just one broad social group as its base.
However, one in every five voters in the state is tribal, which distinguishes JAYS from others. It is now akin to a wild card in the Assembly election — either poised to flop miserably, or dictate terms after the polls are over.
Subscribe to Moneycontrol Pro at ₹499 for the first year. Use code PRO499. Limited period offer. *T&C apply
First Cricket News
Mumbai bowlers led by experienced pacer Dhawal Kulkarni (3/35) restricted Delhi to 211/7 despite a valiant unbeaten 106 off 145 balls by Himmat Singh and then cantered to the target in 31.5 overs as Prithvi tore into the Delhi attack.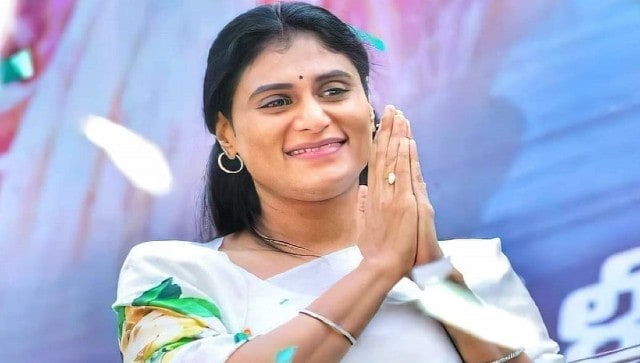 Politics
As of today, in the fight between Sharmila's Rajanna rajayam and BJP's Rama rajayam, Telangana still belongs to TRS' K Chandrasekhara Rao
Politics
The BJP has been inducting Bengali film personalities almost en masse for the last two years