Hindutva mixed with lawlessness: Why restoring law and order is UP CM Yogi Adityanath's biggest challenge
If Yogi Adityanath is serious about restoring law and order in Uttar Pradesh, he must call the bluff of Hindutva goons and show them the strong arm of law.
Lawlessness in the badlands of Uttar Pradesh was one of the chief poll planks that supposedly hurt the Samajwadi Party and helped BJP return to power in the state after 14 years. As a five-time Member of Parliament, Yogi Adityanath enjoys a good reputation as a no-nonsense administrator, who enforced the rule of law in Gorakhpur. He is credited with turning the anarchic constituency of 1990s into a law abiding one. If his first month as Uttar Pradesh chief minister is any indication, though, Yogi has a lot of ground to cover.
As a social construct, rule of law is fragile. If the authority enforcing it is weak or lacks resolve, order easily descends into anarchy. For the most part, the Akhilesh Yadav government had outsourced its responsibility of upholding the sanctity of law and order to criminals and goons who ran parallel power centres and sidelined completely the state's writ. The results were evident.
In fact, one of the popular theories on Samajwadi Party's internal strife held that it was an artificial mechanism designed to divert the electorate's attention from a total collapse of law and order in the state.
There have been enough reports in the media on how Uttar Pradesh police sliced and diced data to keep the crime rate 'low'. The attempts were perhaps to save the SP regime from embarrassment and give it something to work with during election campaigns. Hence, most heinous crimes in Uttar Pradesh either went unregistered, or were registered under special and local laws (SLL) instead of the Indian Penal Code (IPC) to avoid National Crime Records Bureau (NCRB) assessments.
The NCRB, in 2015, highlighted this curious anomaly in Uttar Pradesh's crime data. According to a report in The Indian Express, NCRB found that India's most populous state had only 112 cases registered under IPC whereas the corresponding figure was 917 for Delhi. That figure sat at odds with statistics of overall crime when SLLs were taken into consideration. Uttar Pradesh's figure jumped to 1,293 cases — more than 10 times its IPC rate — whereas Delhi's overall crime stood at 958, about the same as its IPC rate. Other indicators pointed to a similar conclusion.
It was quite clear that under Akhilesh's government, serious crimes such as riots, kidnapping, extortion, rape and murder went up while the administration continued to stay in denial. SP leader Azam Khan said that the gangrape of a mother and daughter in Bulandshahr was 'political conspiracy' – rape-accused minister Gayatri Prajapati went 'missing', the girl who said an SP MLA had raped her was found murdered — bang in the middle of election campaign.
The BJP promised that if the party was elected to power, one of its first jobs would be to restore the writ of law. Yogi is now traversing the distance between promise and performance.
The new Uttar Pradesh CM has already set a blazing pace of work. He has shown admirable resolve to tackle the deep rot within the state's complacent bureaucracy, that was complicit in the corruption of earlier regimes.
A laissez-faire paradigm that aided corruption is swiftly being replaced by a stricter environment based on accountability. Many IAS and IPS officers including DMs have been transferred, several employees long past their retirement age have been given golden handshakes, officials have been warned against bribery, ministers have been asked to declare their assets as Yogi has taken control.
Focus on personal probity have been complemented by actions and promises. Farm loans have been waivered, work on providing uninterrupted power supply has begun in right earnest. Yogi has also promised English education from the nursery level, vowed to regulate the fee structure in educational institutions and build more medical colleges.
For a month-old CM, this is an impressive resume. However, Yogi's biggest challenge lies in restoring law and order. The difficulty level is formidable.
The recent spate of attacks on police stations, arson, destruction of property, torching of police vehicles, threats and beating up of officers is the symptom of a much deeper malaise.
To stop and reverse this trend, the Yogi administration first needs to diagnose the problem. And the problem is that police in Uttar Pradesh suffers from an acute erosion of power.
It is any administration's biggest headache when criminals and subversive elements do not fear law enforcers. That Uttar Pradesh has reached this tipping point is not Yogi's fault but as the chief minister, it is incumbent on him to restore the state's writ. His job has been rendered tougher by the fact that a new Hindutva triumphalism has been added to the mix.
Hence, instead of being just a law and order issue, restoring law and order in the state has now also become a political challenge. The impunity with which members of Bajrang Dal, Vishwa Hindu Parishad and some goons under Hindutva banner attacked Agra's police stations, hurled stones and roughed up policemen demanding the release of five accused point to a total lack of fear or retribution.
How did it come to such a pass? There are two reasons. One, nobody fears the police anymore in Uttar Pradesh – a sad legacy of the SP regime – and goons who claim to represent Hindutva feel that 'now it is their turn to create mayhem'. There might be aeons of difference between claim and reality but to these criminals, 'Hindutva' provides the perfect cover and political immunity for their crimes. Media focus also promises instant notoriety and infamy.
If Yogi is serious about restoring law and order in the state, he must call the bluff of these goons and show them the strong arm of law. If a member of a right-wing student's group shows the audacity to slap a high-ranking police officer, it sends a chilling message down the rank and file. Yogi must show the administrative and, more importantly, political resolve to take the cases registered against these goons to their logical conclusion and not allow his administration and police to buckle under any pressure.
Any failure at this stage will show up Yogi as a paper tiger.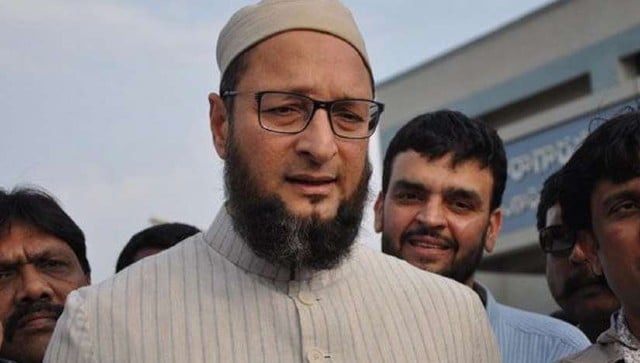 India
Asaduddin Owaisi had earlier announced that AIMIM will contest 100 seats in Uttar Pradesh polls scheduled early next year
India
The Maharashtra chief minister made this suggestion in a virtual meeting held by the prime minister on Friday during which he took stock of the coronavirus situation
India
The heart of the conflict is an unresolved border issue — a 164.6-kilometre long inter-state border, which separates Assam and Mizoram. This border is shared by three districts of South Assam — Cachar, Hailakandi and Karimganj — and three districts of Mizoram — Kolasib, Mamit and Aizawl