Burden of being Prem Kumar Dhumal: After losing his seat, the two-time CM will struggle to stay afloat in BJP
Ever since he was declared BJP's chief ministerial candidate from Himachal Pradesh, former chief minister Prem Kumar Dhumal had little respite.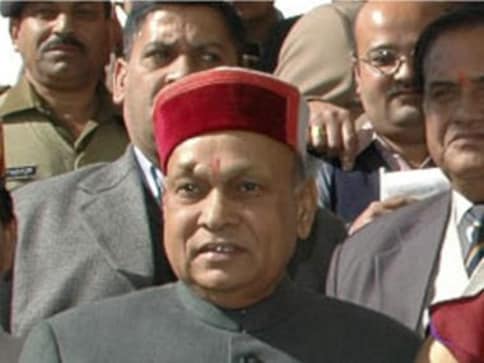 Ever since he was declared BJP's chief ministerial candidate from Himachal Pradesh, former chief minister Prem Kumar Dhumal had little respite. Besides the other candidates in the fray who sought his presence at their election rallies, he was pursued during and after the campaign by senior bureaucrats and others seeking plum posts and other favours after the elections.
With virtually everyone calling the state Assembly elections in favour of the BJP, the writing on the wall was clear. Except that hardly anyone expected the two-time chief minister Dhumal to lose even as his party won hands down. He was undoubtedly the tallest leader of his party in the state. It was perhaps for the first time that the chief ministerial candidate of BJP as a winning party had lost his own election.
The party had initially decided to go for elections without a chief ministerial candidate. However midway during the election campaign, the BJP seeking to wrest power from Congress, developed cold feet and decided to go for naming Dhumal as its chief ministerial candidate. It evidently decided on course correction following reports that the confusion over a candidate was causing bad blood and uncertainty among its cadres in the state.
The party had been selective in the past about decision to name chief ministerial candidates. It named Kiran Bedi as its chief ministerial candidate from Delhi and faced a humiliating defeat. It did not name any in Bihar Assembly election and lost. It, then, named Sarbananda Sonowal as its chief ministerial candidate in Assam and won. However, it did not name anyone in the neighbouring Uttarakhand and still won.
The choice was among former chief minister Shanta Kumar, Dhumal and Union health minister JP Nadda. Shanta Kumar was ruled out because of his age as he qualified for the margdarshak mandal. Nadda, known to be close to Prime Minister Narendra Modi, could afford to wait for his chance later because of his young age and the fact that he didn't have grassroots support. The party picked up 73-year-old Dhumal who was known to be popular among all sections of the party cadres.
Dhumal had swapped the seat of power with the incumbent chief minister Virbhadra Singh twice in the past and was considered the most suitable choice to take on the Congress. Another important factor for declaring him as the chief ministerial candidate was his influence across Hamirpur and adjoining districts. Besides, he had just two years before he would have attained the 'retirement' age as per the policy decision taken by the party. That would have opened up chances for other aspirants who could have led the party to the next elections.
Ironically, while several BJP candidates owe their success to the influence and support extended by Dhumal, he himself lost to his protégé and one-time man Friday, Rajinder Rana. A businessman, who also delved in real estate, Rana is a soft spoken and sincere person known for his humility and simplicity.
It was well known that Dhumal himself had given him the green signal to nurture the Sujanpur Assembly constituency and it was almost certain that he was to be nominated party candidate during the previous Assembly elections in 2012. However, he was denied the ticket by the party high command to accommodate the choice of another senior party leader.
Rana has assiduously cultivated the constituency. So much so, that he was in personal touch with almost all families in the constituencies. He organised mass weddings for the poor and ensured that the local women were given free vocational training. He also made it a point to visit each family which had lost a dear one and attended virtually all weddings in the constituency.
Given the popular support he enjoyed, Rana decided to rebel and won hands down as an independent candidate. He then joined hands with Virbhadra, who led the Congress government but didn't join the party to avoid attracting provisions of anti-defection law.
However, on the eve of the 2014 Assembly elections, he resigned from his seat and joined the Congress to contest as its Lok Sabha candidate against Dhumal's son Anurag Thakur. He also made his wife contest the Assembly seat vacated by him. Both lost the elections.
Congress, again, nominated from the Sujanpur constituency this time and he had little inkling that his rival would be his mentor Dhumal. Apparently, even Dhumal was not prepared for it but went by the party high command's suggestion that his candidature from the constituency would help other party candidates in the adjoining areas.
There lies the unresolved question : A section of BJP leaders, particularly those close to Dhumal, say it was a deliberate ploy to make him contest from a tough constituency instead of the constituency from he had won several elections in the past. The finger of suspicion is being raised against Nadda who had a major say in selection of constituencies and candidates. However, all this is in realm of speculations. The fact is that a confident Dhumal went along the party high command's suggestions and never protested the decision to change his constituency.
In a twist of irony, Dhumal and Rana reached the district electoral officer almost at the same time to file their nominations. Rana promptly touched his feet and sought his blessings. Dhumal reciprocated by blessing him. On the counting day Dhumal remained confined to his residence as his fortune fluctuated with each round of counting. Finally he lost by about 1090 votes.
Although Dhumal declined to comment on the likely chief ministerial choice or even his own candidature, it is believed that among the two top contenders for the post now are Nadda and a former senior minister Jai Ram Thakur. Unless the party springs a surprise by nominating a dark horse like it did in case of Yogi Adityanath in Uttar Pradesh.
also read
India
PM Modi will deliberate on issues related to health, skill development, women empowerment and infrastructure development, with an aim to make India a developed nation by 2047
Explainers
Political parties are divided over the inauguration of the new Parliament building by Prime Minister Narendra Modi. While NDA allies and some other parties – Naveen Patnaik's BJD and Shiromani Akali Dal – will be present during the event, at least 20 Opposition parties have decided to stay away
India
Prime Minister Narendra Modi launched the special Rs 75 coin on Sunday to mark the historic inauguration of the new Parliament building. It can be purchased on the India Government Mint website. Since it is a commemorative coin, it can't be used to make purchases