Himachal Pradesh Assembly Election 2017: From development to drugs, a look at key issues that defined two-horse race
In the two-horse race, both the BJP and Congress banked heavily on development issues in Himachal Pradesh.
The counting for the Himachal Pradesh election is set to begin. Political rhetoric has died down and both the BJP and Congress are anxiously waiting for the result. The Himachal Pradesh election is important for both the parties because while Congress is trying to retain its state, the BJP is trying to increase its foothold in the country to come closer to its promise of a 'Congress-mukt' India.
In the two-horse race, both the parties banked heavily on development issues and acknowledged that 'development' will be the only major political issue in 2017's state Assembly election. The other minor issues which evoked sharp reactions and allegations were infrastructure, employment and mining mafia.
According to a survey conducted by the Association for Democratic Reforms (ADR), an NGO working in the area of electoral and political reforms, jobs, public transport, empowerment and security of women, trustworthiness of candidates, environment, electric supply, roads, drinking water and law and order were the top issues in Himachal.
Development
BJP's election in-charge for Himachal Pradesh, Thaawar Chand Gehlot, said that the only issue in the state polls is development, development, development. Congress' Anand Sharma agreed when he told The Indian Express, "The Virbhadra Singh-led state government has undertaken a lot of projects in the past five years which will play a major role in these polls."
While rejecting the exit polls predictions which give BJP a clear victory in the state, Himachal Pradesh chief minister Virbhadhra Singh said, " The Congress will come back to power based on its track record of development."
He told The Indian Express, the BJP had done a smear campaign against him because they knew his track record of development in the state. He said even during his earlier terms, such development had not taken place.
In his first election rally in the hill state, Congress president Rahul Gandhi claimed that Himachal Pradesh's development model was far ahead of the 'Gujarat Model'. "We work hard. We work day and night, unlike the Modi government which only makes tall promises," he said
BJP chief Amit Shah responded to the claims of development, saying the present government is "neither competent nor capable" of ensuring development in Himachal Pradesh.
Criticising Rahul for questioning Prime Minister Narendra Modi on development, Shah said, "Forget what the BJP did in the last three years, we will give every account of our development programmes in 2019, but Rahul baba should tell that what his three generations and his party did for the country in the past 70 years."
Employment
In its manifesto, Congress said private bus permits would be given to youth to generate self-employment. The party also promised to reduce the period of contractual employees and daily wagers from five and ten years to three and five years and now it has promised to regularise contract employees and daily wagers after two and three years respectively, NDTV reported.
The BJP's vision document for Himachal Pradesh also focused on employment generation because it was seen as another major issue in the election. The document said, thrust will be on generation of employment by harnessing tourism potential and developing new tourist circuits. The document also promises abolition of interviews for class III and Class IV jobs, laptops and free WiFi and job fairs to facilitate unemployed youth.
Corruption
As both the parties fought hard to woo voters ahead of the elections, the corruption allegations against Singh were played up by the BJP. While campaigning, Modi said that 'corruption is the only identity of Congress.'
He slammed the party for keeping the Benami property law in cold storage for over thirty years. "They are worried that their property will be confiscated, so they are protesting on 8 November. Benami property raised property prices and dashed the dreams of the common man," Modi said. He vowed to continue his fight against corruption while adding, " I am not afraid of the Opposition burning my effigies or protesting against me. Corruption is the Congress' only identity."
Shah also called out Singh and said that the chief minister will go down in the history as an "example for corruption" that has dented the clean image of the state and also "destroyed" his entire family, The Indian Express reported.
Singh responded to these allegations by saying that the BJP's fight against corruption made him laugh. He further said, "Let's not forget the time when your party chose a joyous day of wedding of my daughter, Himachal's daughter, to carry out a CBI raid."
Congress leader Anand Sharma also countered the BJP's attacks by saying, "Mere allegations of corruption against a leader by the Opposition doesn't make someone corrupt. Many BJP leaders have serious corruption charges against them. How about Chhattisgarh chief minister Raman Singh, whose son's name had come up in the Panama Papers or the chief ministers of Madhya Pradesh and Rajasthan? There are bigger money laundering scams of many BJP leaders. Have they ordered any probe against them?"
Infrastructure
The BJP has time and again accused the Himachal Pradesh government of failing to develop infrastructure in the state.
Modi laid the foundation stone of a Rs 1,350-crore All India Institute of Medical Sciences project. He also laid the foundation stone for an Indian Institute of Information Technology at Una and a steel processing plant in Kangra district via video conference from Bilaspur.
ANI quoted the prime minister as saying, Centre would invest Rs 15,000 crore for 13 development projects in Himachal Pradesh.
Drug abuse
Modi targeted the Congress government over the drug mafia issue saying, "There was a time when youth used to come to Kullu-Manali to enjoy adventure sports, but now their parents are worried if their children are going there to consume drugs," according to The Times of India.
The Congress has however, been rejecting these claims. Industries minister in the Virbhadra Singh government Mukesh Agnihotri said it is an non-existent issue "being created by the Opposition". "We are contesting on development and welfare agenda, but when the BJP realised they cannot counter us on this, they have started to create non-existent issues like drugs," he told PTI.
With inputs from agencies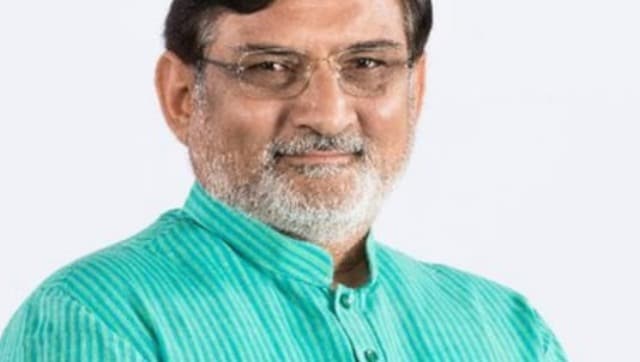 India
In the cross-currents of development and a dark agenda floats Lakshadweep's future. Its moment to choose has come
Politics
Several BJP leaders downplayed the impact of Mukul Roy's return to TMC, with Dilip Ghosh saying Roy himself wasn't sure whether the BJP 'gained anything'
Politics
Before his death, Prasada Sr who had contested and lost against Sonia Gandhi for the leadership of Congress was totally disillusioned with the Congress and Gandhis, in particular