Hardworking and loyal to Modi: The importance of being Arun Jaitley
He's back. Arun Jaitley is back from a six-month-long health related absence. And he's returned to sharp headlines about U-turns and India needing a full-time defence minister. Now Jaitley seems to be striking back at his detractors through two magazine stories about the importance of being Arun Jaitley.
It cannot be quite a coincidence.
In the same week that India Today has a cover story on the "The Indispensable Mr. Jaitely" as the "power pivot of the Modi government", Open Magazine tells us about the "three men who rule India". One of them is again, Arun Jaitley.
In a cabinet that seems under orders to stay out of the limelight and focus on their work, Jaitley seems to be an exception.
But then he always was an exception. He is the consummate suave English-television-type Lutyens insider in a cabinet led by a PM who takes pride in being anti-Lutyens. He was the one prominent BJP heavyweight who lost the Lok Sabha elections when a Modi wave propelled many non-entities to victory. The rumour was Arun Jaitley had decided to fight Lok Sabha elections because the PM wanted only "elected" representatives in his cabinet. He lost but still entered the cabinet as did the likes of Smriti Irani and Nirmala Sitharaman. Obviously the PM holds him in high esteem.
But a six-week hospitalisation can set tongues wagging. @LutyensSpice tweeted that "Jaitley's family anxious about his health. The minister might seek relief from work." There have been articles about whether India needs a full-time defence minister and lots of headlines about Jaitley U-turns on black money.
Madhu Kishwar, whose dislike for Jaitley is well-known had tweeted in July "Am I wrong in thinking Arun Jaitely images on TV showed he looked more distressed by court summons and IT notice to Sonia than SG herself?"
Now Ram Jethmalani is training his legal guns on him saying Jaitley by his conduct is one of "the people in the BJP under the influence of people in the Congress". Jethmalani's contention is Jaitley has no interest in really going after black money stashed abroad and asks him to list "when and where" he has even talked about the repatriation of black money during his election campaign. In a 13-point letter he calls Jaitley "the biggest obstacle" to getting back black money.
Neither Jethmalani nor Kishwar's sour notes figure in the sunny side-up cover magazine stories about Jaitley. Here unnamed sources, instead of sharing damning juicy anecdotes, merely add to the chorus of praise about the wonders of Jaitley which can be summed up thus:
He's no Jaitley-come-lately Both articles take pains to point out that Modi was just, as Open puts it, a "BJP secretary and a name with little national resonance" in the 90s he was a regular visitor to the Jaitley home. It was Jaitley who stuck by Modi post-2002 offering him legal help and tea and sympathy. When Amit Shah had to leave Gujarat in 2010 after the Supreme Court ruling he "came straight to the house of Jaitley." A BJP politician tells India Today "there wasn't a day these past years the two didn't share a meal together." As Jaitley himself has told Aap Ki Adalat earlier despite knowing that his own name was in the race, he batted for Modi as the BJP's PM candidate early. So let no one doubt his loyalties.
Just call him Mr. Congeniality If you go by these articles, there's nobody in Delhi who does not like Arun Jaitley. He's on first-name basis with everyone who counts for anything, across party lines. Sharad Pawar and he bond over cricket. When Mayawati wants to speak in a major debate, it's Jaitley who obliges with an allocation. He even helps out Sharad Yadav when the latter is upset about the party office being moved from the ground floor to the third floor. Jaitely sounds quite like the lovable cuddly teddy bear with an unnamed Trinamool Congress member telling India Today he should be the parliamentary affairs minister because "the select committee meetings are so relaxed because Jaitley knows everyone on a first-name basis." Only some RSS hardliners are suspicious about his total commitment to Hindutva, says India Today but Jaitley's silence on "love jihad" is hardly meant as a slap. It just adds some grit to the portrait of our Thoroughly Modern Mr Jaitley.
Modi (hearts) Jaitely If anyone wants to spread rumours that the PM is having second thoughts about his double-barrelled cabinet mantri to rest. Open tells us after his Madison Square Garden speech, the PM's first calls were to enquire about Jaitley's well-being. When he hosted a high tea at his Race Course residence, Modi asked Jaitley to give a speech about reforms in the coal and oil sectors. In fact, the surgery was Modi's idea reveals India Today. He called Jaitley's son and daughter for breakfast and told them to persuade their father to go in for bariatric surgery as "he had several years of productive work ahead of him." He really, really loves Mr Jaitley.
Modi needs Jaitley However love and old loyalties can only go so far. The articles go out of their way to explain why Modi needs Jaitley. We hear about his "unsurpassable network of contacts across the political, legal and social spectrum". Modi needs him to smooth the passge of bills in the Rajya Sabha. He's the go-to guy to keep the NDA running smoothly. Smriti Irani apparently calls him almost hourly though it's not seemed to have stopped her from making a series of faux pas. He is, we are told, Modi's "eyes and ears". "The PM gives a lot of importance to Jaitleyji" an unnamed BJP minister leaks to Open.
Hardest-working man in the business He is seen as "incorruptible and a workaholic" according to Open and India Today gives us a glimpse of a "typical working day" for the "Minister on a mission." It seems to go from 11:30 am to 5:30 pm which seems quite civilized compared to the early hours the PM is said to keep. If Jaitley's last budget didn't set the Ganga on fire, the next one we are assured will see dramatic steps in liberalization. India Today tells us that the last few days has seen a "series of bumper decisions" by Jaitley and how he was the "brains" within the coal ordinance and the deregulation of diesel prices and increasing the price of natural gas. He played a key role in the Jan Dhan Yojana. He cleared defence projects worth more than Rs 80,000 crore unlike the vacillating A K Antony says Open. He is sounding like the BJP's Forrest Gump, present at almost every major government decision. India Today even goes so far as to say while Modi was posing in his natty shades and red muffler in Kashmir and Amit Shah was celebrating the victories in Maharashtra and Haryana and his own birthday it was left to the "urbane and sophisticated" Mr. Jaitley to "carry on the dogged business of government". Thank goodness! Otherwise the wheels would be coming off the Achhey Din bandwagon.
All of this leads one to wonder why now? Officially Jaitley's status has not changed since May when he was given the two portfolios by the PM. But the minister seems to have felt the need to remind the world-at-large and his colleagues in particular about the importance of being Arun Jaitley. In fact, even as India Today in some admittedly cross-mythological referencing calls Amit Shah and Arun Jaitley the Lakshman and Arjun to Modi's Ram, a government official, again unnamed, tells Open that Modi is the "supreme leader" with Shah and Jaitley as his "trusted lieutenants" and other than a few ministers and bureaucrats surrounding them "the rest don't matter at all."
The message to the chattering "rest" is clear though Jaitley does not give interviews to either story. He might be 19 kilos slimmer after his surgery but Arun Jaitley remains a heavyweight in New Delhi and anyone who forgets that does so at his own risk.
India
Amarinder will also merge his newly formed Punjab Lok Congress with the BJP
Politics
Ahead of his youth rally in Himachal Pradesh, Congress on Friday attacked Prime Minister Narendra Modi saying he must answer why the BJP-led government failed to address issues of unemployment and the debt the state's burdened with.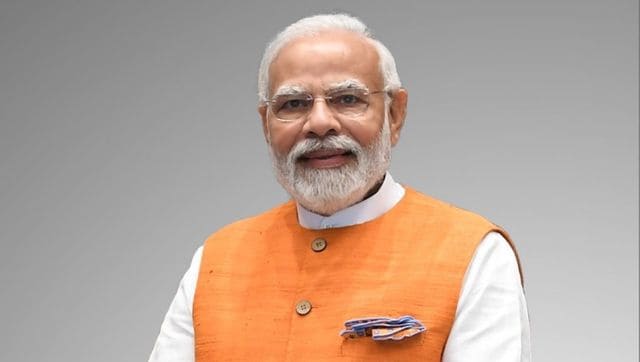 India
Prime Minister Narendra Modi virtually inaugurated the two-day 'National Mayors' Conference' that is being held in Gujarat's Gandhinagar