Heavy campaigning in Gujarat ahead of second phase of polling: Narendra Modi in Sabarmati, Rahul Gandhi in Ahmedabad
The Bharatiya Janata Party and the Congress are gearing up for the next phase of elections in Gujarat which is scheduled for 14 December.
The BJP and Congress are gearing up for the next phase of elections in Gujarat which is scheduled for 14 December. Keeping up the hectic campaigning, which went on ahead of the first phase of polling held on 9 December, both Prime Minister Narendra Modi and Congress vice-president Rahul Gandhi have several rallies scheduled in the state on Monday.
While Modi is expected to address three rallies in Gujarat, Rahul will take part in four rallies in Banaskantha, Ahmedabad,Vadodara and Gandhinagar.
The prime minister is expected to arrive at Hemchandracharya North Gujarat University ground in Patan at 12.30 pm where he will address a rally. Around 2.30 pm, Modi is likely to arrive at the Helipad Ground near the National Express Highway in Nadiad. At 7 pm, Modi is expected to address gathering at the Sabarmati riverfront which is behind the National Institute of Design campus in Ahmedabad.
Rahul is scheduled to address at least four public meetings in Banaskantha, Ahmedabad, Vadodara, and Gandhinagar. Rahul's last rally at the Ramkatha Maidan in Gandhinagar is expected at 5.15 pm. He will start his campaign from the Shivnagar ground in Banaskantha at 12 pm.
Political discourse became harsher than usual after Congress' Mani Shankar Aiyar's neech remark, which BJP did not take lightly. Campaigning in poll-bound Gujarat has been hectic and high-octane as the two major parties in the fray are busy levelling charges against each other.
Rahul in Kalol
Amid this acrimonious political atmosphere, Modi addressed a rally in Vadodara while Rahul addressed a gathering at Kalol on Sunday. Rahul, while attacking the prime minister and his government's various policies, said he would not use even one "galat shabd" (wrong word) against him because he respects the post of the prime minister.
Rahul, who began his second day of campaigning for the second phase of poll, said that he has learnt from the history of the Congress and the legacy of party leaders like Mahatma Gandhi and Sardar Vallabhbhai Patel that one should "defeat his enemy with love".
"Modi ji uses wrong words regarding me, talks senseless things, and did once in today's speech as well. I would like to tell everyone from both BJP and Congress that Rahul Gandhi respects the position of the prime minister."
"However offensive words the prime minister uses about me, Rahul Gandhi is not going to say a single wrong word regarding the prime minister," he said. "And in Gujarat, we are going to defeat you with love, Modiji," quipped Rahul, who is set to assume the reins of the Congress in a few days from now.
During the day-long campaigning, Rahul offered prayers at Ranchhod Raiji Mandir at Dakor and Shamlaji Mandir at Shamlaji. Exuding confidence that his party would dethrone BJP from power in Gujarat, Rahul said that Congress government would listen to the people instead of delivering Mann ki Baat as "Modi ji, (BJP president) Amit Shahji, or (Chief Minister Vijay) Rupaniji do".
Rahul targetted the prime minister over speeches in his rallies claiming Modi frequently changed the election planks and now he was left with nothing to speak about but himself and Congress.
Modi in Vadodara
Meanwhile, Modi, addressed a public rally in Vadodara on Sunday night and asked his predecessor Manmohan Singh why did he not show the courage to order a surgical strike post the 26/11 Mumbai terror attacks, despite the readiness of the Indian Army.
He said that after the Mumbai attacks, the Indian Air Force had approached the then prime minister Singh with a plan for surgical strikes, but the government did not show the courage to order it.
"Under whose advice did he (Singh) do so," Modi asked the gathering at the Navlakhi compound in Vadodara.
"Someone who served at a high position in the Indian Air Force has said that after 26/11, they went to the then prime minister with a plan for surgical strikes. Sadly, the then government did not show the courage to do that," Modi said and cited the example of his government's action in the aftermath of the Uri terror attack in September last year.
"My government, in the aftermath of the Uri attack by Pakistan, had launched a surgical strike inside the borders of Pakistan, targeting several terror camps and launchpads. The strikes came as a surprise for the Pakistanis who were caught unaware. While the maximum damage was inflicted on their side, the Indian soldiers came back without any casualties," he added.
Election results for the Gujarat Assembly Election will be announced on 18 December
Click here for detailed coverage of Gujarat Assembly Election 2017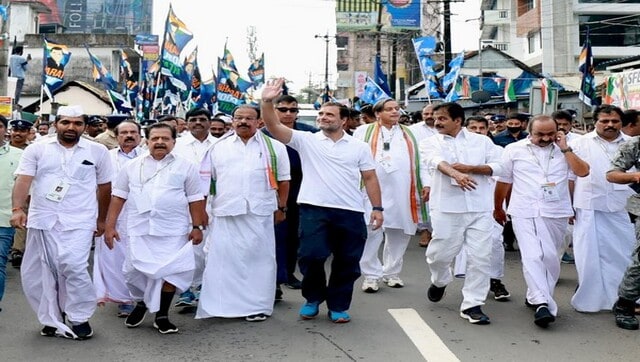 Politics
From Kerala, the yatra will traverse through the state for the next few days and will reach Karnataka on 30 September, and cover a distance of 25 km every day
Explainers
What is in store for the INC in the upcoming party president polls? Tune in to find out
India
The yatra, which entered Kerala on 10 September, will go through the state covering 450 km, touching seven districts in 19 days before entering Karnataka on 1 October