He may be the most high-profile inheritor of the dynastic mantle within the Congress, but Rahul Gandhi believes that the party is "breaking away from dynastic politics".
On the basis of a straw poll that he conducted with Youth Congress office-bearers in Mumbai on Friday, Rahul Gandhi pronounced that the party was now run on meritocratic principles. The Hindu reports, citing a Youth Congress leader, that at the closed-door meeting, Rahul Gandhi asked the 1,000-odd crowed how many of them had a political background.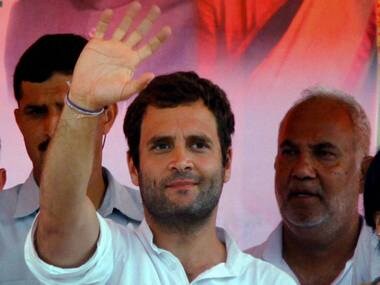 "When only 10-15 persons raised their hands, he (Rahul Gandhi) was pleased and said it signifies that the Congress is breaking away from dynastic politics," an office-bearer was quoted as saying. "He said all the delegates are here because of their achievements."
But even as Rahul Gandhi was giving his pep talk inside, and making fanciful comments on the death of dynastic politics, many other Youth Congress, who had been denied entry to the meeting, were fuming outside the venue, and accusing the party of "perpetuating dynastic politics," The Hindu added.
"Dynastic politics" appears to have been the theme of the day. At the meeting, delegates raised it as an issue of concern, along with "nepotism", "corruption" and generally the public image of the party.
Rahul Gandhi was evidently also asked why he toured only Uttar Pradesh, and neglected other States, including Maharashtra. Rahul Gandhi responded by saying that he would be a more frequent visitor to the state, and would review the work at the constituency level on an ongoing basis, and that he, along with his sister Priyanka, would tour Maharashtra extensively ahead of the 2014 Assembly elections.
In response to delegates' concern about the public perception of the Congress as a corrupt party, Rahul Gandhi said that the leadership had already initiated a "cleansing process".
"If you take a bucket of filthy water and keep adding clean water to it, the water is slowly cleaned up," Rahul Gandhi said.
As proof that this "cleansing process"  was working, he noted that "all the scams that everyone is talking about are old."
Updated Date: Apr 28, 2012 08:49 AM