HD Kumaraswamy warns BJP to refrain from speaking about Deve Gowda and family, says Karnataka govt is 'in our hand'
Asserting that the government was under his command, Kumaraswamy targetted BJP state unit chief and former chief minister BS Yeddyurappa in a no-holds-barred attack.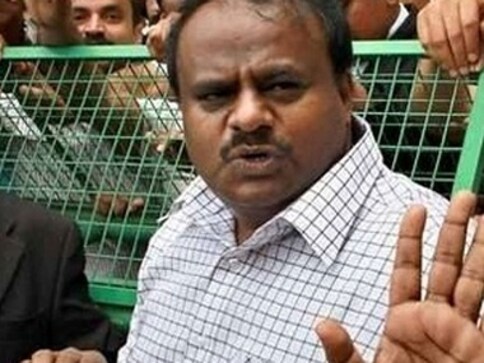 Bengaluru: An angry Karnataka chief minister HD Kumaraswamy on Thursday warned BJP to be restrained in its speech about his father former prime pinister HD Deve Gowda and his family, saying that he can even ask people to rise in revolt against it if it continued to disturb his government.
Asserting that the government was under his command, Kumaraswamy targetted BJP state unit chief and former chief minister BS Yeddyurappa in a no-holds-barred attack.
Kumaraswamy, who is heading the Congress-JD(S) coalition government, alleged that BJP was attempting to topple his ministry and luring the MLAs of both parties.
"If you dig too much (into our affairs), then we too have many things at our disposal. The government is in our hand. Don't I have the authority to do whatever I can? I caution him to be careful," a visibly upset chief minister told reporters.
"Mind you," Kumaraswamy told Yeddyurappa, "you are sitting in a glass house. Exercise restraint while talking. Seriousness is expected from a person of your age. This is my sane advice."
"I want to convey to him in clear terms that he should avoid landing in trouble by giving such statements," Kumaraswamy said.
Kumaraswamy lost his cool over Yeddyurappa's alleged statement in Hubballi, where he reportedly said his sole objective was to "finish off father-sons (Deve Gowda and his sons)."
"He (Yeddyurappa) gave a statement in Hubballi that his sole objective is to finish off father-sons and sending them to jail is his aim. Finally what happened? Who went to jail?"
The chief minister called Yeddyurappa "the father of percentage-wise commission (bribe) system" and said he had standardised bribery in the government.
Another reason that irked Kumaraswamy was reports that the BJP had approached JD(S) MLA from Nagamangala constituency Suresh Gowda asking him to pack his baggage to leave for Mumbai as already 18 dissident MLAs were with the BJP and ready to join them.
"Suresh Gowda was asked to have a meeting in Bengaluru. Another MLA Shivalli was approached and offered Rs 5 crore," the chief minister said.
Hitting back angrily, Yeddyurappa said he knew his limits but it was Kumaraswamy who had crossed lines of decency.
"As a former chief minister and the state president of anational party, I know my limits. It is you who crossed the lines of decency while speaking. Why are you silent till now  on (former minister) A Manju's allegations that your family grabbed government land? What is your reply?" Yeddyurappa sought to know from the chief minister.
He alleged that the number of land scams Deve Gowda's family were involved in, nobody could ever achieve it and the chief minister knew all of them.
Yeddyurappa charged Kumaraswamy with resorting to politics of vendetta and reminded him that the post of chief minister was not permanent.
"In our five years of rule, we never indulged in politics of vendetta. You are trying to create confusion by indulging in the politics of vendetta," Yeddyurappa charged.
Soon after the chief minister's statement went viral, Congress and JD(S) activists staged a demonstration outside Yeddyurappa's house raising slogans against him for his alleged attempts to topple the coalition government.
The BJP condemned the demonstration saying that the state government was trying to muzzle the voice of Opposition, which showed its "anti-democratic face."
They also alleged that the police intentionally did not act against the demonstrators.
Politics
The former Union minister was embroiled in a controversy for allegedly "defaming and comparing Hinduism with terrorism" in his recent book "Sunrise Over Ayodhya: Nationhood in Our Times"
India
The actor has stoked a controversy after she at an event called India's Independence in 1947, not freedom but 'bheek', adding that India 'got real freedom in 2014', a reference to the BJP coming to power at the Centre
India
Candidates must note that they can challenge the answer key till 5 pm on 26 November. It is mandatory for them to mention the subject, version code and question number while challenging the DECET 2021 answer key.