HD Kumaraswamy takes oath as Karnataka CM; leaders across national political spectrum bury hatchets, make new friends
On Wednesday evening, as HD Kumaraswamy took oath as the next Chief Minister of Karnataka, the swearing-in ceremony was a glittering affair, attended by Opposition leaders across party lines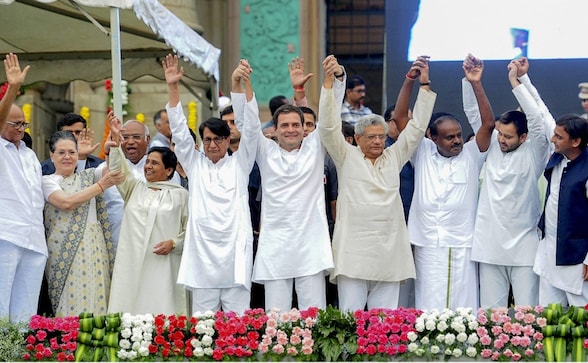 On Wednesday evening, as HD Kumaraswamy took oath as the new Chief Minister of Karnataka, the swearing-in ceremony was a glittering affair, attended by Opposition leaders across party lines. With Congress being in alliance with the JDS in Karnataka, almost all senior Congress leaders were present at the ceremony and an array of Opposition leaders from various regional also flew to Bengaluru to attend the event.
Here are some of the best moments from the ceremony:
Sharad Pawar of NCP, Rahul Gandhi, Sonia Gandhi, M Veerappa Moily and Mallikarjun Kharge of Congress, Mayawati of Bahujan Samaj Party, Rashtriya Lok Dal's Ajit Singh, Sitaram Yechury of the CPM, Tejashwi Yadav of the RJD, Mamata Banerjee of the Trinamool Congress, Akhilesh Yadav of Samajwadi Party, Chandrababu Naidu of the Telugu Desam Party and the Aam Aadmi Party's Arvind Kejriwal were all in attendance, making it a star-studded affair.
In all, there were eight former or serving chief ministers at the swearing-in ceremony. Some of these included bitter political rivals in their own home states, but those who have seemingly joined forces to counter the BJP. These include the TMC and the CPM, who have remained bitter rivals in West Bengal; SP and BSP which remained rivals in Uttar Pradesh before recently coming together; and even Aam Aadmi Party's Arvind Kejriwal who ran his entire a campaign in Delhi against the Congress party's supposedly corrupt ways.
One man who cut a forlorn and rather subdued figure, however, was Delhi chief minister Arvind Kejriwal. While he made his appearance and posed for photographs, he did so in a dour manner. There was none of the good cheer seen among the others. And immediately after the swearing-in was concluded, he beat a hasty retreat.
The Bahujan Samaj Party (BSP) came together with Samajwadi Party to form an alliance in Uttar Pradesh for by-elections in March, and it appears that the Congress too is on the verge of joining them. At least it would appear so going by the warm hug shared by Sonia Gandhi and Mayawati.
And it wasn't just the national leaders who seem to have buried the hatched. HD Kumaraswamy and his predecessor Siddaramaiah had a falling-out when the latter was in the JD(S). In fact, so bitter was their rivalry that Firstpost earlier reported how they "have reached the point of no return". "He and Gowda (or his son HD Kumaraswamy) not only can't see eye to eye but can't even breathe the same air in the same room for any length of time," it was said. Clearly, going by this image, another rivalry has seen the hatchet buried.
also read
Politics
Invitations have been extended to leaders like Hemant Soren, Sitaram Yechuri, Uddhav Thackeray, Sharad Pawar, and Farooq Abdullah, Samajwadi Party chief Akhilesh Yadav and Odisha Chief Minister Naveen Patnaik
Politics
'The Congress has intentionally left out MB Patil and Dr G Parameshwara, both of who could well have well been made DCMs. Congress is hell bent on humiliating both these senior leaders and their communities,' BJP's Amit Malviya said
World
Amid efforts back home to galvanise the rival political forces against the BJP government at the Centre with an eye on next year's Lok Sabha elections, Congress leader Rahul Gandhi on Thursday said the Opposition in India was "pretty well united"