Retd Air Chief Marshal SP Tyagi in an interview to CNN-IBN said that he was shocked to know that he had been implicated in a scam, claiming that he had no knowledge of it and asked that an inquiry be conducted as early as possible.
These are some of his main revelations:
* The essential charge against me is that I tweaked the requirements to suit Agusta Westland, so that they qualify for the bid.
* In 2000, as the then Defence Minister George Fernandes used to fly to Siachen, we needed a chopper that would operate at a height of 18,000 ft. After researching, there was just one model found, but the cabin height was less, and it did not suit the SPG who stand and operate the chopper.
* As there was just one company that met the requirements, it was decided to make the requirements less stringent - procure choppers that can fly at 15,000 ft instead of 18,000 ft - so that more companies could bid.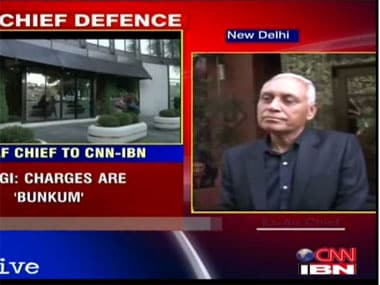 * Deliberations between the PMO and the SPG resolved that the SPG must have a say in the specifications - seats, doors, missile threat equipments.
* The main changes, reducing flying altitude and increasing cabin height, were made in 2003. I was not the chief then.
* When I became chief in 2004, only the process of fittings went on. There were no changes made in the requirements. And in 2006, while I was still the chief, tenders were issued.
* I am not a political animal, local politics will go on about who is from which nationality. Also, AgustaWestland is an English company, not an Italian one.
* As far as I know, my cousins have no business links with the defence force/ministry. Also, the accusation is on the height, if it was changed, how the Tyagis came into picture? It was done in 2003 and I was not the chief then.
* I have no inputs on who is to be blamed, I dont like pointing fingers. There is a scandal, people must know and the truth must come out. I reject all the allegations made against me and I welcome the inquiry.
Updated Date: Feb 13, 2013 18:22 PM