Haryana Municipal Election Results: BJP sweeps Panipat and Karnal, slowly gaining lead against BSP's Asha Wadhwa in Hisar
The five municipal corporations in Haryana where polling was held on 16 December were Hisar, Karnal, Panipat, Rohtak and Yamunanagar, and the two municipal committees were Jakhal Mandi in Fatehabad and Pundri in Kaithal.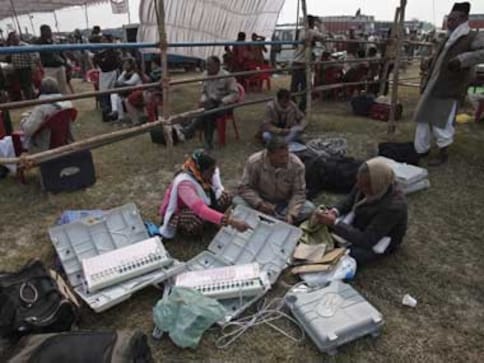 Counting of votes for the Haryana civic polls, which will bring in new members to five municipal corporations and two municipal committees, began on Wednesday. The five municipal corporations where polling was held on 16 December were Hisar, Karnal, Panipat, Rohtak and Yamunanagar, and the two municipal committees were Jakhal Mandi in Fatehabad and Pundri in Kaithal.
In Panipat, BJP candidate Avneet, who maintained a lead since counting began, won the Panipat seat with a margin of 74,940 votes, The Indian Express reported. Congress backed Independent candidate Anshu Pahwa won 51,381 votes.
In Karnal, BJP candidate Renu Bala Gupta won the mayoral election against Congress-backed INLD-BSP alliance candidate Asha Wadhwa with a margin of 9,348 votes, India Today reported.
In Hisar, BJP mayoral candidate Gautam Sardana is leading against Rekha Aren with a margin of 20,028 votes, the news agency said.
Results were declared for all the 13 wards of the Municipal Council in Pundri at 9.30 am. According to reports, nine women were among the winners, including OBC candidate Rama Rani in Ward 1, and Shailja Rani (General) in Ward 8. All BJP candidates lost in the Jakhal Mandi polls.
BJP's margin of victory was also huge in the state, which is a big relief for Chief Minister Manohar Lal Khattar.
PTI reported that 69.39 percent of voters exercised their franchise in the polls. Polling was held amid tight security and passed off peacefully. There was no report on any defective EVM, the state election commission said.
The Election Commission also announced that heavy polling was recorded in the two municipal committees of Jakhal Mandi (89.5 percent) and Pundri (82.1 percent). In the municipal corporations, 62.7 percent polling was registered in Hisar, 61.8 percent in Karnal, 62 percent in Panipat, 62.4 percent in Rohtak and 65.2 percent in Yamuna Nagar, State Election Commissioner Dalip Singh said.
However, the poll percentage in these corporations dropped slightly in comparison with the elections held last time.
Singh said 59 candidates, including 40 men and 19 women, contested the election to the seats of mayor, and 592 candidates, 322 men and 270 women, contested the election to the municipal corporation. A total of 89 candidates, 35 men and 54 women, contested the election to the municipal committees in Jakhal Mandi and Pundri, he added.
Ahead of the next year's Lok Sabha and Assembly polls, the civic polls are seen as a prestige issue for the ruling BJP. Khattar had campaigned extensively for party nominees in these polls. Opposition INLD-BSP, too, had fielded its candidates in the polls. While the Congress chose not to use party symbol to contest the polls, it lend support to some Independents.
In Karnal, Khattar's home constituency, INLD-BSP and the Congress had thrown their weight behind Independent candidate Asha Wadhwa.
In a first, the mayors of the five municipal corporations will be elected directly. Earlier, the councillors used to elect the mayor.
In another significant move, the Haryana Election Commission had decided to treat 'none of the above' or NOTA option as a "fictional candidate" in the municipal polls, making it a must for winning candidates to secure more votes than those cast for NOTA.
With inputs from PTI
Find latest and upcoming tech gadgets online on Tech2 Gadgets. Get technology news, gadgets reviews & ratings. Popular gadgets including laptop, tablet and mobile specifications, features, prices, comparison.
India
Das led the company's Public Policy in India, South and Central Asia for almost nine years.
Politics
While the BJP claimed it was political violence, the ruling party in the state said the incident was a fallout of a land dispute between two neighbours
India
Sameet Thakkar was told by a court to appear before VP Road police station in Mumbai on 5 October. He had allegedly slipped out without submitting his mobile phone or laptop as mandated, an official said