Hardik Patel will back Congress in Gujarat polls: BJP calls Patidar leader a 'Congress agent', claims quota will hurt pride of community
Just minutes after Patidar leader Hardik Patel announced a deal with the Congress, which would help the community to avail reservations in jobs and education, the BJP on Wednesday hit back, calling him 'Congress agent'.
Just minutes after Patidar leader Hardik Patel announced Patidar Anamat Andolan Samiti (PAAS) support for the Congress in the upcoming Assembly election, which will help the community to get reservations in jobs and education, the BJP slammed the Patidar leader calling him a "Congress agent".
Speaking to reporters in Gandhinagar, Gujarat deputy chief minister Nitin Patel alleged that the Congress has been guiding the Hardik-led movement for the past two years. "Congress is helping the Patidar movement by funding their protests and by giving them political guidance," Patel said.
"Hardik says he is striking a deal with the Congress for the sake of the community but he is actually a Congress agent. Hardik is working on the instructions of Congress," Patel alleged.
Alleging that the PAAS leaders are weakening the community with their demands, Patel said that the Congress is using them for electoral benefits. "The pride of the community has been hurt," he claimed.
Patel said that the whole drama was orchestrated by senior Congress leaders like Kapil Sibal, calling the quota deal as "foolish".
Moorkh ne darkhwast di aur moorkh ne darkhwast maani, aur doosre ko moorkh bolte hain: Deputy CM Nitin Patel on Hardik Patel/Congress #GujaratElection2017 pic.twitter.com/8EoPuzxifb

— ANI (@ANI) November 22, 2017
Targetting Hardik over his alleged sex video, Patel advised the Patidar leader to not talk like an old, experienced intellectual as "every one in Gujarat knows his reality." "It does not suit him. Hardik's 'pravachan' (sermon) that he does not want tickets, is bogus. His carefree lifestyle has been witnessed by whole of Gujarat," Patel said.
Claiming that it is a Congress strategy to hand "lollipop" to people, Patel said that "naive" Hardik does not understand the legality and technicality involved in breaching the 50 percent mark in reservations.
"We do not even know whether Hardik is even a graduate. It is odd for a young man like him to talk like an expert. He does not understand that it is in Congress' nature to do 'chal kapat' (use devious means)." Patel added that according to the 1993 judgment in the Indira Swaheney versus the Union of India, reservations cannot exceed 50 percent of the total limit.
He also advised Hardik to consult some legal experts who work at the Gujarat High Court, as well as the Supreme Court, and not to listen to leaders like Kapil Sibal and Shaktisinh Gohil.
India
The leaders will discuss a host of issues, including continued cooperation on COVID-19 response efforts, shared regional security interests and the climate crisis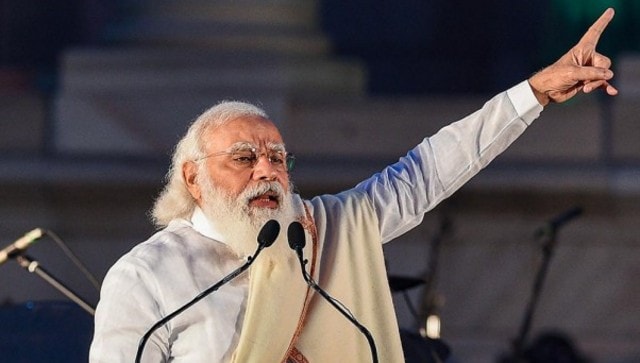 India
This visit comes at a time when the BJP is all set to kickstart its Assembly election campaign as Modi is expected to address a public meeting after the inaugurations of the projects
India
Congratulating the people of Telangana, the prime minister said that the temple showcases the outstanding craftsmanship of great Kakatiya dynasty