'Jayalalithaa's reputation must be protected': There's nothing surprising about Tamil folk singer Kovan's arrest
At 02.30am, Chennai Cyber Crime Cell sleuths swooped down upon the home of Kovan, folk singer in Oraiyur, Trichy district of Tamil Nadu. His crime – to have written, performed and released on the internet, songs criticising the state government of Tamil Nadu and its Chief Minister J Jayalalithaa on the burning issue of Prohibition.
At 02:30 am, Chennai Cyber Crime Cell sleuths swooped down upon the home of Kovan, folk singer in Oraiyur, Trichy district of Tamil Nadu. He was woken up and arrested under Sections 124-A (Sedition), 153 (Provoking riots), 505 (1) (b and c) (intent to cause fear and alarm to public against state and incitement). His crime – to have written, performed and released on the internet, songs criticising the state government of Tamil Nadu and its Chief Minister J Jayalalithaa on the burning issue of Prohibition.
"Raids were conducted on the home of the person who had uploaded the songs onto the internet too," said Jim Raj Milton, advocate for Kovan. "One Kannaiyan Ramadoss aka Kaliappan's house was raided but he was out of town at the time. He runs a small group called Makkal Adhigaram (People's Authority)," he said.
The songs offending the authorities criticise the state government's alleged callousness in running TASMAC (Tamil Nadu State Marketing Corporation) bars when the people were floundering in alcoholism and homes were being wrecked due to the habit.
Kovan takes a number of digs at Jayalalithaa in the songs as well as at her pet welfare schemes like Amma Canteen and Amma Mineral Water. In one song titled "Oorukkooru Sarayam" (Liquor in every village), he sings -
"Idli costs Re 1 while toilets cost Rs 5 to use,
Meals cost Rs 5 but Dal costs Rs 100,
Bottled water costs Rs 10 while education fees cost Rs 1 lakh,
If you don't call her a Goddess who gave life, she will kill you."
With his arrest, Kovan has now won the wide support of anti-liquor campaigners in the state. "This kind of an action is an indirect serious threatening message from government to anti-liquor activists," said Senthil Arumugam of NGO Satta Panchayat Iyakkam, who is one of the most vocal voices demanding Prohibition in the state. "Since elections are coming up, this TASMAC issue is going to blow up. The government wants to ensure that there are no protests. Kovan's song has become too popular and that is why they have arrested him," he said.
Neither the police, nor AIADMK spokespersons were available to comment on this issue.
Who is Kovan?
52-year-old Kovan, a native of Trichy, was originally born in Kumbakonam where he completed his schooling. He then studied to be a fitter in the Industrial Training Institute in the neighbouring district of Nagapattinam. Upon completing his diploma, he found a job with Bharat Heavy Electricals Limited in Trichy.
It was in Trichy that Kovan was influenced by extreme Left wing ideology. Although not a Naxal in the true sense of the word, Kovan, say his friends and colleagues, was a sympathiser and a poet, who put his songwriting and singing skills to good use. In 1996, Kovan resigned from his job in BHEL and founded a small group called the Makkal Kalai Ilakkiya Kazhagam (People's Art and Literary Association) in Trichy. This group would meet regularly, write songs on social issues, decrying caste divisions and travel across villages singing their songs in rusty folk tunes.
"We have sung about Koodankulam, illegal sand mining and various other social evils," said M Sathya, a member of the group and a close associate of Kovan for the past 25 years. "Yesterday too we sat as a team and started writing songs in support of the 14 lawyers suspended by the Madras High Court. Kovan went home only at 10pm last night. I got a call at 02.30am saying the police had woken him up and arrested him," he said.
Kovan is married, with a son who is a lawyer and a daughter who is studying to be a homeopathic doctor. Members of his loose troupe who number around 1000 across ten districts of the state are livid at his arrest.
"He has been deliberately targeted and sedition charges have been slapped on him," said Sathya. "It has been 2 months since this song has come out. These charges have come about now because the song has become very popular – there are over 4 lakh views in YouTube," he said. His teammates plan to sing their protests against his arrest across the state and organise protests.
Draconian Crackdown
Political hawks are not surprised at this extreme move by the Tamil Nadu police. Jayalalithaa is notorious for slapping criminal defamation charges against politicians and publications who speak out in criticism of her actions.
Opposition leaders like the Dravida Munnetra Kazhagam's (DMK) Karunanidhi, Desiya Murpokku Dravida Kazhagam (DMDK) chief Vijaykanth, Congress state president EVKS Elangovan and others are all battling cases of defamation slapped by the Tamil Nadu Chief Minister. Many publications which write in criticism of state government, or specifically the Chief Minister, are dragged to court. In the past four years of the All India Anna Dravida Munnetra Kazhagam (AIADMK) regime alone, over 110 cases of defamation have been filed by government. In her last regime, between 2001-2006, the Jayalalithaa-led government filed close to 120 defamation suits.
"The police will clamp down on anything that is against Jayalalithaa," said GC Shekhar, senior journalist and political analyst. "She has slapped defamation cases on all sorts of people. This is not about anti-liquor activists, their activities will go on uninterrupted. This is about Jayalalithaa - Amma's reputation must be protected at all costs," he said.
During Jayalalithaa's regime, the state police is believed to frequently invoke draconian laws such as the TADA (Terrorists and Disruptive Activities (Prevention) Act of 1985), POTA (Prevention of Terrorism Act of 2002) and the Goondas Act (Tamil Nadu Prevention of Dangerous Activities of Bootleggers, Drug Offenders, Goondas, Immoral Traffic Offenders and Slum-Grabbers Act of 1982) regularly. In August 2014, the much criticised Goondas Act was amended, allowing police to detain suspects in prison for upto a year even when only a single offence has been committed. This stringent amendment to the 1982 preventive detention law came under severe criticism from human rights watchers in the state.
In 2002, Marumalarchi Dravida Munnetra Kazhagam (MDMK) chief Vaiko, an open sympathiser of the banned Liberation Tigers of Tamil Eelam (LTTE) armed group in Sri Lanka, was arrested under POTA and jailed for 19 months.
Opposition gets new arsenal
Opposition parties have got a new weapon in their arsenal to target the ruling government.
DMK Treasurer and heir apparent MK Stalin issued a statement on his official Facebook page condemning the arrest of Kovan. "Seeing the manner in which human rights are being crushed by this government, I fear that there is a dangerous situation prevailing in the state," he said. "I am anguished that rule of law stands with bowed head in front of the abuse of power and destruction of freedom of speech by the AIADMK government," he added.
Calling the arrest draconian, DMK spokesperson TKS Elangovan said that sedition charges are unwarranted in this case. "Kovan belongs to the Leftist movement and he is a good singer," said Elangovan. "This song is about liquor and he has attacked Jayalalithaa directly because she is the Chief Minister and she introduced TASMAC. This arrest is aimed curtailing freedom of expression. He sings songs for the people against the government and against the Chief Minister for not implementing prohibition. There is no element of sedition in these two songs," he argued.
Kovan's lawyer Milton too says that these charges will not stick. "The sedition charge cannot stand," argued Milton. "There is nothing seditious in this song. There is an anger in Kovan's songs, but there is also a logic behind that anger. This is an art form. It can only be seen as art. Even defamation cannot stand," he said.
The BJP meanwhile is playing it safe. "Kovan's organisation is known for its anti-national and separatist propaganda in general," said H Raja, National Secretary of the Bhartiya Janata Party (BJP). "Without knowing the reasons against the individual I cannot comment. In any case that organisation is known for such anti-national activities. Every issue must be considered on its merit. In case any violation of democracy is there, we will not hesitate to fight," he said.
As Kovan heads to confinement, what is clear is that the state government has many questions to answer with this particular arrest.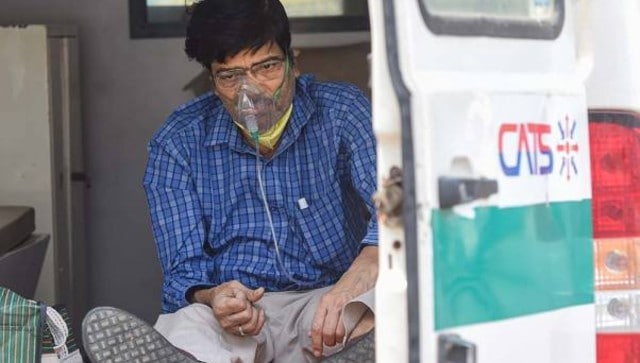 India
Coronavirus in India Latest News LIVE Updates: This, on a day when the newly-elected DMK government announced a full lockdown, set to begin on 10 May and end on 24 May
Politics
In the polls held for the 234-member Assembly, DMK swept past the majority mark to garner 133 seats, while Congress won in 18 constituencies
Politics
DMK won 133 seats and along with allies, including Congress, garnered a total of 159 constituencies in the 234-member Assembly