Trust in Narendra Modi sways Gujarat voters towards BJP, makes Congress' campaign mere sound and fury
After nearly two decades, Gujarat is feeling the absence of a leader who is arguably the most powerful leader the state has ever produced after Mahatma Gandhi and Sardar Patel.
Familiarity may breed contempt but the two-decade-long association of a political party with the electorate is bound to unleash demons of contempt, jealousy and disaffection.
If one looks at confusing signals emanating from the state, most of it results from a high degree of familiarity of voters with the BJP leadership in the state. Over the years, the BJP leadership has practically become next-door-neighbour whose proximity evokes two simultaneous emotions -- pride and prejudice.
This Assembly election in Gujarat is certainly not an ordinary election. After nearly two decades, Gujarat is feeling the absence of a leader who is arguably the most powerful leader the state has ever produced after Mahatma Gandhi and Sardar Patel. No doubt his larger than life image has substantially dwarfed other leaders in the state.
In this context the regime headed by either Anandiben Patel or Vijay Rupani is a pale shadow of the Narendra Modi government. Ever since Modi shifted to Delhi, the state government lacked flamboyance and innovation that were hallmarks of Modi's style. Similarly, there are large complaints of state bureaucracy slipping back into its corrupt mode in post-Modi phase.
At the same time there are certain achievements on which the voters are unequivocally appreciative of Modi. For instance, Modi's ambitious plan of regularly holding "Garib Mela" was believed to be a game changer in 2012. Modi's emphasis on infrastructure is appreciated all around. But the energy that Modi displayed in connecting with the people was found singularly missing among his successors.
So there's an obvious disconnect between the electorate and the BJP's new leadership. But that's not the only grouse. While travelling across south Gujarat, one comes across a new word in political lexicon – Ahankar (hubris). At the Surat textile market, office bearers of the traders association admit that they were opposed to ahankar of the BJP leadership.
"How could they take us for granted?" asked one office bearer while pointing to Amit Shah's claim of winning more than 150 seats. When asked if he would support the Congress, his instant reply was "no way". "We may be unhappy but we still trust Modi," he said.
The underlying message was clear - the new BJP leadership cannot take voters' support for granted. Modi still remains an exception. Perhaps the party leadership belatedly understood the angst of voters and started reaching out to them in right earnest. Given the robust and dynamic organisational structure of the BJP, this swell of anger is substantially neutralised by dedicated teams of workers.
Apparently the rise of Hardik Patel is a corollary to political prejudices and zealousness that prevail in state's politics. A section Patidars who see political power as their entitlement on account of numerical strength found the absence of Modi as right opportunity to assert themselves. That Hardik's voice found resonance among the younger generation is indeed a matter of concern for the BJP.
There's no doubt that the Assembly election in Gujarat would leave an enormous scope for the BJP to set its own house in order and much for introspection. But it's equally true that the BJP's assimilation in Gujarat's society and charisma of Modi far outweigh the transient emotional aberrations on which the Congress intends to capitalise. Till the Congress acquired the status of next door neighbour for people of Gujarat, it will only make sound and fury, signifying nothing.
Click here for detailed coverage of Gujarat Assembly Election 2017
India
Of the 565 princely states that made up 40 per cent of the territory of undivided, pre-Independence India and 23 percent of its population, Hyderabad was the richest, most-populous, and, after Jammu and Kashmir, the largest in size
India
Maharashtra Industries Minister Uday Samant alleged the previous MVA dispensation was responsible for the loss as it sat on the project offer for seven months whereas the new government approved incentives worth Rs 38,831 crore in July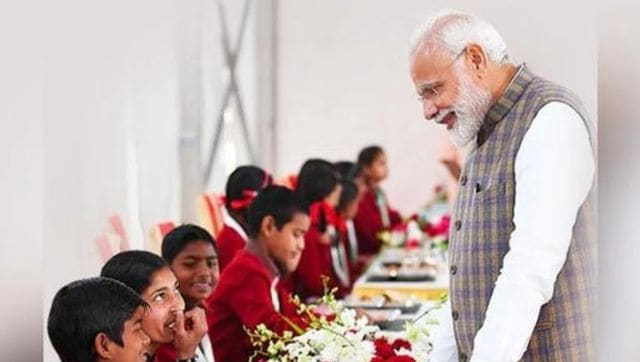 India
Prime Minister Narendra Modi turned 72 on Saturday, with greetings from leaders and other prominent personalities pouring in and admirers hailing his contribution to making a 'strong and self-reliant' India