Gujarat polls: Rahul Gandhi can take a leaf from YSR's political playbook to counter Brand Modi
Instead of Rahul saying Modi has failed, he would do well to imitate YSR and let common people tell other common people if they are happier under Modi.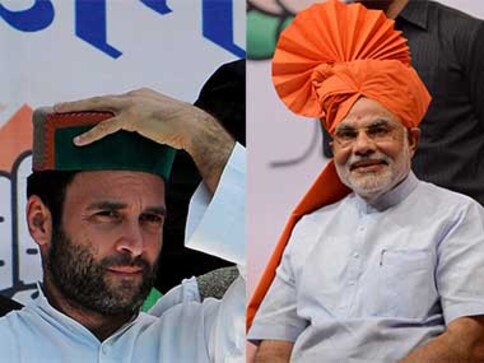 Hyderabad: When the late Dr YS Rajashekhara Reddy (YSR) decided to take up the agrarian crisis brewing in the-then combined state of Andhra Pradesh as the primal issue against the rapidly consolidating halo and brand of Nara Chandrababu Naidu in the 1999 elections, he thought he had, besides history on his side, a winning issue.
The worsening crisis had been ubiquitous across regions and distress, indicated most predominantly by rising suicides of farmers unable to repay private lender loans during a sustained drought, and yet, it did not seem like a winning political issue.
The Telugu Desam Party (TDP) had, since its formation in 1982, made history by sweeping elections within nine months of its formation but had never retained power for a second term in Andhra Pradesh, like the Bharatiya Janata Party (BJP) at the Centre in India. The TDP was betting on retaining power for a consecutive term based on a single factor – the brand image of Naidu; like BJP would rely on Brand Modi in 2019, against a populist free-power promise of YSR.
YSR lost and Naidu won in 1999, aided by an added factor of being an important partner of the Atal Behari Vajpayee-led NDA, Kargil War victory, nuclear tests and a general pro-NDA mood prevalent across India before the turn of the millennium.
Parallels between Naidu and Modi
There may be little similarity between Naidu's coup against matinee-idol and founder of TDP, late NT Rama Rao, after the patriarch brought his party in power in the 1994 elections against the Congress and a fair, open manner of the internal takeover of Modi within BJP in 2013, wherein he took responsibility and led the party to an unprecedented victory.
Naidu stole power, whereas Modi earned it. But thereafter, Brand Modi which has enamoured the country so much leading to massive returns in 2014 elections, and subsequently, is eerily similar to the erstwhile Brand Naidu.
One might think the Rajdeep Sardesai-Arnab Goswami tale we recently heard of one scribe usurping and internalising professional experiences and key features of someone else's curriculum vitae might be more widespread, and prevalent in politics as well. Modi perhaps deeply analysed, understood and acquired Brand Naidu and initiatives approach, modified it for a pan-Indian appeal and added it as a sheen over his nationalist-Hindutva core.
The big challenge ahead for Rahul Gandhi and his tattering Congress, no matter what the final results of the Gujarat polls are on 18 December, is this Brand Modi; that which defeats the Congress even before the polls, in their very minds; as indeed Naidu was then, a difficult force to face up to in the adversary's own head.
Naidu pioneered a mega vision approach, working with McKinsey to launch the Vision 2020. He launched Janmabhoomi programs, wherein he encouraged celebrities from all walks of life to clean, yes, clean streets and local areas, using brooms and harnessed photo-ops to great impact.
The File Clearance Week pushed the focus on how bureaucracy was stalling files and put a focus on it. Clear and Green was voluntary cleanliness by another name. Biometric attendance and login made offices look efficient, like never before. Prajala Vadaki Pallana took the administration to people where petitions, complaints and concerns were heard and cleared on the spot. Tree plantation, water harvesting, computers for efficiency, start-ups, sports, fitness, every initiative was taken up on a mission mode, with a target and deadline, and a good pontification on the near-divine-to-saintly qualities of a young, dynamic, visionary leader who was the CEO of Andhra Pradesh.
Naidu's rhetoric was the buzz of commonplace conversation, media discussions and analysis. The pradhan sevak was clearly an 'inspired' script.
Consider two statements of Naidu: "I won't sleep till Andhra Pradesh develops. I work 18 hours a day and urge every one of you to do so", and "I will not take one paisa bribe or allow anyone in my party or government to do so".
Naidu used endorsements from Bill Gates, heads of the World Bank and IMF and heads of visiting countries to build his brand. Long before LinkedIn built it, he knew the value of professional endorsements, especially form business barons and spiritual leaders. He ensured US president Bill Clinton visited his mega creation, CyberTowers, the new temple of a panacea for a New Andhra Pradesh – technology.
Yoga and meditation were made compulsory for all MLAs, then bureaucrats and senior police officers. Cinema stars, business icons, sports stars and intellectuals made a beeline for a photograph. He became bigger than the party and government, it was the Naidu government not Andhra Pradesh or TDP government. His appointments were perceived as spectacular; he had appointed the first woman Dalit speaker to any State Assembly, he had nominated a Dalit as a Lok Sabha Speaker.
In those days, Naidu would disrupt everything, carefully crafting an image of a global development icon, champion of reforms but devoted to welfare of people achieved through growth and trickle down impact. He started the Indian School of Business, NALSAR, and the Indian Institute of Information Technology on one hand, and Shilparamam, a village themed park for artisans to sell their wares and Rythu Bazaars to enable farmers to get higher remuneration for their produce by selling grain and vegetables directly to urban consumers. The international airport, ring road and other major infrastructure projects all build the hope for a 'Golden Andhra Pradesh'.
The food for work program and micro lending for women DWCRA groups consolidated the image of economic reforms being for a purpose of alleviating poverty. Power reforms and pioneering private power production made him the natural choice for awards – Best chief minister, man of the year, IT visionary, laptop CM and CEO of AP.
By 2002, it seemed too remote a possibility for anyone to even challenge, much less beat, either Vajpayee or Naidu.
YSR's farmer bet
With the media and narrative strongly set in favour of Naidu, YSR took to a gruelling padayatra to force the media and popular conversation to a topic that had been brushed under the carpet – extreme agrarian grief. While media flashed Naidu and Gates, Naidu and Hitech City, Naidu and broad roads, Naidu and new projects, YSR walked from village to village, across three regions of the state – Telangana, Rayalaseema and Andhra.
Where the camera would never go, YSR went there, and the media was forced to go too, and thus expose an underbelly of big claims. Naidu's claims of hospitals, school buildings and irrigation canals were exposed; YSR could show to people, through a reluctant media in awe of Naidu, that canals were dry, schools had no teachers, hospitals were dilapidated and without medicines or doctors.
People saw and brought into the new narrative of YSR – Naidu was only for Hyderabad and Andhra Pradesh was more than just one thriving capital city. The biggest beneficiaries of Naidu, people of a city he rechristened Cyberabad, also joined the rest of the state to defeat him in 2004, for neglecting the farmers and villages and focussing only on them.
It was YSR's great political intuitiveness to understand that brands are built in urban minds, but can be shattered by focusing on rural reality.
Rahul's Bharat yatra
Today, Rahul, possibly shrunk in perception as a leader and looking pale and dwarfed against an inflated perception of Modi's invincibility, despite increased traction since his US trip and good response in Gujarat, will do well to realise the control of media narrative the incumbent prime minister has. Like Naidu, Modi has crafted his image by co-aligning with several endorsements, initiatives, with added advantages Chandrababu never had; brilliant oratory, the RSS, Hindutva ideology and social media power.
Instead of going to places known, like IITs or IIMs, or the United States of America, or post disaster spots, Rahul must take the media to places they don't visit, ever. To villages and check if villagers are happy. If farmers are happy. If woman are happy. If hospitals have improved. If primary schools have been bettered. To government offices. To fields. To homes of artisans. To small towns. To see if power is supplied. If LED lights have come. If highways are really being constructed at the pace claimed.
Like YSR, if Rahul can undertake a padayatra across India, or even a rath yatra like LK Advani, he can let common people tell other common people if acche din are here. The power of such a cumulative people view on Modi's performance will be the best bet for Rahul Gandhi in 2019; the irrefutable plight of the farmer and rural citizen will be best argument against the Modi-Amit Shah duo's battle cry.
Instead of Rahul saying Modi has failed, he would do well to imitate YSR and let common people tell other common people if they are happier under Modi.
Because Naidu did lose to YSR in 2004. He not only remained in Opposition as a shrunk leader with little prominence but also never came back to ruling in his beloved Cyberabad. And Modi might still lose in 2019.
The author has written the MAN Asian Literary prize longlisted bestselling novel, Autobiography of a Mad Nation, and is a columnist based in Hyderabad.
Click here for detailed coverage of Gujarat Assembly Election 2017
also read
World
President Joe Biden will host PM Modi for an Official State Visit to the United States, which will include a state dinner, on June 22, the White House announced on Wednesday.
Opinion
With certain electoral acceptance and renewed strategy, the BJP can hold onto the baton of power again in 2024. The local factors and the national-regional coalition is different in every state, and the BJP must work out on this
India
Prime Minister Narendra Modi launched the special Rs 75 coin on Sunday to mark the historic inauguration of the new Parliament building. It can be purchased on the India Government Mint website. Since it is a commemorative coin, it can't be used to make purchases