Gujarat polls: Narendra Modi is taking the game beyond politics and into social reformation
If Modi's stature has grown phenomenally in spite of the 'perceived anger' over demonetisation and GST, the reason is not far to seek. He is seen more as a social reformer than a conventional politician.
Former India international cricketer Nayan Mongia visits the Vadodara head office of the now liquidated Madhavpura Mercantile Bank every six months. He goes there to inquire about his hard-earned money parked in fixed deposits with the bank before it collapsed in 1999-2000.
Mongia says since he was busy playing cricket, he left the management of his financial matters to his father who had a lot of faith in this Ahmedabad-headquartered cooperative bank. "I was playing in a foreign country when I heard the news about the bank going kaput," Mongia recalls. "And I was literally crestfallen as 80 percent of my earnings lay with the bank," he said, adding that in the past 15 years, he has managed to recover only half of his principal amount. "I will be more than happy even if I am able to recover my basic investment without interest accrued."
Mongia, who now runs a business of surgical equipment, is among the lakhs of depositors who lost their life savings in a jiffy when Ketan Parekh failed to return his humongous loans secured by pledging bogus shares and worthless scrips. When Parekh's bets in the stock market failed in the late 1990s, it led to the sudden collapse of the Rs 5,000 crore scheduled bank.
The story of the Madhavpura Bank is instructive in making sense of the society and politics of Gujarat. What made Madhavpura Bank particularly attractive for investors was the fact that it offered interest on deposits higher than what nationalised banks offered. Even some nationalised banks used to deposit money in this bank in order to earn higher rate of interest. Those were the early years of liberalisation and people such as Harshad Mehta and Ketan Parekh became new icons to earn quick bucks through the stock market. The spurt in high deposits in the Madhavpura Mercantile was directly related to the burgeoning middle class's rising aspirations and growing greed. Much of this greed was based on betting without any relation to real business and industrial production.
Today, on any given day, you will find a steady stream of customers lining up outside the bank's headquarters in Vadodara to enquire about the fate of their savings. But they hardly get an answer as the liquidation process is on-going. Ketan Parekh, the man responsible for the bank's failure, is out on bail. For a short period, BJP leader Arun Jaitley held his brief in his role as a lawyer. Now as Union finance minister, nobody is more informed about the bank's criminal indiscretion and people's plight more than Jaitley. Yet the issue is still unresolved.
It would be rather naïve to look at the bank's collapse only from the prism of politics. The reality is that in the nineties, when liberalisation unleashed the animal spirits of capital, the reigning deity in Gujarat was Greed. All political parties and leaders are complicit in pushing the society to a course that promised overnight affluence. Needless to say, a large section of society was enthralled by greed which prompted people to flock to cooperative banks promising better interest rates. In turn, the cooperative banks reposed their trust in those who indulged in betting in order to earn fast money.
Ironically, the lure for easy money is an irrepressible impulse that has been largely guiding the business in Gujarat for years on end. Implicit in this approach is the patronage to a shadow economy which is often stronger than the formal economy. Take, for example, the large-scale cash transactions carried out in the diamond trade. Similarly, the textile trade of Surat thrives mostly on cash without paying tax. About 115 textile markets in the city run an economy which has only a tenuous link with the formal economy.
Old habits die hard. Hence, demonetisation and Goods and Services Tax (GST) were two significant moves by Prime Minister Narendra Modi to bring about a radical change in society's conduct. And there is little doubt that the moves have violently upset the social and financial equilibrium attained under the shadow economy. "If you look at the market, you will realise the production has declined by nearly half," say many textile traders of Surat.
But what is more pertinent is the fact that the same traders appreciate the manner in which Modi is trying to contain black economy. "We are not against the GST as it will bring us relief by integrating us into the formal economy," they point out, adding that the move will bring them a lot of relief in future. "We have a limited complaint on the GST. Make it easier so that compliance is not arduous," they say.
While travelling across Gujarat, one comes across views which are indicative of a deep conflict in a highly religious society that put more faith in greed than god. Though people express their anger over demonetisation and GST, a large section is highly appreciative of the "bold moves" that would put an end to the shadow economy.
Perhaps Modi realises that society at large will stand by any action that attempts to guide it away from its base instincts. His demonetisation and GST moves are seen as shockers meant to correct the moral course of society.
In conventional political terms, both may appear outrageous and difficult to decipher. But even those who thrived under the shadow economy in Gujarat over decades appreciate Modi for bringing the society back on the right and honest course. That Modi has been pursuing objectives "beyond politics" remains an enigma for those who look at his actions from the prism of conventional politics.
If his stature has grown phenomenally in spite of the "perceived anger" over demonetisation and GST, the reason is not far to seek. He is seen more as a social reformer than a conventional politician. This broad support base is what will hold him in good stead on 18 December when the election results are announced. Everything else—religion, caste and real politic—will be the bonus.
Click here for detailed coverage of Gujarat Assembly Election 2017
India
In its statement, the Prime Minister's Office said e-RUPI is a cashless and contactless instrument for digital payment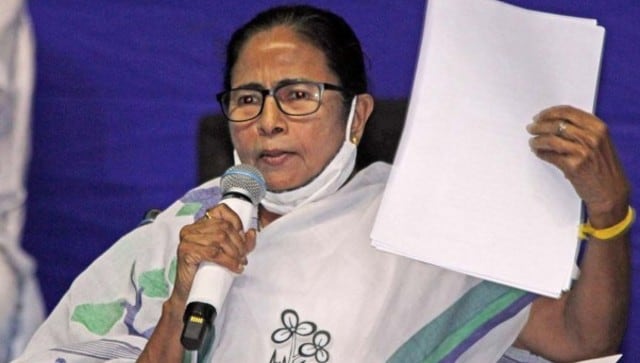 Politics
All this in the backdrop of #AbkiBaarDidiSarkar trending on Twitter, thus further fuelling rumours about a United Front.
India
The ''Mann Ki Baat'' programme is broadcast at 11 am on the last Sunday of each month through various channels of the All India Radio and Doordarshan