Gujarat polls: From Bluetooth to WiFi, Congress' bizarre EVM charges betray a belief that BJP is invincible
A bravura performance to prove 'EVM rigging by BJP' was recently staged by the Aam Aadmi Party amid much fanfare but though it was impressive in terms of theatrics and entertainment, very little was achieved by way of proof.
We have been witness to solemn representations from the Opposition on how the very foundation of Indian democracy is in peril because the EVMs cannot be trusted anymore. We are told that since these electronic voting machines are unreliable and liable to tampering, the true public mandate isn't getting reflected and very soon people will lose their faith in the democratic process.
This is worrisome. The electoral process is sacrosanct. If people's belief in it is shaken, the underpinnings of our democracy will eventually become unstable. The results could be devastating. Such serious charges demand close scrutiny.
At the very outset, however, we note that these grave allegations have so far been unsupported by data. For allegations so severe, not even a shred of evidence has been provided by the protesting parties which may be used to question the vulnerability of EVM machines, leave alone proving anything conclusively.
A bravura performance to prove "EVM rigging by BJP" was recently staged by the Aam Aadmi Party amid much fanfare but though it was impressive in terms of theatrics and entertainment, very little was achieved by way of proof. The fact that it was held inside Parliament to avoid Election Commission's challenge made it harder to be taken seriously.
So far, these allegations seem to be based purely on hallucinatory speculations, fantastic theories, loaded insinuations and are modeled on shoot-and-scoot tactics. It is unsurprising to note that the claims have grown louder and shriller in accordance with the Oppositions' dip in electoral fortunes, and have found little support among the wider public beyond a section of "liberal" voices who still cannot come to grips with the post-2014 reality. This clan drops all pretensions of rationality and backs bizarre theories if it smells even a smattering of a chance to peddle its agenda.
In one respect, however, the Opposition is right. A grave crisis is staring at us. Indian democracy is indeed in danger. However, it is in danger not because EVMs are unreliable or the electoral process is rigged, but because the Opposition is convinced that the BJP is invincible. Such a defeatist mindset strikes a cruel blow at the heart of democracy because rival parties must believe that it can beat the BJP instead of finding solace in bogus excuses.
The bogey of 'faulty EVMs' first surfaced after BJP's massive electoral success in Uttar Pradesh Assembly polls. The repercussions of that result were deep and enduring. It broke the back of the Opposition's nascent resistance and introduced such fatalism into their attitude that instead of trying to regroup and rebuild, Opposition leaders started believing Modi cannot be beaten.
This defeatism led to the denial that their electoral loss is unconnected to their inability to impress the voters. Blaming the EVMs and accusing the BJP of rigging is a natural consequence of this denial. The defeated leaders could now free themselves of the responsibility for their defeat and reinvigorate party workers through active myth-making. There are two problems with this approach, however. It reinforces the defeatism — because leaders can now immediately point to the EVMs in case they lose again and it eventually weakens the underpinnings of our democracy.
It doesn't matter that these theories are unsupported by facts. BSP supremo Mayawati and Samajwadi Party chief Akhilesh Yadav cried hoarse about how BJP has used EVMs to win Uttar Pradesh civic body polls and alleged that BJP's performance has been better in places where EVMs were used, and poor were voters cast paper ballots.
According to data released by the state Election Commission, it was actually BSP which fared poorly where paper ballots were used.
In keeping with the trend, the Congress on Saturday created huge noise over 'rigged EVMs' that were apparently "connected to external devices" through Bluetooth technology. Congress candidate from Porbandar Arjun Modhwadia even "detected that the EVMs at three polling booths at Memanwada, a Muslim-dominated area, (were) connected to external devices through Bluetooth." He went on to claim that when "the Bluetooth of a mobile phone is turned on, a device named 'ECO 105' is shown as available…"
He raised a complaint with the Election Commission which promptly launched an inquiry. Not surprisingly, it emerged soon enough that Congress's charges were baseless, and that a "device named ECO-105" was in fact a mobile phone that apparently belonged to a polling agent.
EC finds no truth in allegations by Congress candidate pertaining to 'wifi hacking' of EVMs in Porbandar. ECI finds that BSP polling agent had put his mobile wifi hotspot namely ECO 105 on. EVMs are stand alone units without any connectivity to wifi, blue tooth, usb or else

— DeshGujarat (@DeshGujarat) December 9, 2017
Ok, this is hilarious! BSP polling agent's wifi called ECO 105, mistaken for EVM hack! https://t.co/4cNyrXyJE6

— Nistula Hebbar (@nistula) December 9, 2017
A team of engineers visited a Porbandar booth following complaints and found no substance in the complaints: EC sources to @deveshpd

— Nistula Hebbar (@nistula) December 9, 2017
According to a report in the Indian Express, it was a "misinformation campaign". A polling booth official told the newspaper that acting on a complaint lodged by Congress, the Election Commission found that a booth worker had "switched on the Bluetooth device on his phone which showed 'ECO 105', a model of the Intex brand of phones, and he raised an alarm that the EVM had been hacked. We spend two hours locating that device. Our EVMs are tamper-proof."
No such issues reported till now. Some EVMs replaced due to errors. EVMs were updated with VVPAT, which allows people to verify their vote for 7 seconds: Yogesh Thakkar, Bhavnagar Deputy Electoral Officer on reports of faulty EVMs in 1st phase of polling in #GujaratElection2017 pic.twitter.com/czFeupn7UU

— ANI (@ANI) December 9, 2017
The Election Commission has been categorical in its statement that "ECI- EVMs are not computer controlled, are stand alone machines and not connected to the internet and /or any other network at any point of time. Hence, there is no chance of hacking by remote devices."
Moreover, Gujarat is witnessing a 100 percent paper trail-based poll through Voter Verifiable Paper Audit Trail (VVPATs), which slows down the voting process but makes even the slightest chance of misuse impossible. Data released by the Election Commission makes it evident that Congress' charge — that was amplified in social media through the Lutyens' ecosystem — was little more than a kite-flying exercise.
For Doubting Thomases... pic.twitter.com/tNHW3jrct5

— Bharti Jain (@bhartijainTOI) December 9, 2017
Regardless of the 18 December result — that would doubtless be a true reflection of people's mandate the Oppositions' defeatism is posing grave dangers for our democracy.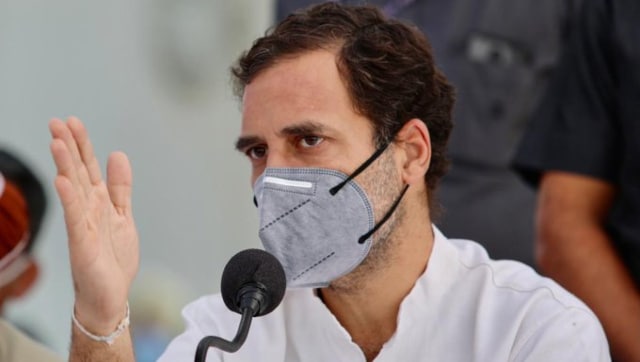 India
BJP leaders hit back at the Congress leader and said that Gandhi should get out of social media and work on the ground and should speak to CMs of Congress-ruled states about alleged irregularities in COVID vaccination programme
Politics
The BJP has always made a big production of its shtick about the Congress' dynastic politics, but now it is welcoming a motley crew of dynasts into its ranks with no apparent sense of irony
India
The next Lok Sabha polls could be announced sometime in March 2024, which could be held under Kumar's watch