Gujarat polls: Election Commission withdraws show cause notice to Rahul Gandhi over TV interview
The Election Commission has withdrawn the show cause notice it had filed against Rahul Gandhi for holding TV interviews after campaigning for Gujarat polls had formally ended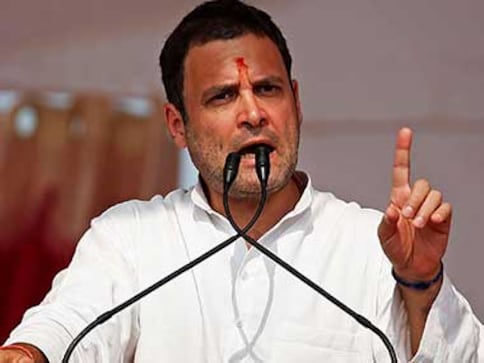 The Election Commission has withdrawn the show cause notice it filed against Rahul Gandhi for giving a TV interview after campaigning for Gujarat polls had officially ended, PTI reported.
Acting on a complaint by BJP, the Election Commission issued a notice to Rahul on Wednesday for violating the Model Code of Conduct (MCC) by giving an interview to GSTV even after the campaign for Gujarat polls had formally ended.
The panel filed an FIR against Gujarati channels for airing the interview after the end of the election campaign. However, it said no FIR has been lodged against Rahul for prima facie violating the election laws.
Briefing media about the voter turnout in the second phase on Thursday, senior Deputy Election Commissioner Umesh Sinha said "No FIR has been lodged against Rahul Gandhi. Only a notice has been issued to which he has to respond in five days."
The withdrawal of the notice came before Rahul was expected to send a response.
Regarding the reason for lifting this show cause notice, Election Commission of India said, "Commission is of considered view that due to multi-fold expansion of and electronic media, the extant MCC, Section 126 of the Representation of the People Act, 1951 and other related provisions require revisiting to cater to the requirements and challenges of the present and emerging situations."
The commission also decided to set up a panel to suggest amendments to a provision in the election law barring campaigning 48 hours ahead of polling, following complaints that it has failed to keep pace with information technology.
In an order issued on Sunday night, the poll body said the proposed committee will have members from the poll panel, the information and broadcasting, law and IT ministries, in addition to those from the National Broadcasters Associations (NBA) and the Press Council of India (PCI).
The Congress has claimed that little has been happening to all its complaints against the BJP while things moved quickly when it came to grievances against others in the fray.
Counting of votes for the Gujarat election will be held on Monday for the Gujarat Assembly polls, which is considered a prestige battle for Prime Minister Narendra Modi in his home state and a litmus test for Rahul.
While the BJP is seeking a sixth straight term in office, the Congress is aiming to stage a comeback in power after being in the Opposition for over two decades. The results are expected to have a bearing on the 2019 parliamentary polls.
With inputs from agencies
Click here for live updates of Gujarat Assembly Election Results 2017
Click here for detailed coverage of Gujarat Assembly Election 2017
Politics
The YSR Congress Party, while addressing the allegation in its latest submission to ECI, has mentioned that they have launched an internal inquiry on the matter
First Cricket News
The MCC stated that Deepti Sharma's run-out of Charlotte Dean was within the laws of the game and shall not be treated otherwise.