Gujarat polls 2017: Will Rahul Gandhi flip on GST and demonetisation after Pew survey says Modi most popular?
Rahul and the Congress strategists should examine the latest survey of the 'nonpartisan' Washington-based think tank Pew Research Center on Modi, Rahul, Sonia, the Congress' position and public satisfaction with the government.
In devising his Gujarat campaign, Congress vice-president Rahul Gandhi may have made two mistakes.
The first was making demonetisation a big poll issue against the ruling BJP, and the second pitching himself directly against persona of Prime Minister Narendra Modi.
Rahul and the Congress strategists should examine the latest survey of the 'nonpartisan' Washington-based think tank Pew Research Center on Modi, Rahul, Sonia, the Congress' position and public satisfaction with the government.
According to the report, 88 percent of Indians hold a favourable view of Modi. Contrary to some arguments made in mainstream media, and critics at various forums, 83 percent of Indians think that "current state of economy is good" and 70 percent of Indians are "satisfied with direction" of the country.
What would further encourage Modi and his supporters is the fact that the survey suggests that after three years in office, his honeymoon period continues. In fact, his popularity is at an all-time high and spread almost uniformly across all the regions, irrespective of whether or not his party has substantive organisational base in the area.
What surprised most in the north was Modi's popularity in four states in the south: 94 percent in Andhra Pradesh, Karnataka, Tamil Nadu and Telangana. Kerala was not surveyed.
According to Pew Research Center, 2,464 respondents were surveyed from 21 February to 10 March, 2017, three-and-a-half months after Modi's demonetisation move. This was also the period where the BJP formed the government in four out of five Assembly elections, including Uttar Pradesh (an overwhelming victory), and won a series of urban municipal and rural panchayat elections in various parts of the country.
The poll results proved that for the vast majority, demonetisation was a big, bold move by Modi and they believed it was worthwhile to undergo short-term pain for long-term gain. Pew's findings reassert that conclusion. Pew took its own time analysing the survey and releasing it. But that's a matter of their internal scrutiny and procedures.
A question for Rahul and his party managers to consider: Is Rahul doing himself and his party any favours by endlessly talking about demonetisation and blasting Modi at all forums in the run up to Gujarat election?
He harped on it in Himachal Pradesh, in whatever little campaigning he did in the hill state. His tone and tenor has been much the same as it was in the aftermath of demonetisation and in the run up to the Assembly elections in five states.
The Congress could argue that Goods and Services Tax (GST) came in force four months after Pew survey and thus its findings on level of satisfaction with state of economy could be misleading. A sections of traders, businessmen and society were angry with the way GST was implemented. Some of their concerns and anger was justified.
In fact, the speed with which the Modi government moved to take corrective measures, with the prime minister giving his ministers and officials a deadline and talking about the issue on more than one occasion indicates that the political leadership and BJP sensed possible pitfalls. But Rahul continued to club together demonetisation and GST, portraying Modi as a dictator, even as the fictitious ruthless dacoit Gabbar Singh from Sholay.
Then there are Congressmen who feel that Rahul may have made a mistake by pitching himself directly against Modi in the Gujarat election.
In no state election other than Uttar Pradesh—where he failed time and again—has Rahul campaigned so extensively and so aggressively as in Gujarat. After Mahatma Gandhi and Sardar Vallabh bhai Patel, Modi has been Gujarat's towering leader. Modi, who ruled the state for 13 years, is now prime minister. The people of Gujarat take a certain pride in that: That Modi is the strongest prime minister in history, comparable only to Indira Gandhi.
Consider what the Pew report stated: 92 percent of Gujaratis approve of Modi's leadership. On the all-India level, his popularity is 31 percent higher than Congress chief Sonia Gandhi and 30 percent higher than Rahul.
Incidentally, the Congress has, after all the hype and build up, yet again postponed Rahul's coronation as party president. Rahul was set to take over from his mother Sonia, who has been party chief for 19 years. Perhaps the Congress did not want to put its vice-president in the difficult spot of losing two states just weeks after the planned ascension of Rahul to party supremo.
Another Pew finding that should disturb the Congress: Despite Rahul consistently arguing that only four or five big business houses are benefitting from the Modi government, 81 percent of respondents felt that Modi was "helping the poor." If this is true, then Rahul's charge against Modi found no takers.
"The prime minister's growing popularity can, in part, be traced to public satisfaction with his handling of domestic issues. At least seven of ten Indians approve of how he has helped the poor and handled unemployment, terrorism and corruption. Approval in these four areas is up 10 points or more since 2016", Pew report stated.
It will be interesting to see how Rahul responds to the Pew survey findings. Will he dismiss them, as he did the World Bank Report on India making great strides under the Modi regime on the 'ease of doing business' or will he give it some serious thought?
Something else Rahul should be keep in mind: The Congress has not won an election in Gujarat since 1985.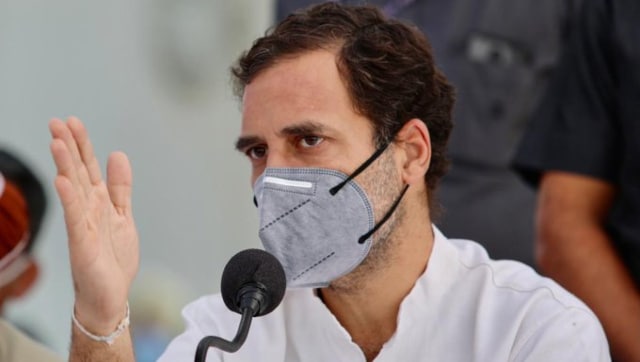 India
The Congress leader had asserted that any phone that he uses are tapped, adding that a Supreme Court-monitored probe should be ordered in the matter
India
The state government will also come out with detailed guidelines on 16 August on the implementation of the New Education Policy-2020
India
To make the movement of visitors easy, the three existing platforms have been connected to subways. The platforms will have a seating facility that can accommodate at least 480 people