New Delhi: Post-poll survey carried out by CNN-IBN today predicted a bigger victory margin for BJP in Gujarat Assembly polls as compared to the 2007 outcome, saying the ruling party could get 129 to 141 seats out of a total of 182.
The survey showed Congress is likely to get 37 to 45 seats in the Assembly with a vote share of 36 per cent against BJP's 48 percent. Former chief minister Keshubhai Patel's Gujarat Parivartan Party is likely to get 7 percent votes.
In the 2007 Assembly polls, BJP had won in 117 seats while Congress had bagged 59.
The CNN-IBN and The Week post-poll survey, conducted by CSDS, said compared to the 2007 performance, the vote share of both the parties—BJP and Congress—is likely to fall by 1 percent and 2 percent respectively.
The survey showed 49 percent of the respondents wanted to re-elect Narendra Modi's party while only 36 percent responded in the negative.
It said popularity of Chief Minister Narendra Modi has gone up over the years compared to his rivals like Shankersinh Vaghela of Congress and Patel of GPP. 46 percent of the respondents preferred Narendra Modi as the Chief Minister compared to his rivals, it said.
Giving region-wise analysis, the survey said it appears that the ruling BJP is going to increase its seat tally in north and central Gujarat regions while the party is likely to lose some seats in Saurashtra and south Gujarat regions.
The table below indicates how each community is expected to have voted: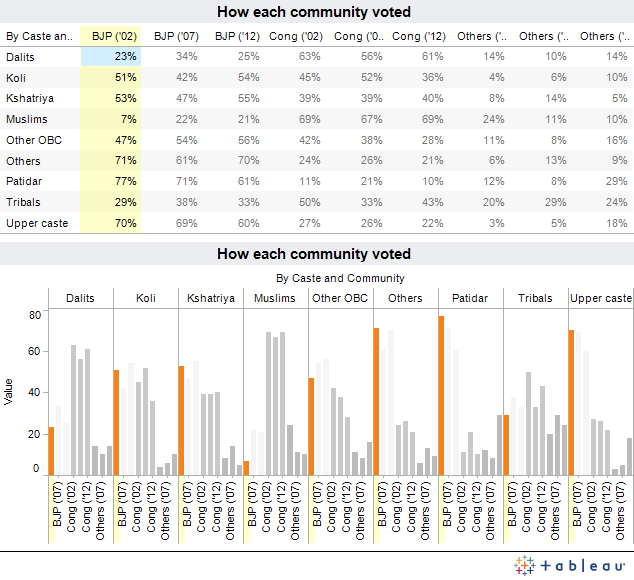 The post-poll survey was conducted across 60 Assembly constituencies in the state between 13 and 18 December. A total of 7,200 respondents were targeted and 3,755 respondents participated in it.
PTI
Updated Date: Dec 20, 2012 10:13:20 IST