Gujarat poll: BJP will retain power despite aggressive campaign by Congress, says Ramdas Athawale
Ramdas Athawale said that the BJP would retain power in Gujarat despite the aggressive campaign of the opposition Congress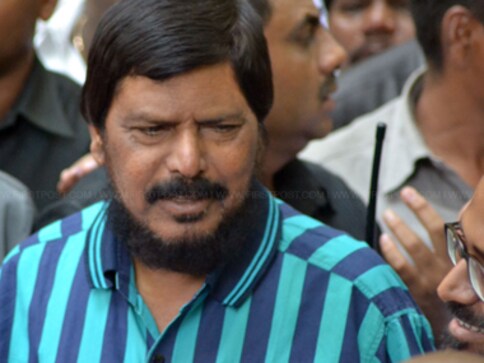 Vadodara: The union minister of state for social justice and empowerment Ramdas Athawale said that the BJP would retain power in Gujarat despite the aggressive campaign of the opposition Congress.
Speaking to reporters in Vadodara , Athawale said that the percentage of votes for the Congress will definitely go up thanks to its campaign as well as the backing of the Patidar Anamat Andolan Samiti (PAAS).
Athawale said that prime minister Narendra Modi was a great strategist ably supported by BJP party president Amit Shah and both being sons-of-the-soil of Gujarat were aware of the ground situation in the state. He questioned the decision of PAAS leader Hardik Patel to align with the Congress.
"What was Hardik Patel's logic behind supporting the opposition Congress party which will sit in opposition even after the polls? If Patel had approached me, I would have resolved the Patel reservation issue by taking it up with PM Modi," Athawale said.
He reiterated that the ceiling for reservations in jobs should go up from the present 49.5 percent to 75 percent on the basis of economic criteria and added that upper castes should also be beneficiaries of it.
He demanded an amendment in the Constitution to accommodate 25 percent reservation for job for upper castes.
"Only 25 percent of the total jobs should be left for general category who will get jobs through competitions," he said.
Athawale however added, "This should not disturb the existing reservation system benefitting the Scheduled Castes (SC), Scheduled Tribes (ST) and the Other Backward Classes (OBCs)."
He lauded the leadership of PM Modi who he said believed in development for all without caste discrimination unlike the Congress which he said wanted to divide the country on the basis of caste.
World
Biden and leading Democrats in Congress have urged McCarthy to unveil Republicans' plans for cutting spending, saying that additional meetings before that happens would be fruitless
Politics
Rahul Gandhi is Congress MP from Wayanad, Kerala. He has been disqualified as a Member of Lok Sabha following his conviction in defamation case over his 'Modi surname' remark
Opinion
The Congress leader wasn't dropping a 'truth bomb', he was name-calling and ridiculing a journalist who was trying to do his job