Gujarat: Patel stir activists raise slogans at Narendra Modi's rally; detained
PPAS, which has been spearheading a stir for over an year demanding OBC quota for Patel community, said it has been successful in its mission of raising their voice in front of Modi.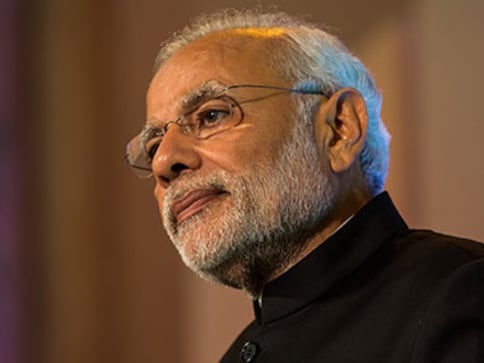 Sanosara : Members of Hardik Patel-led Patidar Anamat Andolan Samiti (PAAS) were detained on Tuesday after they raised slogans during Prime Minister Narendra Modi's rally in Sanosara, besides rounding up of around 25 activists of the outfit by the police ahead of the programme from nearby areas.
When the Prime Minister was addressing the rally after inaggurating the SAUNI irrigation project, around three youth associated with the Patel outfit shouted slogans "Jay Sardar, Jay Patidar".
They were detained and whisked away by the police from the venue where the Prime Minister addressed a big gathering. "We have detained three people from the venue. They were trying to raise slogans," Jamangar district SP Pradeep Sejul said.
Modi, however, continued with his speech despite the slogan shouting. Ahead of the inauguration of SAUNI project, more than 25 PAAS members were detained from different parts of Rajkot and Jamnagar districts earlier to prevent any trouble at the event.
Patidar Anamat Andolan Samiti (PPAS), which has been spearheading a stir for over an year demanding OBC quota for Patel community, said in a statement that it has been successful in its mission of raising their voice in front of the Prime Minister.
"The first slogan was shouted by Milan Patel and then others followed," it said.
The PAAS members as well as local conveners were detained by Paddhari and Gandhigram police of Rajkot while several others were detained by Dhrol taluka police of Jamnagar district.
"We detained at least five PAAS members this morning as they were heading towards Sanosara to stage demonstrations. We also learnt that some others have been detained by officials from other police stations of Rajkot and Jamangar this morning," said Sub Inspector of Paddhari police station of Rajkot.
On Monday, PAAS had threatened that it would stage a protest against Modi during his visit to the state if the members were not granted permission to hand over a memorandum of their demands to the PM at the venue.
According to PAAS spokesperson Brijesh Patel, all the key PAAS conveners have been detained by police ahead of the event.
"Those who have been detained include Rajkot district convener Dilip Savaliya, Rajkot city convener Hemang Patel, co-convener of Morbi Manoj Kalariya and several others. We condemn such police action against us," he said, adding that other members would try to stage protests in absence of their senior fellows.
Find latest and upcoming tech gadgets online on Tech2 Gadgets. Get technology news, gadgets reviews & ratings. Popular gadgets including laptop, tablet and mobile specifications, features, prices, comparison.
Politics
And herein lies Hardik Patel's political opportunity. He should just continue saying what he has been; claim there is nothing wrong or immoral about premarital sex.
Politics
Hardik Patel began an indefinite fast at his sprawling farmhouse on Saturday to press for quota for the community
India
An FIR was lodged against Patidar quota agitation spearhead Hardik Patel for allegedly delivering a "political" speech at an educational and farmers' welfare event at a village in Jamnagar district.