'Gujarat Files' review: Rana Ayyub's book must be read by both sides of the political divide
In Gujarat Files, Rana Ayyub presents her interviews with top police officials in Gujarat, after the Godhra riots
They say god is in the details. Consequently, people with different gods are likely to read differently into the tiny little details present in Rana Ayyub's Gujarat Files: Anatomy of a Cover Up. Yet, it is in these finer details that the book holds your attention; because, from a macroscopic vantage point, there isn't much in it that one hasn't already heard or guessed (or vociferously drowned out with a counter-narrative).
In 2010, an independent filmmaker (and more important, an upper caste Hindu girl from the American Film Institute Conservatory in LA) interviewed a number of people, many of them high profile members of the law-and-order machinery of Gujarat in 2002, during research for a film about the state. That girl happened to be Rana Ayyub, undercover. Ayyub, who was with Tehelka at that time, clandestinely managed to record videos of her conversations over months, excerpts from which form the core of the book.
Straight off the bat, it is the nature of her extensive, risky investigation that stands out. For a young Muslim woman to go undercover with a (Hindu) alias and a rigorous back-story; worming her way into meeting up with powerful but potentially hostile people about a prickly political topic; carrying multiple concealed cameras on her person; keeping this façade up for so long despite hiccups – all of this is an ode to journalism itself, a mark of respect to the perils that one has to face on the quest fortruth. (Put your life on the line for a cause you believe in, dear reader, before you use the word'presstitute' as an insult. Disagree with what they stand for, but be respectful to journalists as well as sex workers.)
Then-CM Narendra Modi's alleged complicity in fanning the flames of the 2002 Gujarat riots has been hotly debated for nearly a decade and a half now, so talking about that would be akin to flogging the hypothetical dead puppy that (hopefully never) came under Modi's car.
While the Godhra train burning and subsequent communal riots, remain a ghastly blot on the nation's conscience, it would be unwise to look at these events in isolation. One of the things you'rereminded of while reading the book, as you assimilate the words of former top cops – those entrusted with the safety of citizens – is that Gujarat has always been a troubled, uneasy state vis-à-vis communalism. Multiple riots over decades festered a strained atmosphere, making the state a communal tinder box. All one needed to do, really, was strike a match.
One of the other striking aspects of the testimonials of senior officers like GL Singhal (Gujarat ATS chief in 2002), PC Pande (commissioner of police, Ahmedabad in 2002), GC Raigar (intelligence head of Gujarat in 2002) and others, is that even though morally and constitutionally the police are obliged to serve the public above all else, in reality they are completely beholden to the government in power.
Yes, our cinema has shown us this repeatedly over the years, but you get a sense of defeatism as you read cop after cop talking about how you either toe the line drawn by your political bosses, or you get side-lined with a 'punishment posting'. Some of these cops did what they did during the riots, even things that they weren't proud of, because you just didn't have a choice. This is true for whichever party holds the reins in the state, in every state across the country. It is a deep-rooted malaise in our system that needs some sort of immediate intervention.
Another fact you'll discover is that even in the upper echelons of the police force, your caste plays a role in how you're treated by your seniors and peers. Deniers of the role of caste in 21st century India must read the newspaper snippet Ayyub includes, which talks about one of the highest-ranking officials in Gujarat - former ATS chief Rajan Priyadarshi, a Dalit, who can't buy land in his village because he is considered 'untouchable'.
One must note, though, that the veracity of what these cops have revealed in their interviews to Ayyub will be in question until (if ever) they repeat all of this in court, under oath. Over years, memories can morph into what you want to or are expected to believe, while oftentimes people just lie outright. Former IPS officer Sanjiv Bhatt's public domain testimony against Modi, for instance, was always dubious. This dubiousness is ostensibly confirmed by what was disclosed to Ayyub by senior officers, because it does appear that Sanjiv Bhatt made up the fact that he was physically present in a meeting where the Chief Minister allegedly gave certain direct orders to the top brass.
If the book suggests anyone's role in the riots as being dodgy, it is that of then-Gujarat home minister and current BJP president Amit Shah. The nature of his rhetoric in rallies across Uttar Pradesh in 2015 is there for everyone to see. ('Hate speech' is what the Election Commission called it, possibly because we don't currently have a harsh-enough term to accurately describe some of what he said.)
So it isn't hard to imagine him taking a hard-line Hindutva position smack dab in the middle of the riots. Besides, the man was also banned from entering his home state in connection with the fake encounter of Sohrabuddin Sheikh. (Fake encounters, incidentally, are also a frequent result of police subservience to politicos. This is brought up by nearly every cop Ayyub interviewed.)
A large part of the book is actually in the interview form, presumably transcribed from the tapes. So, if you're looking for narrative flair, the kind that journalists like Hussain Zaidi or Meenal Baghel have incorporated in their various works, then you might be disappointed. Rana Ayyub's allegiance clearly lies first with the content of her sting interviews, and only after that to her own personal stand.
She avoids making inferences too often, usually content with reproducing material in question-answer form, while paraphrasing the rest. She also sprinkles portions of the book with what she did in her downtime between interviews – exploring Ahmedabad's culinary and cultural delights (on a budget, as journalists are wont to do while actually working), along with a young exchange student from France, who helped her immensely during her investigations. (God bless that chap, just for being such a solid partner in that minefield of a scenario.) These bits offer some measure of relief in an under-150- page text that, for the most, jumps from one interview to the other.
The book is lean and breezy primarily because Ayyub chooses to forego style in favour of substance. The pièce de résistance in terms of narrative brilliance essentially arrives in the way she ends her book – it ends on a strange form of hope, because with the release of this book, the tapes in her possession have the potential to alter the political landscape of the country, if the system so wills.
Yet, the biggest draw from the book remains the fact that a work of this kind got published in the first place. The last two years in our country could make some feel that this would've been well-nigh impossible. It reminds us that if you dissect the anatomy of our clunky democracy, you'll find a deep, ever-evolving (if insufficient and practically absent) core of idealism, wisdom and justice - the 'idea of India', or something of the sort.
Find latest and upcoming tech gadgets online on Tech2 Gadgets. Get technology news, gadgets reviews & ratings. Popular gadgets including laptop, tablet and mobile specifications, features, prices, comparison.
India
In his address after laying the foundation stone for various infrastructure projects in Tamil Nadu, Shah said Narendra Modi has "waged a battle to end dynasty politics and corruption"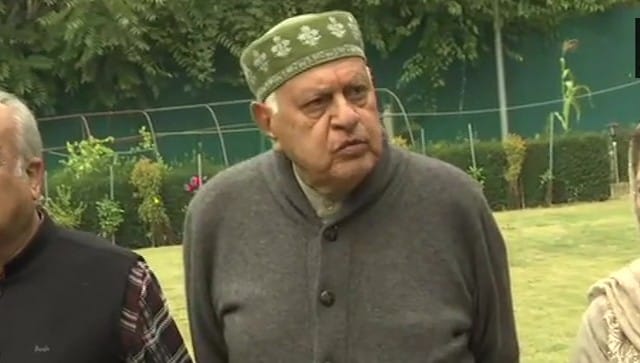 Politics
In a two-page letter to J-K Election Commissioner KK Sharma, Farooq Abdullah said providing security to a select few and literally interning the rest is a gross interference in democracy