Gujarat Elections: Tired of Congress and BJP, Dalits seek to shift narrative to development, rise above caste politics
The Gujarat Assembly Election is likely to see Dalits rising above caste politics and vote for development as the community realises the need for political empowerment and not just political representation
Ahmedabad will soon be home to the world's largest cricket stadium. Its Sardar Patel Stadium is being remodelled on the lines of the Melbourne Cricket Ground at an estimated cost of Rs 700 crore. Upon completion, it will house no less than a lakh spectators on its colour-co-ordinated pavilions. Just seven kilometres away is Bapunagar, where the Maleksaban Stadium now stands grassless. Here, people defecate in the open and angry eagles swoop in on garbage piles.
In 2013, the Gujarat High Court responded to a PIL filed by a resident regarding the waterlogging of drainage water on the open ground that edges a lake, and ordered the Ahmedabad Municipal Corporation to take action. Promises of a musical fountain and a jogging track were made but none seemed to have been fulfilled.
"Yahaan Dalit rehte hain, beemaari mein rehte hain aur fir mar jaate hain (Dalits live here. They live with disease and then die)," said Naginbhai C Solanki, who is contesting independently in the upcoming Assembly elections from Bapunagar. His symbol is the injection. Ask him why and he tells you that he runs a pathology lab in Ahmedabad's Civil Hospital, and believes that the public healthcare system is burdened because the municipality discriminates between pin codes. He says neither BJP nor Congress can think beyond political gain and consider Dalits as human beings.
On either side of the stadium are Indira Garib Nagar and Rajiv Garib Nagar. Here, Usha behen and Santoshi behen told us that the women have to wake up before sunrise to defecate in the park because, during the day, boys from the neighbouring areas throw stones at them, and mock them. Munni behen said that the municipality officers demand between Rs 5,000 and Rs 10,000 for gutter lines, which most homes don't have.
Raju bhai, another resident explained that this amount is too much for families that make their living by peeling tamarind, rolling incense sticks and knitting traditional door hangings. He called this the colony of the 'chutak mazdoor' (people who survive on small, daily earnings of not more than Rs 200 a day). Outside a home covered with asbestos sheets, Jeevan bhai sat boiling water on coal. He said he holds a Below Poverty Line (BPL) card but doesn't have an LPG connection. In 2015, the Gujarat government announced its plans to make the state 'kerosene-free' by providing LPG gas connections to 33 lakh-odd BPL families.
There are over 5,000 homes in these two clusters comprising Dalits and Muslims. In Bapunagar, overall, there are nearly 41,000 Muslims and 47,000 Dalits. Last time, BJP MLA Jagroop Singh Rajput won by 2,600 votes. The locals believe that the reason for this is the age-old strategy of BJP of planting independent candidates — some Muslims and some Dalits — to chew into the Congress vote share.
"The Dalit voters have understood that big political parties have given them nothing. They can see that the reality around them doesn't change; the gutters, the poverty, everything has remained the same," identified Amjad Pathan, Aam Aadmi Party's candidate from Bapunagar, who hailed Jignesh Mewani's spirit for having sacrificed his own safety for the betterment of his community. Mewani, 37, a social worker from the Dalit community is contesting independently from Vadgam-11 in Banaskantha district of North Gujarat from where, neither Congress nor the Aam Aadmi Party has fielded a candidate, pledging indirect support to the young Dalit leader. "Mewani had to join politics because the system has to be cleaned up from within. We can scream on streets but that will amount to nothing if we don't have the power to make pro-poor policies," added Amjad Pathan, stating that if BJP wasn't performing, it was the job of Congress to keep a check on it.
Mahesh bhai Parmar, a close and old associate of Mewani, told Firstpost that Dalits in urban Gujarat are living without amenities like clean water and access to quality education. Earlier this year, the Gujarat Secondary and Higher Secondary Education Board (GSEB) invited online applications for filling up to 7,000 vacant teaching posts of vidhyasahayak and head teachers.
"The starting salaries are as less as Rs 5,400 and the required qualifications are a Bachelors' degree from a recognised university with Teacher Eligibility Test (TET) qualification/ Head Teacher Aptitude Test (HTAT) examination. Which qualified teacher will work for a small salary and then also do Census work and corporation work and be put on election duty?" asked Manish bhai.
Last year, jobs were opened to the open category but the Dalit samaj isn't protesting against that. Manish bhai clarified that the debate has now moved beyond reservation to the quality of public services offered to poor children from all communities including Muslims.
As per the Directorate of Economics and Statistics, Government of Gujarat, the literacy rate of SC students from Gujarat has gone up from 70.50 percent in 2001 to 79.18 percent in 2011. "The literacy rate measures how many people are attending school but it doesn't measure how many can spell and sign their names," said Mahesh bhai, who pointed out that examinations aren't conducted till Class 8 and students grow up without basic skills. He admitted that he is a follower of Kanshiram, former chief minister of Uttar Pradesh who worked for the mobilisation and uplift of bahujans. But, he quickly added that he didn't find the same earnestness in Mayawati's politics, which is why the Dalit movement in Gujarat is more inclined towards Dr Suresh Mane's Bahujan Republican Socialist Party.
The shift towards grassroots and leaders who don't want political gain is gaining strength. Other than Congress and AAP, Mewani's andolan has earned the support of tribal leaders Chhotubhai Vasava, Karnabhai Maldhari and Jayantibhai Manani of the Bharatiya Tribal Party.
Less than four kilometres away from Bapunagar is Gomtipur, which is home to more than 250 Dalit chaalis (slum clusters), each with a population of a 1,000 and a picture of Ambedkar framed on the gate. There are nearly as many chaalis where Muslims live in similar conditions. The people in Gomptipur work in chemical factories in Gujarat Industrial Development Corporation (GIDC) or as small-time embroiders, and vegetable sellers.
"Modi, notebandi kari hati ani badle darubandi kari hote (Modi should have banned alcohol instead of currency notes)," says Mahesh Bhai Sukhadia, the older brother of Govind Bhai Sukhadia who died at the age of 45. He holds out a packet of transparent liquid and says it costs Rs 10 and several in the Dalit and Muslim bastis are addicted to it and often pass out on roadsides. The people feel that BJP denies this problem while Congress does nothing to accept it and, as a result, young people are dying.
Deepak Parmar, a resident of Gomtipur and volunteer of the Bahujan Mukti Party alleged that Congress and BJP field Dalit faces on Ahmadabad's SC seats of Danilimda and Asarwa. He feels that such tokenism needs to end because the Dalit samaj doesn't want to take pride in powerful Dalit leaders but wants people who can live and work from within the community. He feels Jignesh Mewani has consolidated several scattered Dalit movements and given a new lease of life to their cause.
Around four kilometres from Gomtipur, in Amdupura, a group of Dalits has launched a 62-day-strike since Ambedkar's 61st death anniversary on 6 December. Huddled inside a tent on a traffic intersection, behind Ambedkar's bust, these Dalits are protesting against Gujarat Police, which allegedly attacked them during their protest against the municipality's decision of giving away their prime road to the Muslim Dawoodi Bohra community in 2015.
The Dalits on protest alleged that the road their children used to walk up to their school was sealed and handed over to the Shia Muslim community. The protesters alleged that after violently suppressing protests on the street, the police broke into people homes at night, when they were asleep, and attacked them again. Two people, Savita behen and Laxman Bhai, a government servant, lost their lives in the violence and some others were injured. Vinod Bhai Dodhiya, on a hunger strike, was jailed for 70 days last year and is now agitating for justice.
"No political party has come to see if Vinod Bhai is dead or alive. If this was a Hindu-Muslim issue, both the politicians and the police would have taken a keen interest," said Hemant, who is associated with Mewani's movement. He revealed that several attempts to reach out to politicians from simply failed. The Dalits are now realising the need for political empowerment and not just political representation.
Dalit issues are being talked about more within the community also because online and social media reaches everybody, across classes and regions.
Kaushik Parmar, a close associate of Mewani, talked to us about a village called Nandali in the Kheralu Tehsil of Mahesana district, where a social boycott movement against Dalits is going on since decades but came in the eye of the media one and a half years.
"For a single match-stick, Dalits have been made to walk up to four kilometres because nothing is made available to them inside the village. We are in 2017!" Parmar exclaimed. He feels it's high time Dalit politics attains a potency through modern leadership that will also ensure that good government schemes like the Babasaheb Ambedkar Awaas Yojana, that grants Rs 70,000 for building homes, is implemented well.
Kirit Bhai of the Navsarjan Trust, the largest Dalit organisation in Gujarat which was formed in 1989, explained that the Una incident of 2016, where four Dalit boys who were skinning the carcasses of dead cows were assaulted by self-styled cow protectionists, came in the eye of the country because the videos went viral on social media.
"This isn't the first or the last incident of atrocities against Dalits, but after Una, the Dalits have realised that the problem is widespread and that has brought in a new sense of unity," said Kirit Bhai. After the Una incident, Mewani began the Asmita Yatra from Ahmedabad to Una. More than 20,000 Dalits joined him for the yatra.
After the incident, the government lent a new identity to 'Hindu chamaars' — the Dalit community that peels the skin of carcasses for sale — by declaring them the 'rohitas'. The Vijay Rupani government also offered an extra compensation of Rs 2 lakh to the families of those who died in Thangadh and set up 16 Special Atrocities Courts. But, by many in the Dalit samaj, the efforts are being viewed as too little and too late.
"In a total of 45 Assembly seats, Dalits comprise 40,000 to 50,000 voters who don't consider themselves as Hindus," said Kirit Bhai, who pointed out that the 'lesser hindus' (Dalits) are closer to Muslims than to the upper-castes Hindus.
In 2015, Navsarjan conducted a survey titled 'Understanding Untouchability: A Comprehensive Study of Practices and Conditions in 1589 Villages'. The report found that 98 types of discriminatory practises were at work in the villages of Gujarat. These included not being allowed to use village wells, children made to sit separately during mid-day meals, no permission to join Garba dance celebrations during Navratri, and being forced to address the village darbaar with the title 'baapu'.
Kirit Bhai also asked why the report of the Sanjay Prasad Committee, which was formed to investigate the killing of three Dalit youths in Thangadh in 2013, has still not been made public. "I filed an RTI three years ago but haven't received a response," he informs. However, it's Kirit Bhai's conviction that the Dalits are now more aware of injustice and also about the state's inability to provide justice.
Meanwhile, within the government too, a small Dalit movement has started. Nathu Bhai Sosa became a member of the Gujarat Public Service Commission (GPSC) in 2016. He comes from a rare, rich Dalit family of Gujarat and remembers a time in Juna Sangana, when people used to express shock at the wealth and status of his family, because it bore no resemblance to his caste. Sosa spoke to Firstpost about a new scheme started by the GPSC to blur caste and communal barriers, the identity of the candidates appearing for government job interviews will be reduced to a code. An insertion of anonymity, he said, is being done to weed out discrimination from the system.
There's a need to re-politicise the 167 million Dalits in India, to identify and argue over needs like sanitation, quality education, occupational health hazards, along with cracking the whip on atrocities against Dalits and the shaming of archaic mindsets through media. When Firstpost reached out to Mewani regarding this need for the Dalits to exert energy to lift themselves above the see-saw of reservation and vote banks, this is what he had to say:
"Now the time has come for the poor Dalit masses and the Dalit youth to come up with fresh ideas and a different language and get out of the typical rhetoric of bhramanvaad-murdaabad, and focus on real, material issues. If we keep doing this, we will be able to successfully generate a movement. In a state like Gujarat, all poor forces should stand united. With every passing day, the grip of globalisation is increasing and creating material contradiction between classes and Dalits are affected by this design. They have no option but to fight it out."
Click here for detailed coverage of Gujarat Assembly election 2017
Politics
With Amarinder Singh's joining, the BJP has gained a strong Sikh face in Punjab. Singh has also merged his recently formed Punjab Lok Congress with the saffron party
Politics
Chadha had earlier hinted at the new responsibility when in a tweet he said that Gujarat wants a change, and he will be ready for whatever responsibility the party gives him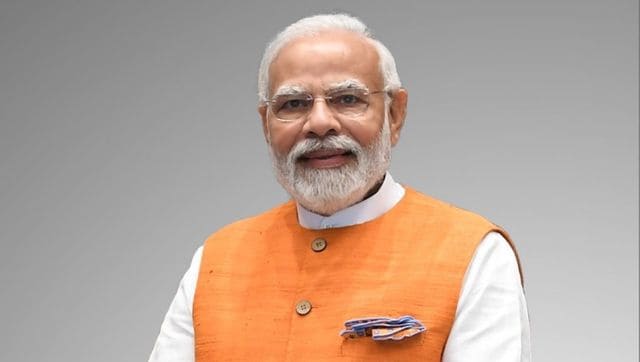 India
On a two-day visit to his home state Gujarat beginning 29 September, PM Modi will lay the foundation stone of various infrastructural projects worth around Rs 29,000 crores in events spanning Surat, Bhavnagar, Ahmedabad and Ambaji