Gujarat elections: Rahul Gandhi compares Narendra Modi to Gabbar Singh, asks PM to explain step-motherly treatment to farmers
Taking forward his 'question a day' campaign, Rahul Gandhi targeted Prime Minister Narendra Modi over the problems afflicting the farm sector and farmers
New Delhi: Taking forward his 'question a day' campaign, Congress vice president Rahul Gandhi on Thursday targeted Prime Minister Narendra Modi over the problems afflicting the farm sector and farmers.
Asking his 9th question in the series, he asked, "Neither loan waiver, nor remunerative price for produce, neither received crop insurance benefit, nor were tubewells installed."
The Congress leader also used the 'Gabbar' jibe to target the prime minister.
"Agriculture hit by Gabbar Singh, land snatched and the (Ánnadatta) farmer was rendered useless. PM sahib should explain why such step-motherly treatment with the farm labour," he also said on Twitter.
22 सालों का हिसाब#गुजरात_मांगे_जवाब

प्रधानमंत्रीजी- 9वाँ सवाल:

न की कर्ज़ माफ़ी
न दिया फसल का सही दाम
मिली नहीं फसल बीमा राशि
न हुआ ट्यूबवेल का इंतजाम

खेती पर गब्बर सिंह की मार
छीनी जमीन, अन्नदाता को किया बेकार

PM साहब बतायें, खेडुत के साथ क्यों इतना सौतेला व्यवहार?

— Office of RG (@OfficeOfRG) December 7, 2017
Gandhi had earlier termed the Goods and Services Tax as Gabbar Singh Tax to attack the government.
Under the ongoing offensive, the Congress leader is using the tagline "22 saal ka hisab, Gujarat maange jawab" (22years of account, Gujarat demands answers), in the run-up to Gujarat elections starting 9 December.
The Congress vice president has been using the microblogging site to pose daily questions to the prime minister over the performance of the BJP in Gujarat and its "unkept" promises over the past 22 years of its rule in the state.
Click here for detailed coverage of Gujarat Assembly Election 2017
India
Paying respects to the Indian soldiers, Home Minister Amit Shah said that it was because of their sacrifice that the tricolour was hoisted again on the hills of Kargil
India
Rahul, along with party MPs Pratap Singh Bajwa, Ravneet Singh Bittu, Deepinder Singh Hooda, Gurjit Singh Aujla, Jasbir Singh Gill and other leaders like Randeep Surjewala, also carried banners and raised slogans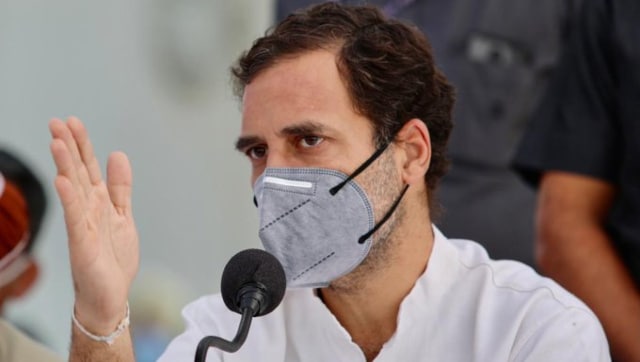 India
The Congress leader had asserted that any phone that he uses are tapped, adding that a Supreme Court-monitored probe should be ordered in the matter