Gujarat election results: It's wrong to understand outcome through vote-shares, BJP came very close to losing this critical poll
A look at the strike rates — seats won against seats contested — of BJP and Congress, show that the gap has never been this close since 1985
The BJP's spin doctors, aided by a few embedded journalists, have been trying to downplay the party's losses in the 2017 General Election to the Gujarat Assembly. They argue that notwithstanding the decline in seats of BJP from 115 in 2012 to 99 in 2017, a win is a win.
There's no doubt about that: BJP won Gujarat. But Gujarat is BJP's bastion, and comments on BJP's diminishing seats in their bastion can't be silenced with "Jo jeeta wahi Sikander".
The gap between BJP and Congress in Gujarat was the widest in 2002 and has been narrowing since, as the chart below shows. It is notable that the trend should not only continue but accelerate with Narendra Modi as the prime minister.
The narrowing distance would look even closer if we were to count the Congress' allies, who got another three seats, taking Congress+ to 80 of the 182 seats.
Those in defense, immediately point out that BJP was facing 22 years of anti-incumbency in Gujarat. That is a rare acknowledgment that BJP under Modi also faces anti-incumbency, which is a voter sentiment that the incumbent hasn't lived up to the expectations.
Yet one could argue that BJP was also facing three years of pro-incumbency in Gujarat. After all, their chief minister became the Prime Minister of India in 2014. When a state's leader becomes the prime minister there's pride, and also development benefits that flow from the Centre.
After all, the Modi government isn't making a bullet train from Varanasi to Delhi, but one from Ahmedabad to Mumbai. Modi used to complain of step-motherly treatment towards Gujarat from New Delhi in the UPA years. He contested the 2012 Assembly elections in Gujarat with the idea that the state was going to elect a prime minister. Once that was done, once the step-motherly treatment ended, one would think BJP would increase its number of seats in Gujarat. Instead, they have declined. Isn't that a massive setback to Modi's popularity in his home state?
In fact, BJP lost at least 13 rural seats in Gujarat this time despite the fact that the prime minister himself held rallies in those places. The BJP even lost the Unjha seat which contains part of Modi's hometown, Vadnagar.
The "Modi factor" in Gujarat elections has been widely commented upon. It has been argued that BJP would have lost Gujarat had it not been for the Modi factor. But it could equally be argued that evidence shows that the Modi factor has weakened. While in Uttar Pradesh, BJP nearly retained its Lok Sabha tally during the 2017 Vidhan Sabha elections, in Gujarat, the Modi factor has been substantially eroded.
The other argument is that BJP increased its vote share in Gujarat. But so did Congress. Both parties increased their vote shares at the cost of "others". The BJP increased its vote share from 47.85 percent in 2012 to 49.1 percent — a rise of 1.25 percentage points. The Congress increased its voteshare from 38.93 percentage to 41.4 percentage — a rise of 2.47 percentage points. Add the votes earned by the Congress' allies in the six seats it didn't contest, and the gain in vote share rises to well above 3 percentage points.
A look at the strike rates — seats won against seats contested — of BJP and Congress, show that the gap has never been this close since 1985
The BJP earned its urban stronghold seats by very high margins, thereby showing an over-all 7 percent vote share lead over Congress. The map below clearly shows that central and south Gujarat's urban centres had the highest margins:
All this talk of vote shares is itself misleading because what matters is seats — Jo jeeta wahi Sikander.
The Congress lost many seats with very narrow margins. Together with its allies, Congress won 80 seats and needed only 12 more seats to form the government. It was possible for Congress to have won this election with a simple majority despite having a lower all-Gujarat vote share than BJP.
This has happened before on many occasions. In Tamil Nadu in 2006, AIADMK had just 32.6 percent vote share but only 61 seats. The DMK had managed just 26.5 percent vote share but won 96 seats. In the Karnataka Assembly in 2008, BJP and allies came to power despite having 1.2 percentage points less vote share than INC+.
This is not surprising at all, as high margins in some seats can skew the overall figure. The moral of the story is that this could have happened in Gujarat too – that is how close Congress came to defeating BJP in this election.
GST, demonetisation, rural distress, angry Patidars, anti-incumbency of 22 years, a weak chief minister — given all these factors, the critics say, Congress could have won this election but still lost. That is a fair criticism of Congress. In rural areas, Congress does have some cadres because it wins panchayat and Assembly elections. In urban areas, Congress was unable to harvest discontentment because it had neither the cadres nor a chief ministerial candidate who could give Congress a new identity.
And yet, Congress did many things right too. It countered its anti-Hindu image with Rahul Gandhi's temple run, did smart coalitions, reduced rebellion inside the party and addressed the farmers' discontent.
That there were all these issues affecting BJP is a big sign that Narendra Modi's popularity appears to be flagging, his party is in deep trouble in rural India, and 2019 can no longer be considered a foregone conclusion. This is what BJP and its cohorts — inside and outside the political system — are trying to underplay. If the fortress nearly fell in Gujarat, it's time to consider the empire's foundations.
Politics
Assembly Election 2021 LIVE Updates: At stake are nine assembly constituencies in Howrah, eleven in South 24 Parganas, five in Alipurduar, nine in Coochbehar and ten in Hooghly.
Politics
The BJP's announcement comes on the heels of criticism from Opposition parties like the TMC and Congress, who pointed to the rising COVID-19 cases in the state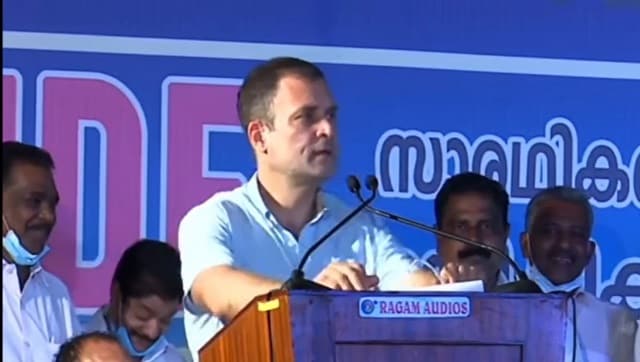 India
In his letter to the prime minister, the Congress leader also demanded an immediate moratorium on COVID-19 vaccine exports