Gujarat election result confirms that BJP has a tough fight on its hands to trounce Congress in Karnataka
Long before the Gujarat Assembly election, there was one thing that was clear about the Karnataka Assembly polls: It will be a tough fight for the BJP
Long before the Gujarat Assembly election, there was one thing that was clear about the Karnataka Assembly polls, about five months from now: It will be a tough fight for the BJP against the ruling Congress. The Gujarat verdict has only confirmed it.
BJP president Amit Shah, the celebrated impresario of elections whose skills in selling brand BJP can shame corporate marketing mavens, had sensed this months ago. At a closed door meeting in Bengaluru in August, Shah pointedly asked local BJP leaders how many seats the party would win in the 224-seat Assembly. He patiently heard the chants of "150" from the leaders including state unit president and chief-minister-in-waiting BS Yeddyurappa.
Shah himself had earlier set the target of 150 seats — something the party began to call "Mission 150". This is either because Shah was fond of this figure or because it was his way of telling partymen to "get in there and knock 'em dead", he also set the target of 150 in Gujarat.
So when the Karnataka leaders chorused "150" at the party meeting, they thought it would be like Carnatic music to Shah's ears. Except it wasn't. With barely-concealed irritation, he told them they would be lucky to win 80 seats "if elections are held today", and dictated plenty of dos and don'ts to ensure a victory. Topping that list was an aggressive campaign against corruption during the regime of Chief Minister Siddaramaiah.
Mission 150? Forget it
This was five months ago. There is nothing to suggest that the situation has changed dramatically since then. If there was any fallout of that meeting, it was only that we began to hear less about "Mission 150" since then. We may stop hearing it entirely, now that the party has woefully fallen short of the 150-mark in Gujarat.
For the record, however, the BJP claims that the Gujarat victory has boosted its chances of returning to power in Karnataka after a five-year gap. But the reality, at least for now, seems to be the exact opposite, if only because the BJP's reduced margin in Modi's home state now makes the party look less like an unbeatable political Godzilla than it had seemed.
Does all this mean that the politics of Gujarat and Karnataka have the same sort of electoral nuts and bolts? Hardly. The political ecosystems in the two states are as different as Kutchi dabeli and idli-sambaar. For one thing, it's the Congress that faces the anti-incumbency threat as the ruling party in Karnataka, on account of non-performance and corruption. But unlike in Gujarat, the Congress is better organised in Karnataka and has a leader in Siddaramaiah, even if he walks around with his chin in the air that sets his own partymen's nerves on edge.
Siddaramaiah has been fighting anti-incumbency by misusing his incumbency: He has been dishing out one populist scheme after another ranging from free rice to the poor to subsidised food at Indira Canteens. "A sop a month will keep an election defeat away" seems to be his mantra, unmindful of the damage it wreaks on the state's economy.
The latest is a free health scheme that targets people ranging from the poorest of the poor to journalists and legislators. He is hurrying through this to implement it well before the Model Code of Conduct kicks in, despite questions from his finance department. Siddaramaiah has also been advocating a separate Karnataka flag and making periodical noises against the Centre's alleged imposition of Hindi. Having waived farmer loans, he constantly accuses the Narendra Modi government of not doing enough to help the state in getting its share of water from the Cauvery and Mahadayi rivers in disputes with Tamil Nadu and Goa respectively.
Although populism is not always guaranteed to win elections, it can possibly tilt results in combination with multiple other factors, and Shah is surely aware of this.
The BJP has exhibited remarkable flair for surviving anti-incumbency in Gujarat. But the party is doing little to turn anti-incumbency against Siddaramaiah into votes in any tangible way. The anti-corruption campaign that the local leaders had launched — at the behest of Shah — has so far been halfhearted, unconvincing and unsubstantiated. Unfortunately for Yeddyurappa and his party, the perception of his own corruption lingers in public minds, despite his acquittal in most cases.
Lingayats are not Patidars
Where the Congress is on a slippery ground is Siddaramaiah's caste and communal matrix that aims to please Muslims and some select castes — a potentially risky proposition considering the possibility of backlash from others. And after the Gujarat verdict, Karnataka's Congress leaders have a new dream. They imagine that the state's upper caste Lingayats will turn into Karnataka's Patidars and back the Congress.
Lingayats, so far thought to make up around 17 percent of Karnataka's population, but account for only 9.8 percent according to the yet-to-be-released caste-census of Siddaramaiah, have traditionally stood by the BJP. But by tacitly supporting a section of Lingayats who have been demanding the status of a separate religion, the chief minister wants to seduce them away from BJP.
Comparisons between Lingayats and Patidars by the Congress are based on wishful thinking and wild fantasy.
The only thing in common between them is that both are upper castes and both have creamy layers as well as economic dregs of society. But unlike Patidars, Lingayats already enjoy reservations (five percent) and are without a leader, not even a 24-year-old Twitter artiste like Hardik Patil, either within or outside the Congress.
It'll be back to the Modi-Shah duo
There is little doubt that the BJP in Karnataka, as it did in Gujarat, will have to depend a lot on Modi's personal popularity and Shah's repertoire of election management skills.
Having sensed this months ago, Shah virtually took control of the Karnataka unit. After the Gujarat election interlude, he will be back to work in Karnataka pretty soon. There is even talk that Shah has found a temporary home in Bengaluru, conveniently near the airport.
What makes the BJP's job even tougher in Karnataka is the presence of a third player in the form of former prime minister HD Deve Gowda's Janata Dal (Secular), which has a significant presence in at least a third of the Assembly constituencies.
The author tweets @sprasadindia
Politics
With all leaders who could pull others with them gone, this victory has placed Mamata Banerjee in a safe seat to rule the state
India
All shops and commercial establishments, hotels, pubs and bars will remain closed during this period, while essential goods and services like food, medicine, milk, fruits and vegetables, etc will be available from 6 am to 10 am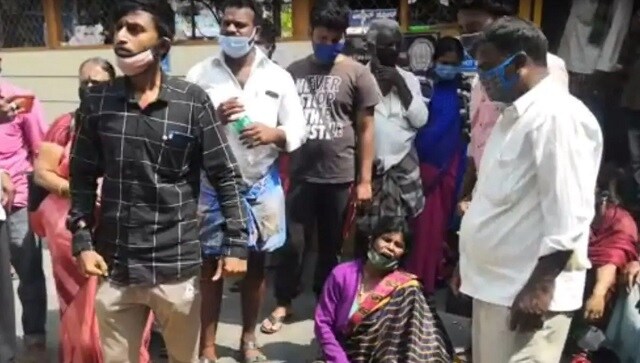 India
The development comes on the heels of deaths of 24 COVID-19 patients in Chamarajanagar district allegedly due to oxygen shortage