Despite the fact that some opinion polls have suggested that Congress may end up bagging 78-86 seats in the Gujarat Assembly election, it's difficult to ignore all the major setbacks the Grand Old Party has suffered in the run-up to the polls.
Congress has definitely taken advantage of the discontent among voters over the Goods and Services Tax (GST) and demonetisation. The anger in the Patidar community may also help the party gain some votes in the polls.
But the setbacks for the Congress will, in all probability, overshadow all the advantages it has in this election.
Mani Shankar Aiyar's 'neech' remark
After Congress leader Mani Shankar Aiyar called Prime Minister Narendra Modi a 'neech aadmi (vile man)' on Thursday, all hell broke loose.
Modi claimed it was a casteist slur against him and the remark testified to the Congress's "Mughal mentality".
"Shriman (Mr) Mani Shankar Aiyar today (Thursday) said that Modi is of 'neech jaati' (low caste) and is 'neech' (vile). Is this not an insult to Gujarat? This is an insult to the great legacy of India. This is born of Mughal mentality," he told an election rally in Surat in poll-bound Gujarat.
Congress faced such intense backlack because of Aiyar's comment that it had to suspend him from primary membership of the party the same day.
In fact, Rahul Gandhi asked Aiyar to apologise, which Aiyar did, claiming his knowledge of Hindi was not good. He also said that he had never, in fact, called Modi a "low born" or referred to his caste.
Kapil Sibal on Babri Masjid row
On Wednesday, Modi had castigated senior Congress leader and lawyer Kapil Sibal for seeking deferment of hearing of the Ram Janmabhoomi-Babri Masjid title dispute till after the 2019 general polls, and wondered if such an issue should be kept unresolved for political gains and losses.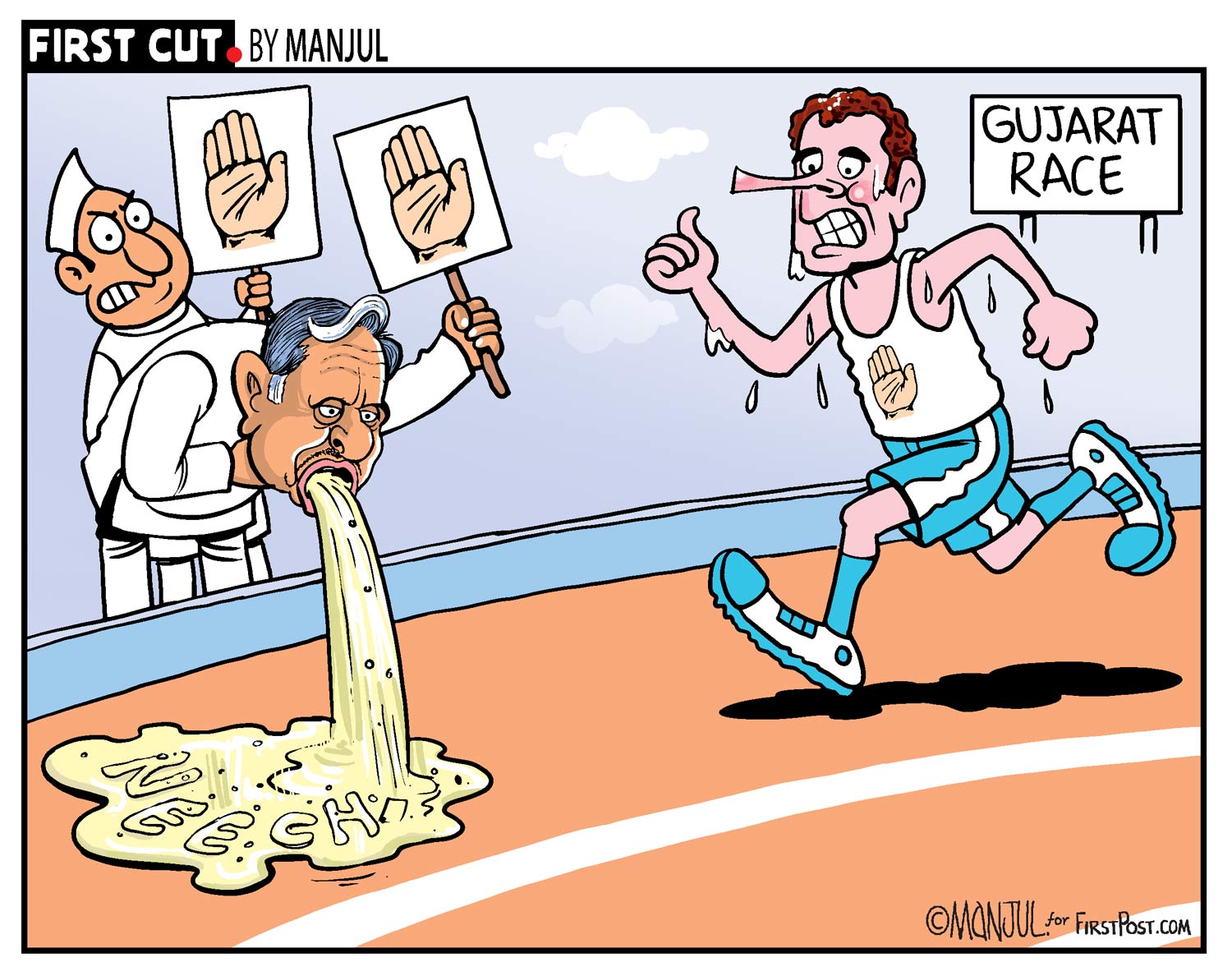 In fact, even a senior Muslim Congress leader on Thursday wrote to party president Sonia Gandhi, demanding that Kapil Sibal be sacked from the party for moving the Supreme Court seeking to defer the Ayodhya hearing.
"Sibal should be sacked or he should resign from the party on moral grounds. At a time when the party has unanimously proposed to make Rahul Gandhi its president, his statements in court are damaging," former Congress MLC, vice president and chairman of the party's minority department Siraj Mehdi had said.
On the other hand, Sibal said and still argues that he did not appear for the Sunni Waqf Board, according to The Indian Express.
Shehzad Poonawalla on Congress president election
Much of the trouble Congress has faced in the run-up to the polls has come from within the party itself.
Congress leader from Maharashtra Shehzad Poonawalla on Monday had dubbed the imminent election of Rahul Gandhi as party chief as "Mughal style coronation" and had said it is a "black day" in the history of the party.
Poonawalla, who was in the limelight after he alleged that the organisational election in the Congress was "rigged" and gave Modi a stick to beat the Opposition party with, had called the polls "unconstitutional and illegal" that will be challenged "from Delhi to Amethi".
Ayub Ali's outburst
Merely days after Poonawalla's angry remarks against Rahul, another Congress leader Ayub Ali had claimed that he was barred from contesting elections for Congress president as he was told that Rahul would be the only candidate.
Ali had reportedly told Congress central election authority chairman M Ramachandran that he wanted to contest the elections but Ramachandran rejected his plea, saying there will only be one candidate: Rahul Gandhi.
With inputs from PTI
Firstpost is now on WhatsApp. For the latest analysis, commentary and news updates, sign up for our WhatsApp services. Just go to Firstpost.com/Whatsapp and hit the Subscribe button.
Updated Date: Dec 08, 2017 13:20:37 IST