Gujarat election 2017: Chhotubhai Vasava demands his pound of flesh from Congress for saving Ahmed Patel
Now that Chhotu Vasava has become the acting president of the Sharad Yadav-led splinter JD(U) and has also bailed out Ahmed Patel, he wants to call the shots.
Bharuch: Cruising on the smooth Mumbai highway from Ahmedabad, one road turns left near the chemical hub Ankleshwar in south Gujarat to suddenly hit the sharp contrast of a bumpy tribal terrain. The road snakes through to Maljipura, and cuts across thin interior roads to enter the sprawling compound of a mansion with several cars of all sizes parked inside.
There, in the backdrop of a mango orchard, under a wide tin-shed sat uncrowned tribal king Chhotu Vasava, the man who pulled Congress veteran Ahmed Patel from the jaws of defeat in the 8 August Rajya Sabha election with his sole vote.
"I am myself the symbol," he smiled nonchalantly looking up and not at this author, when told that the Janata Dal-United symbol, on which he won the last elections, was in dispute after Bihar Chief Minister Nitish Kumar's alliance with the BJP.
Well, he is not wrong, for it is the party—whichever it is—that needs Chhotu Vasava, not the other way round. "I have my own party," he puts his right hand on his chest, "It is the Bharatiya Tribal Party, so the JD(U) symbol does not matter for me."
He goes on, "In any case, the JD(U) is remote-controlled by Amit Shah. But I don't care, as my BTP has a mind-boggling eight lakh members together with the Bhilistan Tiger Sena."
Bhilistan Tiger Sena is an organization run by his son Mahesh Vasava that has been demanding separate statehood for the tribal belt.
So, now that he has become the acting president of the Sharad Yadav-led splinter Janata Dal-United and has also bailed out Ahmed Patel, Vasava wants to call the shots in the projected alliance with the Congress. He wants a lion's share among the 27 seats reserved for Scheduled Tribes, in which the Congress has 16 sitting MLAs, BJP 10 and one JD-U, that is Vasava himself. The seat share was similar in 2007 with Congress having 16, BJP 9 and Vasava one when there were 26 seats reserved for the Scheduled Tribes.
"We have demanded 25 seats. The influence of our Bhilistan Tiger Sena and our Bharatiya Tribal Party spreads across the entire belt of Gujarat. How long will parties run by Baniyas, Brahmins and Kshatriyas dictate the tribals?," he asserts.
With the director of an upcoming feature film on him and a music composer watching, Vasava says, "In an ideal situation, seats reserved for tribals should be decided by tribals and only tribal parties should be allowed to field candidates there. Here, the people giving the mandate to tribal candidates are all non-adivasis."
Sources close to Chhotubhai say he feels the Congress has a good chance to win this time and so is flexing his muscles to have a larger share of the cake. He has actually asked for 19 seats and is adamant on nothing less than 15.
It is precisely for this reason that the Congress is in no mood to relent in a hurry. "The tribal belt is our strongest base, while Chhotubhai has an influence over only a limited number of seats. We may give him those seats, but not 19 or even 15," a senior leader, who is part of the negotiations with Vasava told Firstpost.
"Besides Chhotubhai's own Jhagadia seat, we can at best leave four to five constituencies for him," he said.
He is not wrong. Besides Jhagadia, Chhotubhai's influence is limited to the five odd seats of Mangrol and Mandvi in Surat district, Dediapada and Nandod in Narmada and to some extent in Dahod. And then, despite fielding more than 15 candidates during the 2012 elections, the JD(U) could win only one seat of Vasava.
"A sizeable population of adivasis is a traditional Congress votebank. Through the RSS and the VHP, the BJP is making attempts to make inroads in the tribal belt, but that has met with limited success," says Ashok Gamit, who is a veteran journalist with the Sandesh Gujarati daily in Vyara, 65 km from Surat. He says if the Congress gives in to Vasava's demands and concedes more than four seats, it will anger its own ranks and this will prove counterproductive.
India
Apart from Sibal, G-23 leaders Shashi Tharoor and M Veerappa Moily have also slammed Prasada for switching to the BJP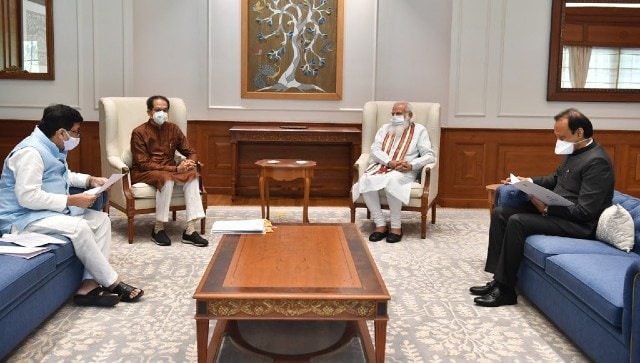 India
Maharashtra deputy chief minister and senior NCP leader Ajit Pawar and senior Congress leader Ashok Chavan also accompanied Thackeray during the meeting with the prime minister
India
Meanwhile, a slew of BJP leaders including JP Nadda, Rajnath Singh and Smriti Irani praised the prime minister's announcements and said the decisions showed the government's committment to the public