Gujarat Assembly polls: Congress invites Hardik Patel, Alpesh Thakor, Jignesh Mevani to join forces to defeat BJP
Hoping to garner support of various communities in Gujarat polls, Congress on Saturday invited Patidar quota stir spearhead Hardik Patel, Thakor community leader Alpesh Thakor and dalit leader Jignesh Mevani to join hands
Ahmedabad: Hoping to garner support of various communities in Gujarat polls, the state Congress on Saturday invited Patidar quota stir spearhead Hardik Patel, Thakor community leader Alpesh Thakor and dalit leader Jignesh Mevani to join hands with the party to defeat the ruling Bharatiya Janata Party (BJP).
Apart from these leaders, the Congress also hinted at forging a pre-poll alliance with Sharad Pawar-led NCP and bringing on board Chhotu Vasava, the lone JD(U) MLA from the state.
Addressing a press conference here today, state Congress chief Bharatsinh Solanki expressed confidence that the party would easily win over 125 seats, out of total 182, with the "support and blessings" of all these leaders and parties.
"Though the BJP is trying its best to win the polls, it will not succeed in stopping the Congress' victory march to Gandhinagar.
"We respect as well as endorse the cause for which Hardik Patel is fighting. I appeal to Hardik to support the Congress during the polls. We are also ready to give him a ticket if he wants to fight elections in the future," Solanki told reporters.
"Similarly, we also invite Alpesh Thakor and Jignesh Mevani to join hands with the Congress. I also invite Chhotu Vasava, who helped us in the Rajya Sabha polls, to support the Congress," he said.
Though the NCP had "betrayed" Congress in the Rajya Sabha polls, the party's doors are still open for them if they also want to overthrow the BJP from Gujarat, he added.
In the Rajya Sabha polls, two NCP MLAs claimed to have voted for BJP candidate Balwantsinh Rajput despite their promise to vote for Congress leader Ahmed Patel.
JD(U)'s lone MLA Vasava, whose party has formed the government in Bihar with the support of BJP, had voted for Ahmed Patel, who eventually won the election.
Vasava had said after the Rajya Sabha elections in Gujarat in August this year that he had decided to vote for the Congress candidate as he was "unhappy" with the ruling party's works for the poor and tribal population that he represents.
He was elected from Scheduled Tribe-reserved Jhagadia assembly seat in Bharuch district in south Gujarat.
Solanki also claimed that some Aam Admi Party (AAP) leaders from Gujarat were also in contact with his party and may join hands with it ahead of the polls.
Senior AAP leader Kanubhai Kalsariya had met Rahul Gandhi during the latter's visit to central Gujarat early in October.
"Just like Kalsariya, many other AAP leaders are in touch with us. They may join the Congress soon," Solanki claimed.
He claimed that his party has emerged as a strong contender in the upcoming polls.
The Congress is out of power in Gujarat for 22 years.
India
Priyanka Sahani used five different grains to design the portrait, completing it in 20 to 25 hours. She took the decision based on the fact that India is predominantly an agrarian country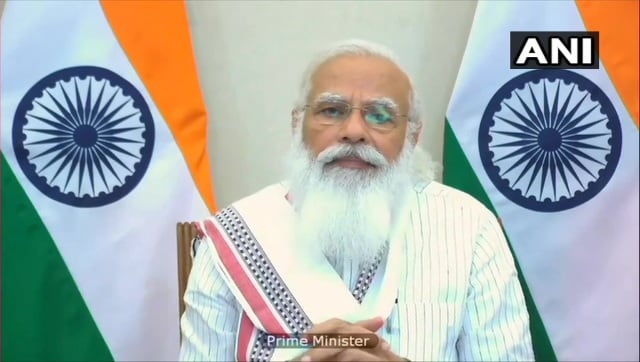 World
External Affairs Minister S Jaishankar will travel to Dushanbe for the SCO meetings that are expected to extensively deliberate on the Afghan crisis and its internal as well as external implications, people familiar with the matter said
India
The 20-day mega campaign titled 'Seva aur Samarpan Abhiyan' will begin tomorrow (17 September) and will conclude on 7 October