Gujarat Assembly Election Results 2017: Narendra Modi's charisma helps BJP override GST woes, Patidar unrest
BJP's win in Gujarat and Himachal Pradesh, nine months after their victories in Uttar Pradesh and Uttarakhand, would settle the demonetisation and GST debates for good in Modi's favour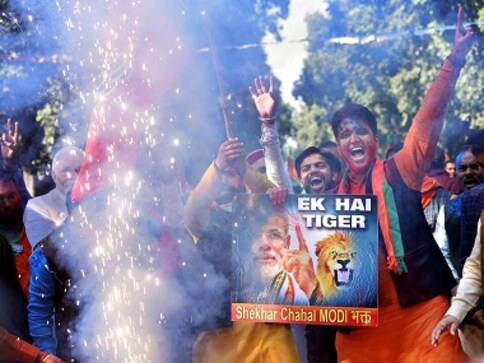 At 10.45 am on Monday, a visibly happy Narendra Modi arrived at Parliament in New Delhi, got out of his car, raised his hand, and flashed the victory sign claiming victory for the Bharatiya Janata Party (BJP) in Gujarat and Himachal Pradesh. He didn't make a speech and didn't speak to the media. But that has never been his style. He would tweet, but statements and face-to-face chats would wait.
Modi likes to let the media debate the issue, and lets people across the country have their informal forums. He wants people to discuss the results threadbare at tea stalls, at block offices, at village gatherings. Only then would he address party workers and say what he has to say. He would then celebrate the victory and outline challenges ahead.
The importance of elections in Gujarat goes beyond just a win for BJP and defeat for Congress. Gujarat is Prime Minister Narendra Modi and party president Amit Shah's home state. The party has been in power for 22 years. For Congress, the elections were coming at a time when Rahul Gandhi has become party president, succeeding mother Sonia Gandhi who had been at the helm for 19 years.
In the end, it was Modi who proved elections can be won on the basis of his personal charisma alone. This factor helped the party retain power in Gujarat, and also take an unassailable lead in Himachal Pradesh. This proves his appeal is unmatched, that people believe in his sincerity as a leader and his capacity to deliver. The emphatic victory also proves that despite initial reservations about BJP, Modi still has the ability to make voters reconcile and make them vote for his party. No other leader in India has had this kind of capacity and charisma in the last four decades.
What must also be noted is that Gujarat and Narendra Modi have hit uncharted territory for the BJP. The party had won elections in the past, but wouldn't return to power five years later. The first government it formed on its own, in 1995, fell within five years owing to severe infighting, but the people re-elected BJP in 1998. It was only after Narendra Modi took charge in October 2001 that the BJP stabilised itself in the state. The party has now won its sixth straight term in the state, and has almost become invincible. This is because of Modi, who built up the party's support base and its organisational strength by focusing energy, and by boosting workers' morale through new delivery mechanisms and good governance.
What would make the victory even sweeter is its timing; the verdict came despite perceived anger among the business and trading communities over "irritants" like the implementation of Goods and Services Tax (GST). Gujarat is the country's most urbanised state and has a large concentration of businesses and traders. But if anger regarding GST was real, as the national media would have one believe, BJP wouldn't have clinched another victory here.
Rahul Gandhi and Congress had made GST and demonetisation the central issues ahead of the elections. The Congress president should have learnt his lessons from the BJP's thumping wins in Uttar Pradesh and Uttarakhand earlier this year, which had come in the immediate aftermath of the demonetisation decision, but for reasons best known to him, he still made demonetisation an issue while campaigning in Gujarat. They also termed GST "Gabbar Singh Tax", thinking it would give them the edge.
While it's true that there was resentment among the traders over the way GST was implemented, reports of anger among diamond and textile traders of Surat was overhyped. But the Congress fell for it. Rahul Gandhi didn't realise that the Centre had moved swiftly and reviewed the GST structure, and was also promising to do more to contain the anger.
BJP's win in Gujarat and Himachal Pradesh, nine months after their victories in Uttar Pradesh and Uttarakhand, would settle the demonetisation and GST debates for good in Modi's favour. In between, the BJP also decisively won urban body elections in UP. It's clear that Rahul Gandhi and Congress needs some new issues ahead of upcoming elections in the North East and Karnataka.
Congress leaders appeared happy with the party's performance. They appeared on debates on various TV channels to stoutly defend the party, citing an improvement in voteshare and seats won. But that in itself is a problem. There will be elections in Meghalaya, Nagaland, Tripura, Karnataka, Madhya Pradesh, Chhatisgarh and Rajasthan in 2018, and Congress needs to do some serious introspection over its strategy and performance ahead of these.
The slight upward surge for the party comes courtesy Hardik Patel and the Patidar factor, not because its own popularity is growing. It won most seats in Saurashtra, which has a high concentration of Patidars, where Patel wielded much clout. A majority of them voted against BJP, and because they had no choice, went with the Congress.
The BJP made mistakes — firing on agitating protesters and filing cases against hundreds of young Patidar boys and girls cost the party. The party leadership is trying hard to win over the confidence of the community, which in any case has split its vote.
The Congress, by wooing Hardik Patel, Jignesh Mewani and Alpesh Thakore, gave disproportionate publicity to these young outsiders. The party made them heroes, and in the process, marginalised its own local leadership in the state.
There is no mistaking the fact that a substantial section of voters who voted for Congress had no fascination for Rahul Gandhi. This election would ever be remembered for the Congress president's transformation from a "non-Hindu" to a "Shiv-Bhakt, Janeu-dhari Hindu". It didn't yield any electoral dividends, however. Instead, it got Rahul Gandhi to walk in an arena where Narendra Modi and Amit Shah set the rules.
Click here for live coverage of Gujarat Assembly Election 2017
Click here for detailed coverage of Gujarat Assembly Election 2017
India
The third day of the yatra saw an encouraging turnout of people like the previous two days of the Kerala leg of the foot march which is set to cover 3,570 kilometres from Kanyakumari to Kashmir over a 150-day period
India
The National Commission for the Protection of Child Rights stated that it has received a complaint alleging that Rahul Gandhi and the Jawahar Bal Manch are targeting children with political intentions and forcing them to participate in political activities
Politics
The response that Rahul Gandhi received for his ongoing 'Bharat Jodo Yatra' is a good reason to persuade him to return as the Congress President, senior party leader Salman Khurshid said on Wednesday.