Gujarat Assembly Election Results: Ahead of counting, a look back at issues which dominated high-stakes battle
The Gujarat Assembly Election 2017 is considered to be a prestige battle for Prime Minister Narendra Modi and a litmus test for new Congress president Rahul Gandhi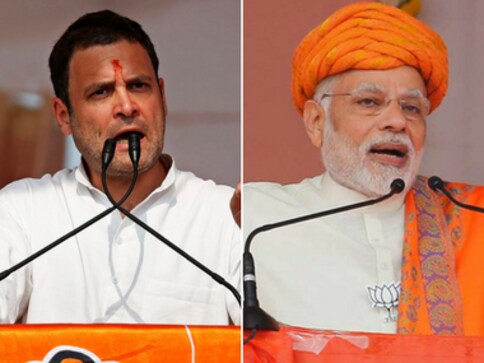 The much-awaited result of the keenly fought Gujarat election is about to be announced. The state election is not only significant because it is Prime Minister Narendra Modi's home turf but also because BJP has been in power in the state since 1995. Losing the election in such a crucial state would be a major embarrassment not only for Modi but for party chief Amit Shah as well.
Apart from BJP, it is also turning out to be a litmus test for new Congress president Rahul Gandhi. While BJP is seeking a sixth straight term in office, Congress is attempting a come back in the state.
The election saw Narendra Modi accusing Congress of colluding with Pakistan to get favourable results. Both Modi and Rahul travelled extensively, making temple stops and delivering speeches.
The acrimonious campaign, where both parties indulged in no-holds-barred attacks on each others, focussed on a number of issues. While Congress managed to get the support of Dalit leader Jignesh Mevani, Patidar leader Hardik Patel and OBC leader Alpesh Thakor, BJP staked its credibility on Modi and his Gujarat Model.
One major challenge for BJP was to assuage the Patels, who harboured deep resentment for the party since the Patidar agitation. Their problem was exacerbated when Hardik joined hands with Congress.
Patidar and Dalit anger
One of the issues that rattled the state and even forced former state chief minister Anandiben Patel to resign in August 2016 was the protest for reservation for Patels in jobs and educational institutions. Party leaders were not allowed to hold public rallies and were barred from many Patel-dominated areas in a show of increasing irritation with the saffron party.
While the effect of the agitation has waned, Hardik still enjoys a strong support base in the community. With him making a pact with Congress, the saffron party may lose its important vote base. According to the India Today-Axis opinion poll, the Patidars play a decisive role in 21 of the state's 182 seats and make up almost 16 percent of the electorate. Hardik can give a bump of two percent to whichever party he supports.
However, things might change for the better for the ruling party. According to this Firstpost article, some Patels in Ahmedabad, where the agitation began, think Hardik has become distracted. They are also not happy with his agreement with Congress.
Despite people, especially the youth, coming in huge numbers to attend Hardik Patel's rallies, it remains to be seen if this support will translate into votes or if BJP will be able to keep its vote share.
Gujarat witnessed one of the biggest Dalit uprisings that ever took place in the state last year. Anandiben faced criticism after four Dalit youths were beaten up in Una on 11 July, 2016, for allegedly skinning a dead cow. Her exit was seen as BJP's message to Dalits that the party was concerned about the growing unrest in the community. With Mevani contesting as an independent with Congress' support, BJP might lose out on Dalit votes too.
According to this Firstpost report, some Dalits, still miffed with the Una incident, are inching towards Congress. Despite supporting BJP for 15 years, they feel injustices are being done to them.
GST and demonetisation
As Hindustan Times pointed out, small and medium-scale businessmen and traders, who form the core of the BJP support base, have been hit by what they call implementation glitches in the rollout of the Goods and Services Tax (GST).
Textile traders in the state want a rollback of the GST on cloth. According to the Times Now-VMR opinion poll, about 40 percent respondents felt quality of life has worsened after the implementation of GST and demonetisation.
Gandhi and Congress has taken every opportunity to attack BJP over these decisions. "Their GST is not GST. GST means Gabbar Singh Tax. This is causing a loss to the country. Small shopkeepers are finished. Lakhs of youths have been unemployed. But they are still not ready to listen," Gandhi said in his rallies.
Modi, meanwhile, said Gandhi was propagating a 'Grand Stupid Thought'. Modi countered him by saying, "Those who have looted people throughout their life, they can only remember dacoits."
According to a report in DailyO, "The trader community has been the most loyal voters of BJP since its inception. They have helped the party also when it was not in power. However, the same community has been at the receiving end of GST."
Anti-incumbency
The BJP is facing anti-incumbency sentiment and Gujaratis are showing signs of fatigue from being ruled by BJP since 1995, The Indian Express reported.
With the change of chief minister in the middle of a tenure and the absence of Modi as the chief ministerial candidate, the anti-incumbency sentiment may become a crucial factor in the poll outcome. Achyut Yagnik, a leading expert on Gujarat, told Rediff that there has been a difference in administrative control since Modi was elevated to the post of prime minister.
"Modi had a tight control over the bureaucracy, which was not the case with Anandiben Patel and Vijay Rupani," she said.
BJP MP Sanjay Kakade claimed his party would not win enough seats to form the next government in the state and cited anti-incumbency as the reason.
"The BJP has been in power in Gujarat for 22 years. Since Independence, apart from the communists in West Bengal, there is not a single party in the country which has remained in power for 25 years," he claimed. Kakade said the negative feeling against the party may cost BJP in this election.
Water woes
The Congress chiefly banked on the issue of water woes and "incomplete" irrigation projects to make fresh inroads in rural Saurashtra, sensing a feeling of being "left out" among the populace. The party also attacked BJP over Modi's SAUNI project.
"When Modi visited Rajkot in August for the celebration of (operationalisation of) Saurashtra Narmada Avataran Irrigation Project (SAUNI), it was an eye-wash. The project is not complete, but Modi and BJP projected as if the entire project has been completed within five years," Rajput claimed.
Meanwhile, fed up with their water problems, Gajadi village in Morbi district of Gujarat boycotted the election. "Villagers announced a few months ago that they would refrain from voting. Their main grievance was water supply. Though the village is being supplied water through a pipeline, they claimed it was not enough and demanded another pipeline," said Morbi collector and district election officer IK Patel.
According to a report in Hindustan Times, BJP is also battling farmers' anger over Narmada waters. Despite the Sardar Sarovar Dam, villagers complain of broken promises, flawed design and lack of accountability. "The inauguration was just a farce. Every election we were promised Narmada water. This time we have decided to vote for a new government in protest," a local told Hindustan Times.
With inputs from PTI
Click here for live coverage of Gujarat Assembly Election 2017
Click here for detailed coverage of Gujarat Assembly Election 2017
Politics
The response that Rahul Gandhi received for his ongoing 'Bharat Jodo Yatra' is a good reason to persuade him to return as the Congress President, senior party leader Salman Khurshid said on Wednesday.
India
The letter signed by several former state police chiefs cited a recent spat involving Kejriwal and Gujarat Police officials over the former's insistence to ride an autorickshaw during his poll campaigning in the state
Politics
"Kishansinh Solanki, a BJP leader from Ahmedabad who served as a party spokesperson till around six months ago, has been suspended for six years with immediate effect," a statement issued by Gujarat BJP said.