Gujarat Assembly Election Results 2017 highlights: Lotus blooms in two states but rural-urban divide writ large in Modi's home state
LIVE NEWS and UPDATES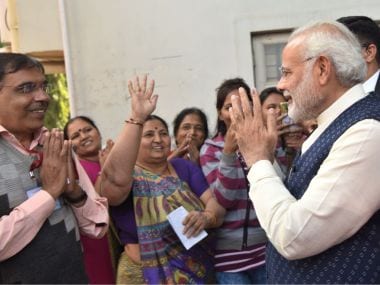 22:02 (IST)

Final tally in Gujarat polls

20:38 (IST)

Lotus blooms in 19 states after Gujarat, Himachal results

20:14 (IST)

In electing BJP, Gujarat has yet again embraced development politics: Modi

Gujarat has yet again embraced development politics and rejected divisive tactics of a select few. pic.twitter.com/DesmRmwhpx

— Narendra Modi (@narendramodi) December 18, 2017

20:14 (IST)

Modi tweets after BJP parliamentary board meeting, says its an honour to serve Gujarat

"The victory in Gujarat is special. Starting from 1989, people of Gujarat have been blessing BJP in every Lok Sabha and Vidhan Sabha election. It is an honour to be serving Gujarat for so many years. We will continue to work for Gujarat's growth," Modi said.

20:09 (IST)

Here's how the parties have performed in Gujarat over the years

19:54 (IST)

BJP to send observers to Himachal, Gujarat to decide on CM pick

Speaking to press after the BJP Parliamentary meet, Union Health Minister JP Nadda said that the party will send Arun Jaitley and Saroj Pandey as observers to Gujarat. Similarly, Nirmala Sitharaman and Narendra Tomar will go to Himachal Pradesh to discuss about the leadership with party workers there.

19:47 (IST)

BJP won Gujarat but the party has lost some of its sheen in rural Gujarat

The BJP's performance in the rural vs urban areas is in stark contrasts. According to a break up given out by CNN-News 18, out of the 98 rural seats, Congress has either won, or is leading in 56 seats in rural areas. The BJP on the other hand could get only 39 seats, eight less from 2012.

While the BJP could improve its tally in North and Central Gujarat, the Congress' gains almost entirely seems to be coming from the rural Gujarat belt. A BJP leader, requesting anonymity, blames "caste combinations, Patel resentment, and farm distress" for the Congress' performance, according to Livemint.

It is interesting to point out that the Congress party and leaders like Hardik Patel, Jignesh Mevani and Alpesh Thakor had been punching holes in the states much touted development model, alleging that the 'vikas' has been absent in the rural regions.

19:21 (IST)

​How accurate were the exit poll predictions?

19:11 (IST)

BJP's parliamentary board meeting begins, party to formally decide on CM face in Gujarat, Himachal

PM Narendra Modi, BJP President Amit Shah & others at BJP Parliamentary board meeting at party HQ in Delhi pic.twitter.com/dw4spwB3bx

— ANI (@ANI) December 18, 2017

19:09 (IST)

BJP's parliamentary board meeting begins, party to formally decide on CM face in Gujarat, Himachal

PM Narendra Modi, BJP President Amit Shah & others at BJP Parliamentary board meeting at party HQ in Delhi pic.twitter.com/dw4spwB3bx

— ANI (@ANI) December 18, 2017

19:04 (IST)

Congress made fun of vikas: Modi

​

So many conspiracies were hatched in Gujarat by Congress, misinformation was being spread. People cannot bear if anyone makes fun of 'vikas': PM Narendra Modi pic.twitter.com/GOafVB23i5

— ANI (@ANI) December 18, 2017

19:00 (IST)

BJP may have won in Gujarat, but the Congress has not lost: Shashi Tharoor

18:58 (IST)

Narendra Modi concludes address amid chants of 'vikas hi jitega'

18:56 (IST)

People rejected those who tried to sow venom of casteism: Modi

30 years back, poison of caste was spread so badly in Gujarat that it took workers like me 30 years to get rid of it. In last few months there were attempts again to sow seeds of casteism, but people rejected it,I congratulate them: PM Shri @narendramodi https://t.co/w2kgnZAB5Z pic.twitter.com/Cl3VhDg7sS

— BJP (@BJP4India) December 18, 2017

18:54 (IST)

Congress' venomous campaign failed, Gujaratis should not get divided on caste lines: Modi

​

"In past few months, some people tried to play some games. Even though you did not let them succeed but they won't stop their tacticts. So bear in mind that the unity of 6 crore Gujaratis is paramount. Because you contribute so much to the country's growth, it is your responsibility to net let the vikas engine derail amid divisive caste talks. And maintain your unity," Modi said.

18:52 (IST)

Gujarat win a matter of double joy for me: Modi

​

Prime Minister Narendra Modi said that he was doubly happy at winning Gujarat elections as the opposing forces were trying to spread negativity. He said, "Their were talks that Modi has left now, but I am more than happy to see that the state leaders are working even harder for the people."

18:48 (IST)

Congress and other forces tried their best to defeat us: Modi

​

"Congress and other forces tried their best to defeat us. When exit poll results came and they realised they couldn't do it. They started efforts to dampen our happiness. But when a single party wins each and every election one by one through democratic means, even their opponents should have the guts to accept defeat," Modi said.

18:45 (IST)

BJP is an exception even for poll pundits: Modi

किसी सरकार का दुबारा जीतना ये भारत के राजनीतिक विश्लेषको के लिए एक बहुत बड़ी घटना के रूप में पिछले 30 साल में लगातार देखा जा रहा है। गुजरात एक अपवाद है : प्रधानमंत्री श्री @narendramodi https://t.co/w2kgnZAB5Z

— BJP (@BJP4India) December 18, 2017

18:40 (IST)

If you don't work people will not accept you after five years: Narendra Modi

The results in Himachal Pradesh show that if you don't do development and are embroiled in all wrong acts then after 5 years people will not accept you: PM Modi pic.twitter.com/8LbfGkQaFe

— ANI (@ANI) December 18, 2017

18:36 (IST)

Election results prove India ready to transform: Narendra Modi

"During the campaign trail of Uttar Pradesh election, several people were saying that after demonetisation, BJP will be defeated. A similar narrative was played in Maharashtra civic polls also. Opposition said demonetisation and GST will kill BJP's chances. But now the entire nation is joining our vikas yatra. The results have proved that the country is ready to be transformed," Modi said.

18:33 (IST)

I want to thank the people of Gujarat, Himachal for choosing development: Narendra Modi's victory speech at BJP headquarters

18:26 (IST)

Amit Shah addresses BJP workers at party headquarters in Delhi

18:19 (IST)

In Surat, BJP wins 15 out of 16 seats

18:13 (IST)

Mamata Banerjee calls Gujarat a 'face saving' win for BJP

West Bengal chief minister Mamata Banerjee said it's a moral defeat for the BJP despite the electoral victory. "It is a temporary and face-saving win, but it shows a moral defeat for BJP. Gujarat voted against atrocities, anxiety and injustice caused to the common people. Gujarat belled the cat for 2019," Banerjee said.

— PTI

18:02 (IST)

A Congress victory in Vadnagar, Narendra Modi's hometown

While the BJP outperformed the Congress by nearly 20 seats, the one place it couldn't manage a victory was in Unjha, which includes Prime Minister Narendra Modi's home town Vadnagar. Congress' Usha Patel won from Unjha, defeating BJP's Narayanbhai Lalludas by nearly 20,000 votes, reported Hindustan Times.

17:55 (IST)

Gujarat is grateful to Narendra Modi, says Chief Minister Vijay Rupani

Gujarat is thankful to PM Shri @narendramodi Ji for always being there for the state & leaving no stone unturned to transform the state as well as the nation. I also express gratitude to BJP President @amitshah Ji for his constant guidance to our karyakartas.

— Vijay Rupani (@vijayrupanibjp) December 18, 2017

17:53 (IST)

It's a victory of PM Modi's development politics: Gadkari

The BJP's performance in Gujarat and Himachal Pradesh polls is a victory of Prime Minister Narendra Modi's development politics over "dirty caste politics" of Rahul Gandhi-led Congress, Union Minister Nitin Gadkari said. "All sections of society have voted above caste politics. This is a win of development politics of the
Prime Minister. In Gujarat, OBC, patidar, dalit all were used for caste politics by the Congress but caste politics could not get success," senior BJP leader said.

— PTI

17:42 (IST)

See you in the campaign trail in 2018, tweets Congress

The Congress Party extends a huge thank you to the people of Himachal Pradesh & Gujarat for having faith in us and giving us their vote. Our congratulations to the Bharatiya Janta Party. However we aren't taking off our gloves just yet; see you on the campaign trail in 2018!

— Congress (@INCIndia) December 18, 2017

17:37 (IST)

NOTA garners 5 lakh votes in Gujarat

'None of the Above' (NOTA) made its Assembly election debut in Gujarat, and over five lakh voters chose the option. NOTA got more votes in the western state than established parties like BSP and NCP put together!

To read more on NOTA's performance in Gujarat, click here

17:30 (IST)

BJP's win due to 'vikas' and 'vishwas': Devendra Fadnavis

"The BJP came up with the politics of vishwas (trust) and vikas (development) for Gujarat and people responded to it positively. The Opposition tried to spread wrong messages against us, but we prevailed because of the leadership of Prime Minister Narendra Modi and national president Amit Shah," Maharashtra chief minister Devendra Fadnavis said, as quoted by NDTV.

Fadnavis was addressing the media outside the Maharashtra legislative Assembly on Monday, as results from Gujarat started trickling in. "It was the common man's trust that Modi can bring peace and prosperity. It is very important that even after 22 years, a party gets almost 50 percent votes of the people and retains power... It is very significant," he said.

17:17 (IST)

BJP won due to Congress' foolishness: Shankersinh Vaghela

"Rahul Gandhi came to Gujarat as a guest. It was due to local leaders that Congress failed in Gujarat.Congress' graph has come down ever since I left the party. If I had been in the Congress, it would have won the elections. A grand old party like Congress compromised with local leaders. It was not Rahul Gandhi's fault but fault of local leaders. Congress had a great chance but they missed out," Vaghela told CNN-News18.

17:04 (IST)

People reposing faith in us for sixth time in row, commendable: Vijay Rupani

Speaking to the press Rupani said that to win an election for the sixth time straight is no small feat. He said that the party's vote share has increased and despite the tally of seat share leaning in favour of the Congress, the BJP maintained a lead of over 8 percent.

He said that the party's unwaivered strategy based on development, despite Congress taking the discourse so low is commendable.

17:00 (IST)

With Gujarat, Himachal wins, Lotus blooms in 14 states across India

16:56 (IST)

How North Gujarat Turned Saving Grace for BJP to Compensate For Angry Saurashtra, Kutch

The BJP on Monday fought off the Congress to retain power in Gujarat for the sixth consecutive time, but not without losing ground in some of its bastions. In Saurashtra, BJP was trailing far behind Congress and in Central Gujarat, both parties saw a neck-and-neck see-saw battle. But what gave the BJP an edge in the election was its decisive lead in North Gujarat, where Hardik Patel's Patidar agitation was expected to harm the party the most.

That North Gujarat is where PAAS pulled the biggest crowds is no surprise. Hardik Patel belongs to the Kadva Patel community. However, the Kadva Patels are small in numbers as compared to the Leuva Patels, who are concentrated in North Gujarat.

16:52 (IST)

Gujarat CM Vijay Rupani retains Rajkot seat with over 57,000 votes, nullifying Congress' initial lead

16:45 (IST)

BJP's Saurabh Patel wins in Botad

16:41 (IST)

BJP hits halfway mark of 92, but falls well short of exit poll predictions

The BJP has hit the majority mark in the crucial election of Gujarat, prompting the party to quickly credit Prime Minister Narendra Modi and his policies for the victory. The party has managed to win 92 seats in the 182-seat Gujarat Assembly, thus hitting the halfway mark.

The BJP has won every election since 1995. However, it was out of power for a couple of years due to party infighting and rebellion by Shankersinh Vaghela. The party came back to power in 1998, and has ruled uninterrupted since then.

Being Modi's home state. it was significant for the BJP to retain Gujarat and Shah had put the target at 150 seats. However, with the fierce fight put up by the Congress, the BJP is unlikely to reach that goal.

While giving a clear victory of BJP, the exit polls for Gujarat had predicted that the saffron party will get over 100 seats.

16:36 (IST)

Congress' Paresh Dhanani wins from Amreli

16:35 (IST)

Rahul Gandhi concedes defeat, says proud of Congress workers for fighting polls with 'dignity'

My Congress brothers and sisters, you have made me very proud. You are different than those you fought because you fought anger with dignity. You have demonstrated to everyone that the Congress's greatest strength is its decency and courage.

— Office of RG (@OfficeOfRG) December 18, 2017

16:30 (IST)

BJP vote share increased despite divisive politics; our win still commendable: Shah

"Those who function on dynastic politics, populist policies and divisive policies should learn a lesson from there defeat," Shah said. On a question about his 150 seat target in the polls, Shah said I accept that the seat share have gone down but it is because of the low level of campaign run by Congress. "They tried to stir emotions on the basis of the caste. Now caste system will leave India in its due course," Shah said.

16:19 (IST)

Gujarat assembly speaker Ramanlal Vora lost from Dasada

16:15 (IST)

Congress' 'election outsourcing' strategy failed: Amit Shah

Shah said that the people of Gujarat have voted for us despite the heavily divisive and casteist campaign of Congress. He said that the Congress party tried to outsource its election to other leaders but it failed. He also pointed out that the party's vote share has gone up slightly even if it lost some seats as compared to the last elections.

16:09 (IST)

BJP's victory is a win for PM's policies: Amit Shah

"This victory is a win of politics of performance over the dynastic politics and populist policies," Shah said. He said that Modi has been trying to free the people of the country from the ulcers of casteism, and divisive politics. And our win has proved that we are succeeding,' Shah said.
Congress leaders are busy giving a positive spin to the loss in Gujarat, say the party has improved its tally under Rahul Gandhi's leadership. While Kamal Nath pointed out that Gujarat is a BJP bastion and Shashi Tharoor appreciated the fact that the "journey" had been good, Renuka Chowdary hailed Gandhi for his "brilliant intervention".
Chief Minister Vijay Rupani won from Rajkot West, while deputy chief minister Nitin Patel is leading in Mehsana. Dalit leader Jignesh Mevani won his maiden election from Vadgam constituency and Alpesh Thakor won from Radhanpur.
In 2012, the BJP won 119 seats in the 182-member Assembly, while the Congress won 57.
Modi led the campaign for the BJP, while Rahul Gandhi was the pivot of the Congress' electioneering.
During the campaign, Modi and BJP chief Amit Shah trained guns on the Congress on issues like Ram Temple, alleged Pakistani interference in the Gujarat polls and (suspended Congress leader) Mani Shankar Aiyar's remarks.
Gandhi persistently attacked Modi and the BJP for "not talking about the future of Gujarat" and skipping key issues being faced by the people of the state.
The Congress also stitched about a broad social coalition with prominent Patidar, OBC, and Dalit leaders - Hardik Patel, Alpesh Thakor and Jigesh Mevani - in its bid to unseat the BJP in power for over two decades.
Patel led a long agitation of his community for reservation, while Thakor led an counter protest against inclusion of Patidars in the OBC reservation list. Mevani raised his voice against Dalit atrocities.
The influential Patidar community, which accounts for around 12 per cent of the state's population, could prove to be the 'X factor' in the polls in which Patel pledged support to the Congress and appealed to people to "uproot the BJP" this time.
As the campaign was nearing its end, "Vikas" (development) took a back seat, and caste and religious issues received prominence.
The two main rival parties also tried to counter each other on social media, as the Congress and its supporters launched the campaign "Vikas Gando Thayo Che" (development has gone crazy), while the BJP launched a counter drive of "I am development, I am Gujarat".
An average 68.41 per cent polling was recorded in the two-phase Assembly elections in Gujarat.
According to the final figures released by the Election Commission, the voter turnout in the second phase of balloting on December 14, for 93 seats of North and Central Gujarat, stood at 69.99 per cent.
In the first phase of polls held on December 9 for 89 seats in Saurasthra, Kutch and South Gujarat, 66.75 percent voting was recorded.
The total voter turnout this time has seen a dip of 2.91 percent, as compared to the 2012 polls when 71.32 percent polling was registered.
In terms of numbers, of the total 4.35 crore registered voters, 2.97 crore exercised their right to franchise in the elections held on 9 and 14 December.
According to the EC data, the tribal-dominated Narmada district witnessed the highest voter turnout of 79.15 per cent, while Devbhumi-Dwarka of Saurashtra region recorded the lowest at 59.39 per cent.
The districts which recorded a high turnout are — Tapi (78.56 percent), Banaskantha (75.15) and Sabarkantha (74.97). The districts which saw a low turnout are — Amreli (61.29), Bhavnagar (61.56) and Porbandar (61.86).
Out of the total 33 districts, 15 recorded over 70 per cent polling, while 17 others clocked between 60 per cent and 70 per cent.
Only Devbhumi Dwarka district registered polling below 60 per cent.
Find latest and upcoming tech gadgets online on Tech2 Gadgets. Get technology news, gadgets reviews & ratings. Popular gadgets including laptop, tablet and mobile specifications, features, prices, comparison.
Updated Date: Dec 18, 2017 22:11:48 IST