Gujarat Assembly Election Results 2017: Here's a list of key face-offs to watch out for as Congress, BJP eye victory
As you wait for the results of the pitched battle for Gujarat Assembly Election, here is a list of the most interesting battles in the state.
The Gujarat Assembly election verdict will be delivered on Monday. The closely-contested battle saw many pitched battles as both Congress and the ruling Bharatiya Janata Party fielded candidates in sync with keenly calculated caste arithmetic.
While Congress is hoping to upset Prime Minister Narendra Modi and BJP president Amit Shah in their home turf, trumping the BJP poll machinery, BJP is looking to win its sixth straight win in the state, banking on its much-touted Gujarat model of development.
As you wait for the results of the Gujarat Assembly election, here is a list of the most interesting battles in the state.
Vadgam
The discourse around Gujarat elections have almost always been pitched and rather bitter between Congress and BJP. However, the one difference this time was the addition of three young agitating leaders who were a by-product of caste-based movements in the state. One of them, Jignesh Mevani, a Dalit lawyer-activist shot to fame after the scheduled caste agitation against the Dalit flogging incident in Una. He has vociferously led the movement against the ruling BJP, terming the party anti-Dalit.
He is contesting the elections as an Independent candidate from Vadgam reserved constituency in Banaskantha district, which is currently held by Congress' Manilal Jethbhai Vaghela. Both Congress and Aam Aadmi Party have supported him by not fielding a candidate. However, Mevani will have to face BJP's Vijaykumar Harkhabhai and rebel Congress candidate, Ashvinbhai Parmar, son of a prominent local party leader.
Demographically, Vadgam might have leaned towards Congress with around 1 lakh Muslims and Dalit voters in the 2.5 lakh-strong constituency. However, the possibility of Hindus uniting across caste lines cannot be denied, which makes this an interesting contest to watch. The constituency has around 40,000 Dalits followed by 30,000 odd Thakores and 5,000 Patidars among others, according to Hindustan Times.
Rajkot West 
The battle for Rajkot-West seat, the traditional BJP fortress, could be a cliffhanger for its high-profile contestant and Gujarat chief minister Vijay Rupani who is facing a challenger in Congress' Indranil Rajyaguru.
Earlier known as Rajkot-II, the seat is considered as 'safe' for the saffron party which has been representing it since 1985.
Though Rajkot-West is a stronghold of Rashtriya Swayamsevak Sangh (RSS), Congress has mounted a strong challenge by bringing in Rajyaguru, the sitting MLA from Rajkot-East, to rework the caste combination in the party's favour.
To retain his seat, Rupani has to surmount the angry Patidars as well as the trading community, which is smarting under the impact of demonetisation and the rollout of the Goods and Services Tax (GST).
Out of 3.15 lakh voters in the constituency, the number of Kadva and Leuva Patidars is the highest at 62,000, followed by Brahmins, Lohana and Jain communities.
The Congress is trying to direct the simmering anger among Patidars over lack of reservation in education and government jobs under the BJP rule against Rupani.
Jamalpur-Khadia 
As the discourse revolves around which way the Patidar vote will swing, Jamalpur-Khadia constituency in old Ahmedabad will be interesting to watch for a different reason. This is one of the few constituencies where Muslim electorate is in the driving seat. Out of the total 1.98 lakh voters in the constituency, over one lakh voters are Muslims. Their votes could be crucial in deciding the fate of sitting BJP MLA Bhushan Bhatt.
In 2012, Bhatt won the election apparently through the division of minority votes between independent candidate Sabir Kabliwala and Congress candidate Samirkhan Pathan. Kabliwala, a rebel Congressmen, got around 30,000 votes, paving way for Bhatt's win by a thin margin of 6,300 votes.
This time too, Kabliwala, who was hoping to get the Congress ticket, filed his candidature as an independent out of anger when Congress chose local councillor Imran Khedawala over him. Both Khedawala and Kabliwala belong to Chhipa community, which accounts for around 25,000 to 30,000 voters in the Jamalpur-Khadia seat. However, in a sudden turn of events which may spell trouble for the BJP on the seat, Kabliwala withdrew his nomination at the last moment.
Radhanpur
Radhanpur is a bastion of the Thakor community and is currently held by BJP. According to the Economic Times, the constituency has about 60,000 Thakore voters, which is almost one-fourth of its total electorate of 2.5 lakhs. The constituency also has a significant presence of Chaudharys, Rajputs, Rabaris, Ahirs, Bharwads and several other backward communities, besides a significant Muslim population.
However, what makes the battle interesting is the fact that OBC leader Alpesh Thakor, who shot to fame for opposing Hardik Patel's call for Patidar reservation is contesting election from the seat on a Congress ticket, the party which has promised Patidars quota without touching the share of other communities.
While he gained much popularity for his vehement opposition of Hardik, his image may have been dampened by joining hands with Congress and Hardik. As reported in this Firstpost article, some think that Alpesh was a "good OBC activist who rose to fame for his anti-Patidar quota stand and his fight against illicit liquor, but he spoilt his game by joining Congress and entering politics". Moreover, Alpesh, who hails from Viramgam, is seen as an outsider who is trying to find greener pastures here. The fact that he is facing BJP's Lavinji Thakor a local leader from the same caste doesn't help his cause.
With inputs from agencies
Click here for live coverage of Gujarat Assembly Election 2017
Click here for detailed coverage of Gujarat Assembly Election 2017
Politics
Before his death, Prasada Sr who had contested and lost against Sonia Gandhi for the leadership of Congress was totally disillusioned with the Congress and Gandhis, in particular
India
On the electoral front, Prasada does not have a stellar show when it comes to elections since 2014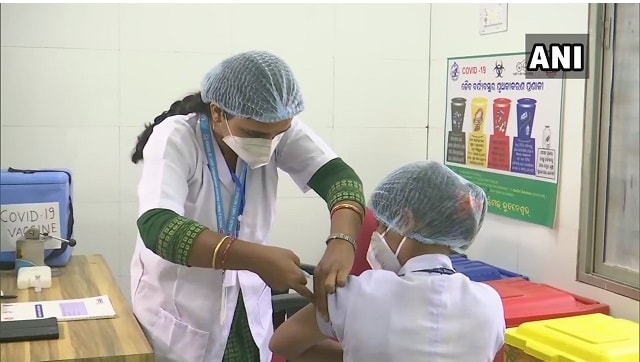 India
Modi also stated that 25 percent of work-related to COVID-19 vaccination with states will now be handled by the Centre. The arrangement will be implemented in the coming two weeks