Gujarat Assembly Election Result: Rahul Gandhi claims moral victory for Congress, says BJP's propaganda failed
Speaking for the first time after the Gujarat Assembly Election, Congress president Rahul Gandhi claimed a moral victory and said that it was a good result for them.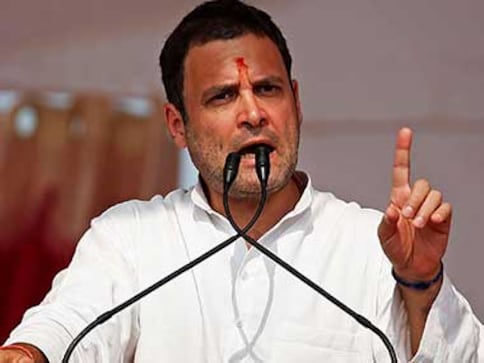 Addressing the media for the first time after the Gujarat Assembly election results were announced on Monday, Congress president Rahul Gandhi has claimed a "moral victory", and said it was a "good result" for the party.
Tearing into the BJP, Rahul claimed the saffron party had little new to say while campaigning, reported CNN-News18.
"Prime Minister Modi has a credibility problem as even people in Gujarat do not believe in the Gujarat model," Rahul was quoted as saying.
"The BJP is very good at packaging and marketing, but the idea itself is hollow inside. The BJP's propoganda has failed and the party could not answer the Congress' campaign. They have gotten a big jolt," he said.
Rahul also attacked the BJP over corruption allegations. "The prime minister and BJP have remained silent on corruption. They have not said a word on the Jay Shah case or on the Rafale deal," he added.
He further asserted that the Congress will defeat the anger of the ruling party with love.
While accepting defeat in Gujarat and Himachal Pradesh, Rahul also thanked the people of the two states, and congratulated the victors.
The BJP retained power in Gujarat for a sixth straight term on Monday, after it just about edged past the half-way mark in one of the most bitterly contested elections in recent times. BJP clinched 99 seats out of 182, while the Congress improved its tally as compared to five years ago, winning 77 seats. Smaller parties and Independent candidates clinched six seats.
also read
India
Congress leaders paid their respects to Nehru on his 59th death anniversary at an event held at Shanti Van in New Delhi
Photos
India witnessed a historic moment as Prime Minister Narendra Modi inaugurated the new Parliament building. After installing the sengol, Modi said, 'This is not just a building. It is the reflection of the wishes and dreams of 140 crore Indians'
Opinion
The party and the government it led in Karnataka not just failed to protect Hindutva activists, but also didn't do enough to look after the families of those killed during the previous Congress dispensation