Gujarat Assembly Election 2017: Opinion polls suggest comfortable win for BJP; party likely to improve vote share, seats tally
The Bharatiya Janata Party (BJP) is looking at a comfortable victory in the upcoming Assembly elections in Gujarat, an opinion poll conducted by Times Now-VMR has revealed
The Bharatiya Janata Party (BJP) is looking at a comfortable victory in the upcoming Assembly elections in Gujarat, revealed an opinion poll by Times Now-VMR which was released on Thursday. This is the second poll released in the last two days which points at BJP majority in the upcoming polls.
Despite Congress stitching together a clutch of pre-poll alliances, including with influential OBC leader Alpesh Thakore and Patidar leader Hardik Patel, it will be BJP that will emerge victorious, the poll said. The survey, which spoke to a sample size of 6,000 respondents across different demographics in different parts of Gujarat, gave BJP between 118 and 134 seats in the 182-member Gujarat Assembly. Congress, it said, will get between 49 and 61 seats.
Gujarat will see two-phase polling in December, with voting to take place on 9 and 14 December, and counting of votes scheduled for 18 December.
Such a comfortable victory for BJP will mean the saffron party will potentially rule Gujarat for five more years, making it 27 years of uninterrupted rule by the saffron party in the western state. It would also mean that the different issues that the Opposition parties have been using to criticise BJP — including demonetisation, GST rollout, rising intolerance, communal and caste-based violence, etc — have failed to halt the saffron march.
It's the second opinion poll in as many days to predict a victory for BJP. On Wednesday, the India Today-Axis My India poll had also said BJP will win between 115 and 125 seats, while Congress will get only 57-65 seats.
The findings of both surveys have projected an improved performance for BJP. The party had claimed 116 seats in the 2012 Assembly election, while Congress had claimed 60 seats. Even the more conservative poll, the India Today-Axis My India survey, would have the BJP cross that mark.
And while BJP national president Amit Shah's stated aim of crossing the 150-seat mark may not be achieved, the party would do enough to better its performances in the last three Assembly elections of 2002, 2007 and 2012. The party, under the chief ministership of Narendra Modi, had then claimed 127, 117 and 116 seats respectively.
Modi continues to inspire BJP
Another criticism leveled against the party was that without Modi as a chief ministerial candidate, it couldn't replicate its past successes. However, the survey seems to suggest that this isn't the case. In fact, to a question asked in the poll, 81 percent of respondents said they consider Modi to be a "son of the soil" and will continue voting for BJP because of this reason. The answer to the same question back in 2012 — when Modi was, in fact, the chief ministerial candidate — was just 60 percent, meaning his elevation to New Delhi hasn't dulled the party's prospects in his home state.
Vote share also going up
The BJP's vote share is also predicted to increase by 4 percent, said the Times Now-VMR opinion poll. The poll had given BJP 52 percent of all votes cast, which is more than the 48 percent it had managed in the 2012 Assembly poll in Gujarat. Congress had secured 39 percent votes in 2012. BJP's vote share had remained same in the 2014 Lok Sabha parliamentary election with the party receiving 48 percent votes, whereas Congress had lost 2 percent in 2014 as compared to the votes received in 2012 Assembly polls.
The Election Commission on Wednesday announced the poll schedule for Gujarat Assembly election. Announcing dates for the first phase, Chief Election Commissioner AK Joti said, "Date of issuance for gazette notification for the first phase is 14 November; last day to file nominations is 21 November; date of scrutiny of nominations is 22 November and the last date for withdrawal of candidature is 24 November. Date of polling is 9 December."
For the second phase, he added, "Date of issue of gazette notification is 20 November; last day of nominations is 27 November; date of scrutiny of nominations is 28 November and the last date for withdrawal of candidature is 30 November. Date of polling for the second phase is 14 December."
Counting for Assembly elections in Gujarat and Himachal Pradesh will take place simultaneously on 18 December.
With inputs from agencies
India
In trying new faces, the BJP seems to be focused on building a generation of political successors who can take over after a period of astonishing growth the party has seen under Modi and Shah
Politics
Rahul Gandhi could benefit from a change in his thinking by focusing on facts and he only needs to remember that his terminator in Amethi happens to be a woman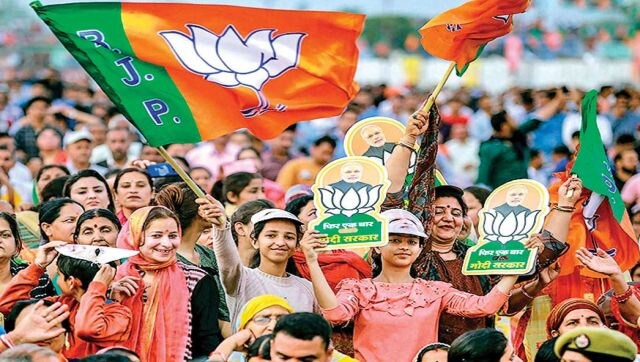 Politics
The Patel community is an estimated 12-14 percent of the population and one-fourth of the party's vote share in the state can be contributed to them