Gujarat elections: Amit Shah predicts 150 seats for BJP ahead of party meet, dares Congress to name CM face
Ahead of the BJP's parliamentary board meeting, BJP president Amit Shah on Tuesday hinted that the Gujarat elections will be fought under Vijay Rupani, even as he dared the Congress to name a face for its campaign.
Ahead of the BJP's parliamentary board meeting, BJP president Amit Shah on Tuesday hinted that the Gujarat elections will be fought under Vijay Rupani, even as he dared the Congress to name a face for its campaign.
Shah was speaking at the News18 Gujarati's Agenda Gujarat programme, which brought Congress and BJP together to discuss the upcoming elections.
"Humari party me koi confusion nahi hai Vijay bhai aur Nitin bhai ki team pe Gujarat ki jimmevari hai aur unhi ke netritva me hi chunav ladenge. Aap Congress se pucho unka neta kaun hai (There's no confusion in BJP. Vijay Rupani and Nitin Patel have governed Gujarat and the election is being fought under their leadership. I dare the Congress to announce who they want to project as their leader)," Shah asked.
"Congress ne pura chunav outsource kar ke rakha hai: inke paas na niti hai na neta. Neta bhi bahar se late hain aur niti bhi humari lene ka prayas karte hain (Congress has outsourced these elections. They neither have a clear strategy nor a definite leader. They are bringing in leaders from outside and borrowing BJP's strategy)," Shah said.
He also dismissed Patidar leader Hardik Patel and Shankersinh Vaghela's Jan Vikalp, saying that no third front has ever stood a chance in Gujarat.
Battling Congress' allegations that development has gone for a toss in Gujarat, Shah said that the party's 'Vikas gando thayo chhe' (development has gone mad)' slogan will boomerang.
Taking a dig at the Congress party, in what is being seen as a two-horse in Gujarat Assembly polls, the BJP president said that his party's work will speak for itself and the Congress' dream to come back in power will meet the same fate as in the previous Assembly elections.
"Congress aa rahi hai aisa unhone 2002 me bhi kaha tha, 2007 me bhi kaha tha, 2012 me bhi kaha tha, abhi keh rahe hain aur shayad 2022 me bhi kehte hi rahenge (Congress has been speaking of its return since 2002. They will still be speaking after these polls and perhaps in 2022 as well)," Shah said.
On a question of a perceived increase in Congress party's popularity in Gujarat, Shah displayed confidence and predicted that the BJP would nab 150 seats.
"Aap mujhe 18 December ki raat me 12 baje phone kar ke puch lena ki 150 target zyada tha ki nahi tha. Apne UP me bhi pucha tha tab bhi maine yahi kaha tha ki result ke din phone kar ke puchna aapka call aaya nahi (You can call me on the day of election results and ask if the target was ambitious or not, You asked the same question in UP polls too but apparently you did not need to call, did you)," Shah said.
He also dismissed the caste-based agitations and splinter groups as a Congress-backed movements.
"It's an old habit of the Congress party to play caste-based politics. But the truth is coming out as all such people are joining Congress," he said.
#EXCLUSIVE | @amitshah takes a dig at @OfficeOfRG at Network18 CNN-News18 #AgendaGuajarat event pic.twitter.com/MyAVcoHv68

— News18 (@CNNnews18) November 14, 2017
He said that Gujarat has suffered under the Congress' KHAM theory (which stands for Kshatriya, Harijan, Adivasi and Muslim vote banks) and development had been stunted under such divisive policies. He claimed that it was BJP that rid the state of such politics.
"The way BJP put an end to caste politics will help us win," Shah said.
Countering Congress' charge that Prime Minister Narendra Modi has hit the country's economy with the "double whammy" of Goods and Services Tax (GST) and demonetisation, Shah said that the party must commit to talking on the basis of facts and it can have all the answers.
"When Atal Bihari Vajpayee ji was prime minister, he left the GDP around 8 percent. Then they took over and even with an economist at the helm, they brought down the GDP to 4.4 percent now again Modi ji has taken it beyond 7 percent," Shah said.
On the question of GST, Shah said that teething troubles were obvious and unavoidable since it was a huge migration to a completely new tax regime.
He said it was because of the prime minister's sensitivity towards the problems of small businessmen that the GST Council was meeting every month. He said that the council was repeatedly reviewing progress and tinkering with new rules to accommodate concerns.
"...And within one wear, the same GST will become a blessing for small traders and businessmen," Shah promised.
Shah also took on the Congress vice-president Rahul Gandhi for his much talked about temple visits during his Gujarat tour.
"Mujhe khushi hai ki kam se kam Gujarat me aake inko mandir jane ki aadat to padi. Par kya ye kabhi dilli me bhi kisi mandir me gaye hain ya ab sirf chunavo ke chakkar me mandir ja rahe hain (I am happy to see that Rahul Gandhi has developed a habit of visiting temples in Gujarat. But has he ever been to a temple in Delhi or this is just for the polls)," Shah enquired.
On the question of combating anti-incumbency factor after a 22-year long rule, Shah chose to respond by recounting his party's achievements: "Humne 19,000 se zyada gaon me 24 ghante bijli di hai. Ek zamana tha jab gaon me tanker dene padte the, uski jagah ab pure saurashtra me yaha tak ki kutchh ki boundary tak BJP ne paani pohchaya hai. Medical college ki seat badhvayi hai. Aap development ki kisi bhi baat pe unke shasit kisi bhi rajya se comparison kar le hum unko jawaab dene ke liye taiyar hain (We have brought 24-hour electricity to 19,000 villages. We provided running water in Kuttch and Saurashtra region. We have increased seats in medical colleges. Let them pick any parameter of development and compare it with Congress-ruled states, our party is ready to respond," Shah said.
"Pick up agriculture growth rate or GDP. Talk to us on the basis of facts and figures," Shah said as he claimed that under Congress rule, Gujarat's budget was limited to Rs 10,000 crore until 1995-96 which increased to Rs 1,72,000 crore under BJP.
Shah ruled out reports that the people were drifting away from the BJP after Modi's shift to the Centre.
"Modi ji is at least in Delhi and not in Italy. He is taking good care of Gujarat from Delhi," Shah said.
Politics
The ruling Trinamool Congress looks set to retain power in West Bengal with the party having already crossed the halfway mark headed for over 200 of the state's 292 seats that went to the polls
Politics
After a see-saw day that witnessed each candidate pulling into the lead on multiple occasions, the final margin between the TMC turncoat and the Bengal chief minister was a slender one: just 1,956 votes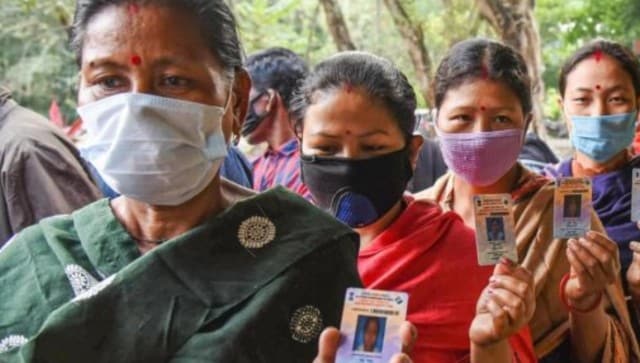 Politics
Assam and West Bengal Election Results LIVE Updates: As of 9 pm tonight, the EC website showed a slim lead for Mamata Banerjee. The incumbent CM has secured 84,004, while Suvendu Adhikari has got 82,551 votes