Gujarat Assembly Election 2017: Congress' Indraneel Rajyaguru is relaxed ahead of battle with 'bad man' Vijay Rupani
'I decided to contest against Rupani the moment I heard he would be named chief minister,' says Indraneel Rajyaguru
Indraneel Rajyaguru, the Congress candidate challenging Gujarat chief minister Vijay Rupani, is applying choona... literally.
Seated inside his office on Rajkot's Racecourse Road, he is rubbing tobacco wrapped in polythene on his palm. As he does this vigorously, Rajyaguru looks at the concoction with dissatisfaction and adds some lime powder to it. Then, he scoops out a pinch, opens his mouth and places the mixture between the lower lip and premolars. You can see from his relaxed demeanour that he is enjoying what Mirza Ghalib referred to as fursat ke din. The challenger to the chief minister is chilling out.
"I am in a very comfortable position. Vijay Rupani is losing by a huge margin," he says, relishing the calmness induced by the tobacco masala in his veins. When the juice from the masala fills up his mouth, he spits it out into a bottle kept next to him. From another bottle, he sips water, rinses his mouth and explains why he is beating the chief minister.
Rajyaguru had won the previous election from Rajkot (East) constituency. He was among the three lucky winners for the Congress from the 38 urban constituencies in Gujarat's three big cities — Ahmedabad, Surat and Rajkot. But, acting on his promise of chasing the chief minister, he decided to shift to Rajkot (West) last year.
"I decided to contest against Rupani the moment I heard he would be named chief minister. He is not a good man, he needs to be defeated," he says. Prima facie, Rajyaguru seems inspired by the story of the hare and the tortoise. Unlike Rupani, who is now making whirlwind tours of the constituency, Rajyaguru has been working tirelessly for months, covering ground inch-by-inch. Now, he says, he doesn't have to look over his shoulder.
Rajyaguru says he has personally contacted more than two lakh out of the 3.19 lakh voters in the constituency. "They have understood my feelings, they realise Rupani should lose."
Rajkot is the heart of Saurashtra region. Across India, it is famous for automobile spare parts and diesel pumps. Its enterprising people are so busy during daytime that politicians hold their election rallies only after sunset, when people are free to listen to them. Pehle dhanda, baad mein politics is the defining motto here.
Rajyaguru, 50, himself has a robust business. He is known for deep pockets and wide network. In his affidavit, he has declared assets worth Rs 140 crore, making him the richest candidate in the fray. "People know Rupani is corrupt. They know I didn't enter politics to make money. I am here to serve people not my political masters in Delhi," he says.
That Rajyaguru is a formidable opponent is evident in the kinetics within the BJP. Prime Minister Narendra Modi has visited Rajkot twice. Amit Shah too has been visiting frequently. Before he filed his nomination, Rupani went to seek the blessings of Keshubhai Patel, the former chief minister known for his influence in Saurashtra. Rajyaguru says the chief minister is now like Humpty Dumpty — all the king's men can't save him from a great fall.
On the ground, Rupani appears to be in trouble because of the Patidars in the constituency and Rajyaguru's people connect. But he is keeping a brave face, saying that he has better things to do than worry about his challenger. The Patidars in his constituency are affluent entrepreneurs, and unlike the immigrants in Rajkot (East), are considered traditional supporters of the BJP. The aura of an incumbent who could be chief minister again is also helping him. But unlike Modi, the current chief minister is not seen as a heavyweight. His reputation is that of a puppet on Delhi's strings. Allegations of malpractices against him and his family have also diminished his stature in a state where the BJP has always boasted of incorruptible leaders.
"People have realised the BJP is a lie factory. They will reject it and its products like Rupani. I don't have to do anything, this election is people versus BJP," Rajyaguru says.
Obviously, he can afford to relax and rub some more choona into his masala.
India
Senior BJP leader Ravi Shankar Prasad said the allegations made by the Opposition party were bereft of political propriety and a new low in political discourse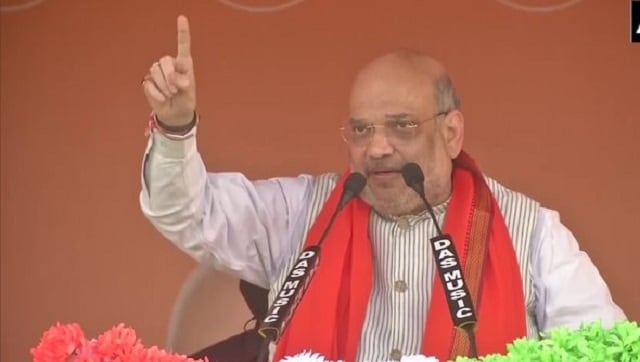 Politics
The home minister further said that Uttar Pradesh has secured the second position in terms of economic growth. The state's economy grew from 11 lakh crore to 22 lakh crore in the last four years
India
Paying respects to the Indian soldiers, Home Minister Amit Shah said that it was because of their sacrifice that the tricolour was hoisted again on the hills of Kargil