A political party releasing its manifesto for an upcoming election is one of the most expected events you will see before polls. And let's admit it. The manifesto-releasing event can be quite boring, mainly because you do not expect half the poll promises made by politicians to be fulfilled.
When the Indian National Congress released its manifesto for the upcoming Punjab polls, everything was going as expected.
Manmohan Singh criticised the ruling SAD-BJP government. Congress' chief ministerial candidate Amarinder Singh also lashed out at the state government and then began highlighting the key points of the party manifesto.
We, at FP Special Forces HQ, had blank expressions as the good ol' Captain talked about how the party plans to fight the drug menace in the state and work for the weaker sections of the society. All of this was expected.
However, there came a moment when Amarinder announced that Congress would launch a department called 'Guardians of Governance'. He had also spoken about this earlier.
We have agreed to an ESM cell at the Chief Ministers Office. We have started a new Dept called 'Guardians of Governance.': @capt_amarinder

— INC India (@INCIndia) January 5, 2017
And just like that, the Congress press conference about its manifesto became twice as interesting. When a political party names one of its manifesto features like a superhero movie, it is really hard not to be entertained.
"This will be a group of ex-servicemen from panchayats to blocks to districts, right up to the chief minister. This department will be under the chief minister. They will report about the implementation of schemes. We will utilise a discipline force. This is going to hopefully eradicate the misuse of funds," Amarinder said.
Remember that scene from Guardians of the Galaxy in which Star-Lord inspires his friends to fight for him as a team? Well, Amarinder also seemed to be trying to make that same kind of dramatic speech which usually ends up forming a superhero group.
This made us think. What would the Guardians of Governance poster look like?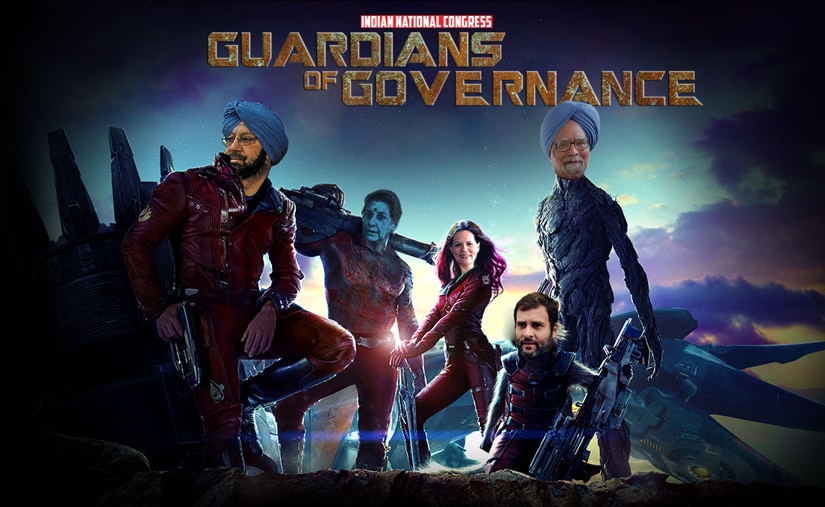 Amarinder Singh even made some statements which made him sound like a vigilante. "We will catch these drug fellows and we will hang them upside down," he said when talking about the problem of drugs in Punjab.
Politicians, please learn from the Congress: If you are going to make promises before elections, at least make them sound entertaining.
Updated Date: Jan 09, 2017 15:19:55 IST